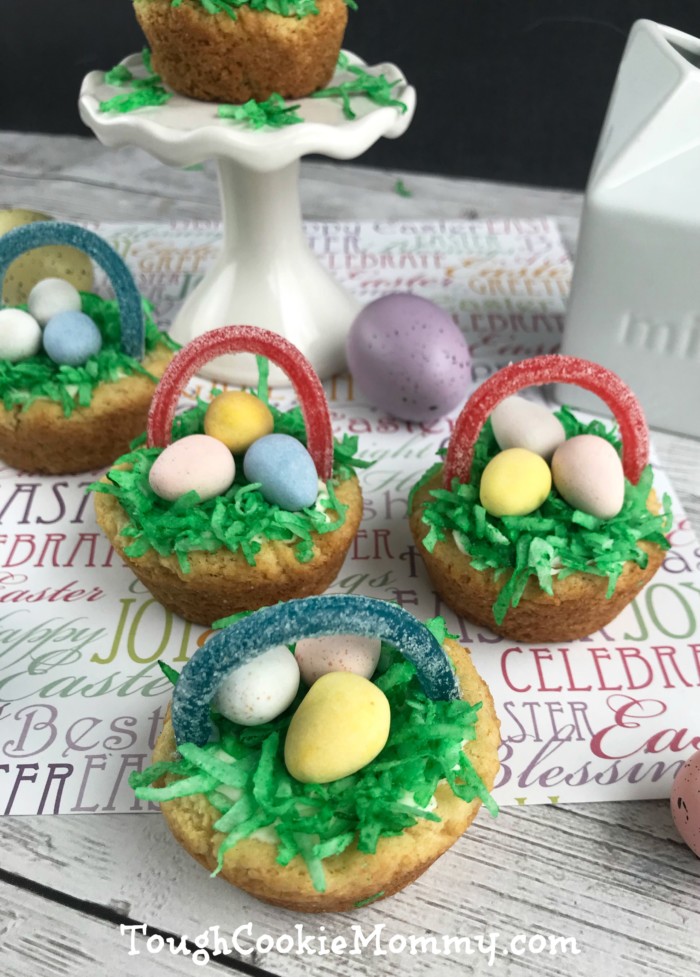 I can't believe that Easter is right around the corner! It seems like we were just getting ready for Christmas a little while ago. Even though my boys are older, I still enjoy preparing baskets for them to enjoy on Easter morning. This year, I will probably be adding some gift cards and some wrapped Easter Basket cookies. These treats were so easy to make and they look adorable. I hope you make them for your family and enjoy them this Easter as well!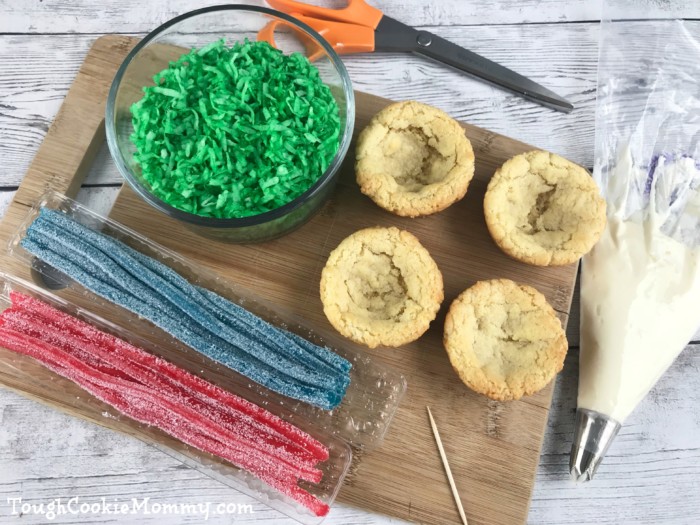 Easter Basket Cookies
Ingredients:
1 box of cake mix, any brand
1/2 C. vegetable oil
2 tbsp. flour
2 eggs
1 C. coconut flakes
Green food coloring
non-stick cooking spray
Sour Punch Green Apple, Strawberry and Blueberry Candy Straws (I found mine at my local gas station in the candy section)
White frosting
Toothpicks
Cadbury mini malted eggs
Round frosting tip
Disposable piping bag
Kitchen scissors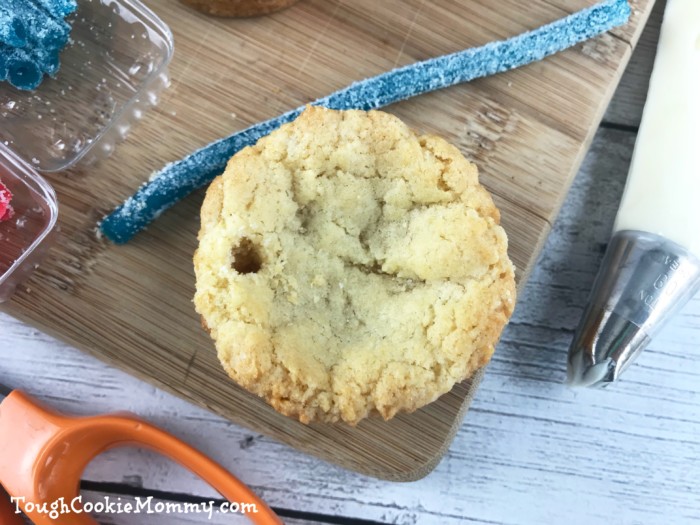 Directions:
Preheat the oven to 350 degrees and spray a 12 count muffin tin with non-stick cooking spray.
Combine the white cake mix, flour, vegetable oil and eggs, mixing well.
Take a 2″ scoop of cookie dough and place in each muffin well, gently pressing down to fit the muffin well.
Bake for 15-17 minutes.
Remove from the oven and let cool completely.
Place the coconut flake in a small dish and add a few drops of green food coloring. Stir to combine and set aside.
Take a toothpick and gently carve 2 holes on top of each cookie (please see photo). You want it large enough for the Sour Punch Straw to fit.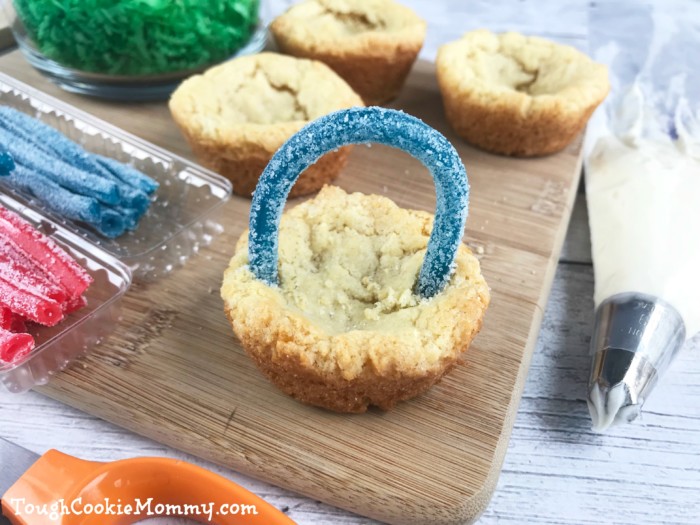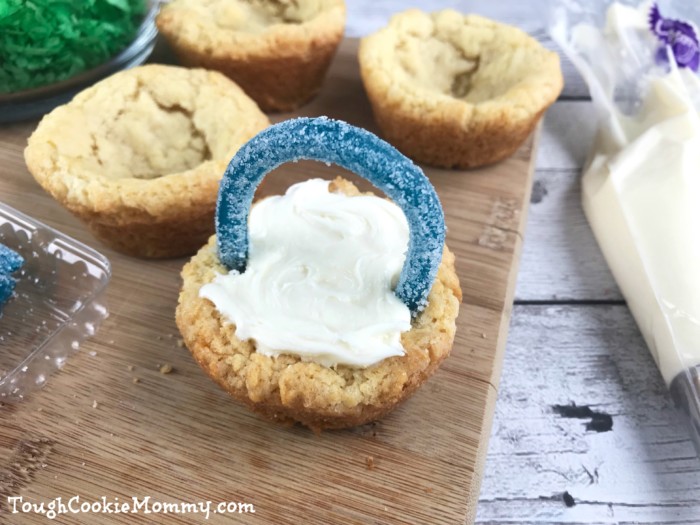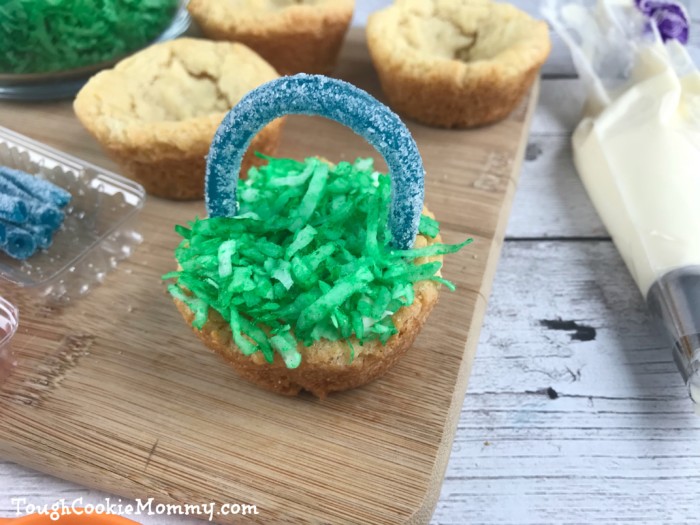 Once the holes are carved use the kitchen scissors to shorten the Sour Punch Straws to your desired length (about 4-5″) and insert into the cookie.
Attach the round frosting tip to the disposable piping bag and fill with frosting.
Generously frost the top of the cookie.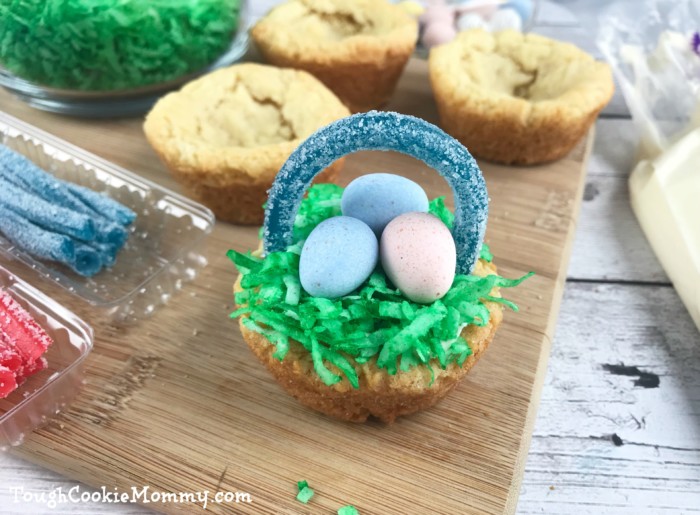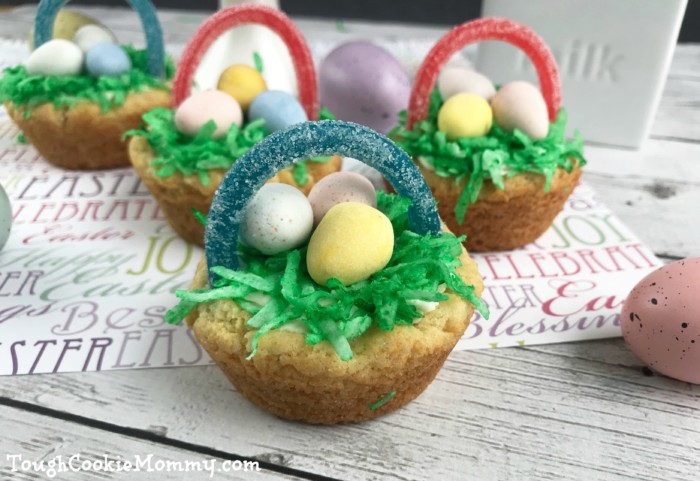 Add green coconut flakes.
Top with Cadbury Mini Malted Eggs.
Repeat with all the cookie cups.
*Makes approximately 16 cookie cups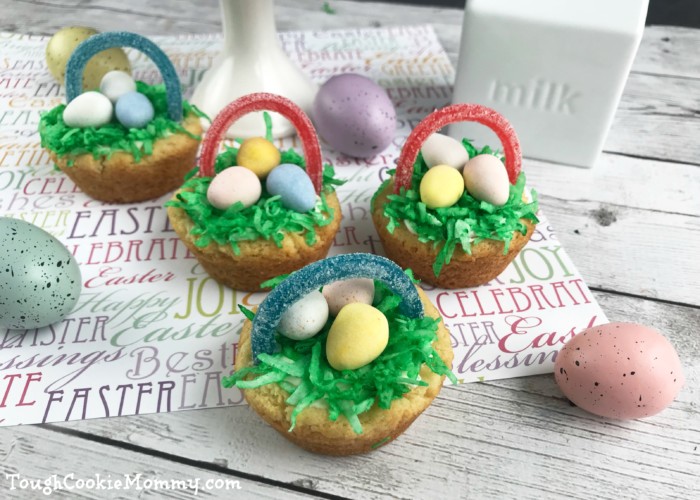 Let's Discuss: How do you prepare treats and Easter Baskets for the older kids in your family?
© 2018, Tough Cookie Mommy. All rights reserved.