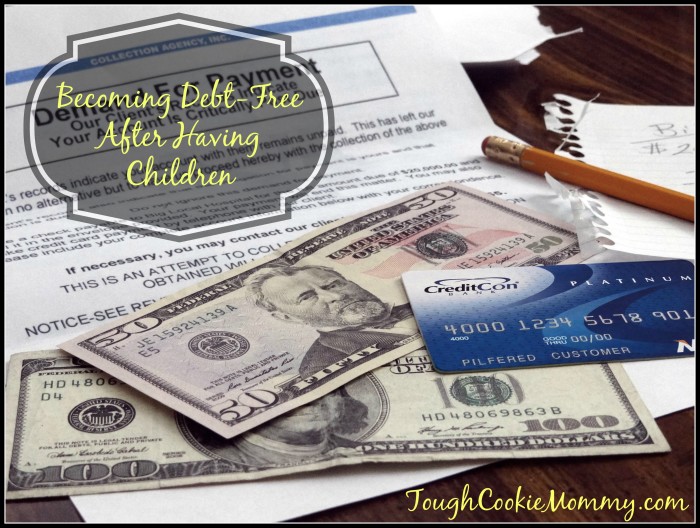 Are you done having children? Maybe it's time to focus on serious matters like getting out of debt. There's good news, it is possible to get out of debt with a little bit of determination. Here are some tips to make this a reality.
Only Use Cash
    It's pretty simple to use a debit card and swipe swipe swipe. However, when you only use cash, it's gone when you run out and there's nothing you can do about it. Using only cash can help you get out of debt because you're not going to continue to use a credit card.
Prepare for Emergencies
    One of the biggest issues facing people who are debt is that they are not prepared for emergencies. When an emergency happens, it's easy to put it on a credit card and then debt adds up really quickly. You can start preparing for financial emergencies by having an emergency fund set up. Even if it's only $500, that's something you won't need to put on a credit card.
Sell Your Stuff
    Although you may not want to, selling your items is one great way to become debt free. Selling your items can be done through a garage sale or even a Facebook group. After you've sold these items, put all the money you have made towards your emergency fund or paying off debt.
Get the Kids Involved
    Getting out of debt is a whole lot more fun whenever the kids are involved. Ask them if they'd like to get involved and allow them to do things to help. Let them prepare their own budget and allow them to "use cash only." Make it fun and you'd be surprised at how much lightheartedness kids can bring to the situation.
    Getting out of debt does take some time and effort and the key is to not get discouraged. Set small goals, so you can work towards them without quitting within the first month.
Let's Discuss:  What are some of the ways that you are trying to drive down your debt now that you have children?
© 2015, Tough Cookie Mommy. All rights reserved.