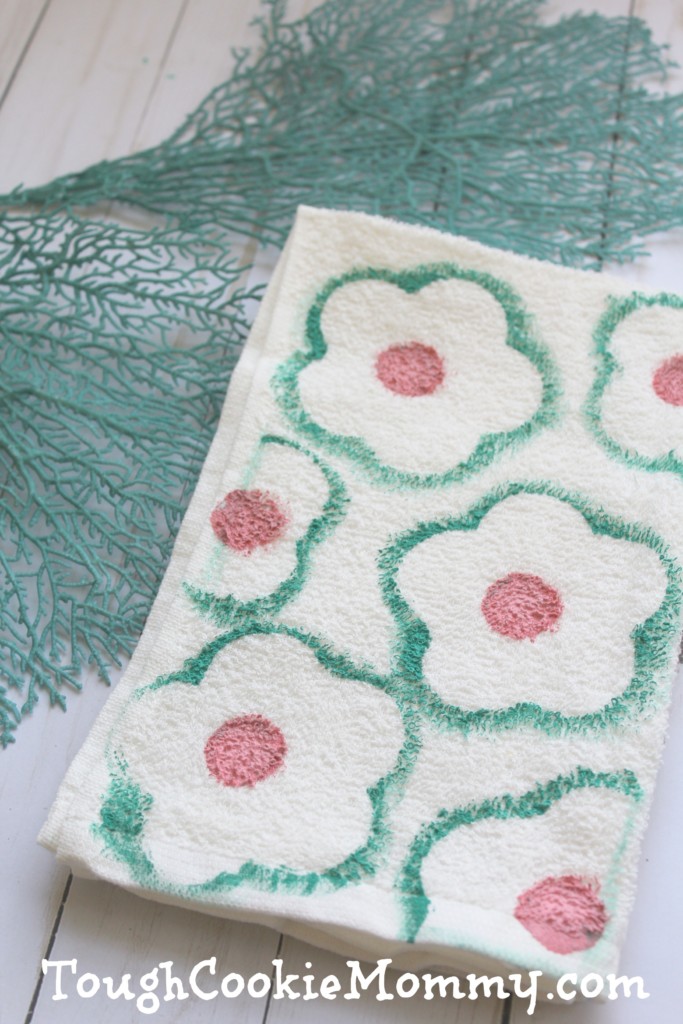 Lately I have been doing a lot of research into home decor for less and tried my hand at creating a DIY Hand Stamped Flower Towel.  One of the things that I have learned is that there are many cost-effective ways to reproduce decorating ideas.  This is a great way to update the decor in your home without breaking the bank.
      You would not believe how many projects can be done right at home with just a few materials.  My latest project is updating our bathroom this summer so I have also been looking at ways to add decorative towels and make it more beautiful without spending a lot.
    Below you will learn how to create hand stamped flower towels just like the ones that you can purchase in retail stores:
DIY Hand Stamped Flower Towel
Supplies needed:
– White cotton hand towel (.49 cents at IKEA)
– Fabric paint in choice of colors, non puffy and non dimensional
– Wood flower cut out (found at Dollar Tree or most craft stores)
– Plate
– Scrap paper
– Paint brush
– wine cork or bottle top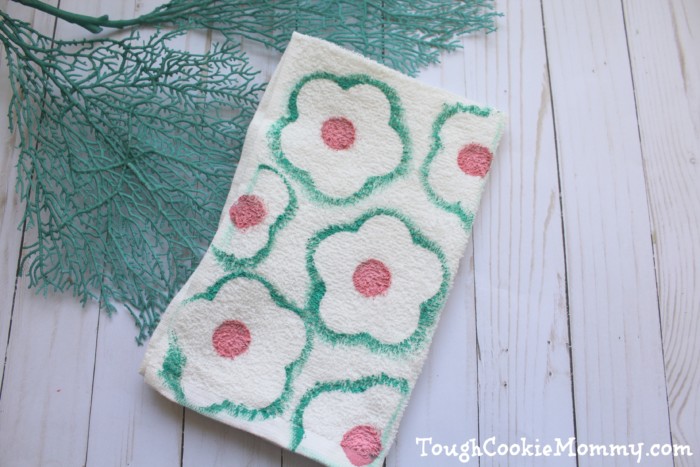 Directions:

1. Begin by laying the towel out flat so you can work on a flat, even surface.
2. Place some fabric paint (use non-puffy, non-dimensional paint only) on a plate.
3. Place the flower cut out on a towel. Dip the brush into your fabric paint and gently brush around the cut out, which will act as your stencil. If you wish, use the scrap paper to do a few practice tracings on.
4. Start at the corner of the towel and begin creating a pattern of your choice using the flower as your stencil. Place, paint around the flower, repeat.
5. Dip the end of a wine cork or bottle lid into another color of paint. Press the wine cork or bottle top into the center of the flower. Hold for a few seconds and release. Your flower will now look colorful and complete.
6. Once your pattern is created, allow your towel a good 2 hours to dry before gifting or displaying.
Your fabric paint can withstand water, so your towel can be used and washed just like any other towel!
Let's Discuss:  What are some of the ways that you save money on home decorating by doing it yourself?
© 2017, Tough Cookie Mommy. All rights reserved.