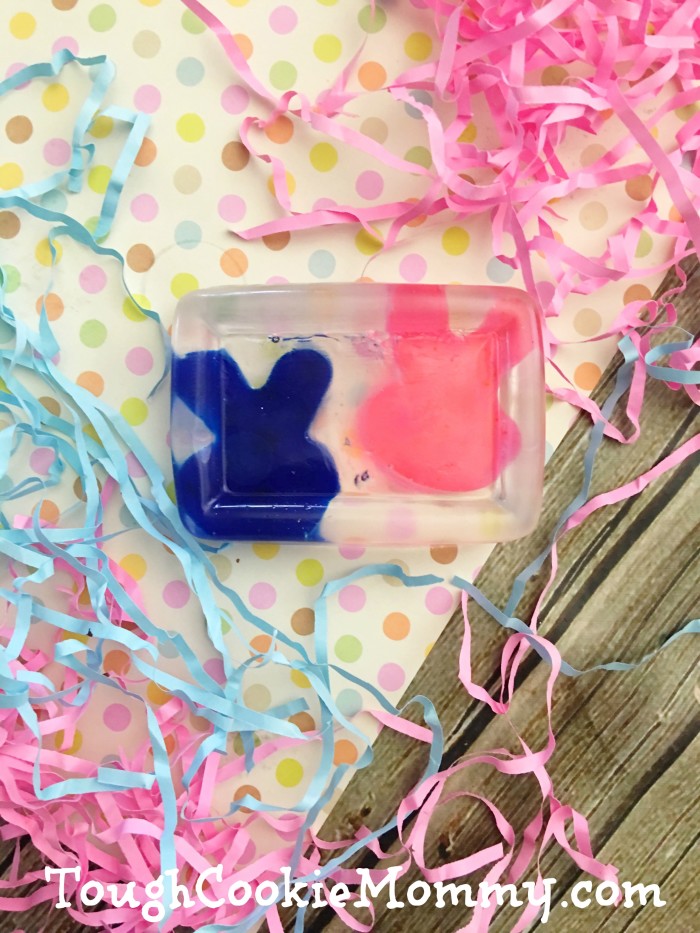 Lately I have been on a DIY kick and have been researching different ways to make some of our favorite products, or items we use every single day, right here at home. I was very excited to learn how easy it is to make bars of soap from scratch and how much money it can save you at the supermarket. The best part is that you can customize them to contain your favorite scents, designs and colors which can really help to bring our your creative and artistic side.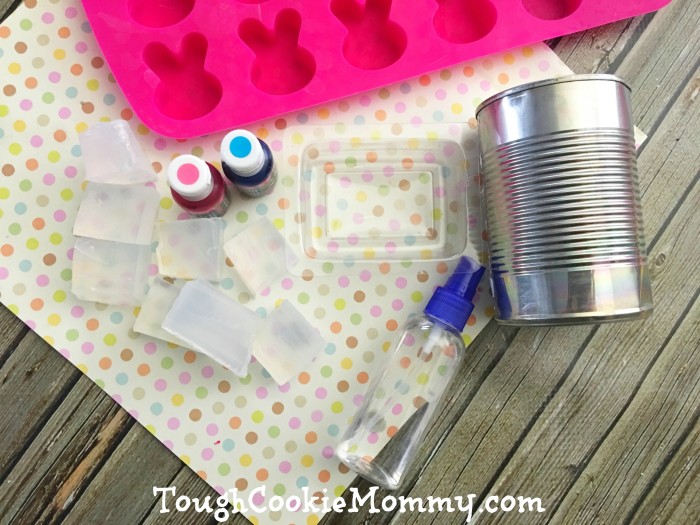 Since Easter is right around the corner, I thought it would be a great idea to create some decorative Easter soaps to really get everyone in our home into the spirit of the season. You too can make these adorable soaps and I think you will be surprised at how easy they are to make and how little they put a dent in your budget!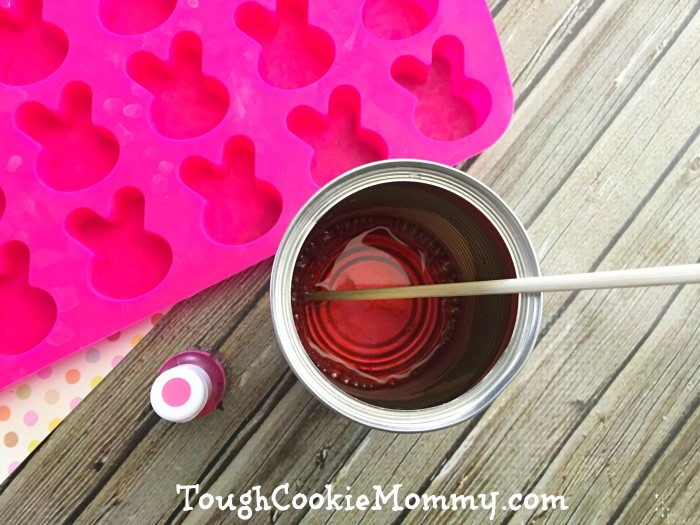 Easter Bunny Bar Soap
Materials-
2 clean empty soup cans
1 clear glass Pyrex measuring cup
Clear glycerin soap block
Food coloring or soap coloring (pink and blue)
Soap scent (optional)
Small spray bottle of rubbing alcohol
Large cooking pot
Bunny silicone mold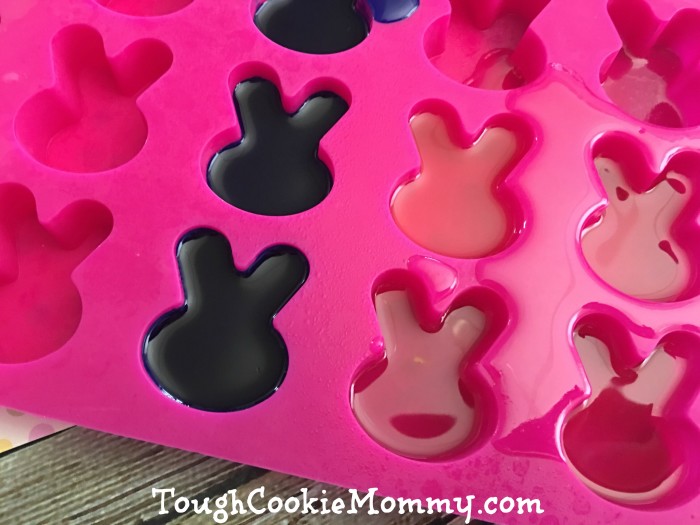 Directions-
1. Cut your soap into ice cube size blocks
2. Place your about 5 soap cubes into each soup can
3. Fill your large pot with 1/4 water and bring to a boil
4. Place your soup cans into your boiling water
5. Have your water boil around your cans for around 5 minutes or until your soap cubes are melted
6. Add in 1/4 teaspoon of your soap scent (I chose vanilla) to each can
7. Add 1 small drop of food coloring to each can and mix well (you don't want to use a lot because the food coloring will stain if you use to much)
8. Carefully pick up your hot cans with an oven mit and pour the melted soap into your bunny molds
9. Once your soap is in your bunny molds, squirt your bunnies with a spray of rubbing alcohol to remove and prevent any air bubbles
10. Let your soap filled molds set for 10 minutes then transfer to the freezer for 10 minutes
11. While your soap is in the freezer cooling, place about 5 soap cubes in your Pyrex measuring cup, then place the measuring cup into the boiling water for about 5 minutes (or until soap is melted)
12. Stretch the sides of your molds and press up on the bottom of the bunny to remove the soaps
13. Place your soap bunnies into your rectangle mold, smooth side face down
14. Pour your melted clear soap over your bunnies, into your rectangle molds
15. Spray with alcohol again, set in the freezer for 15 minutes
16. Now stretch the sides of your rectangle mold and push up on the bottom to remove your soap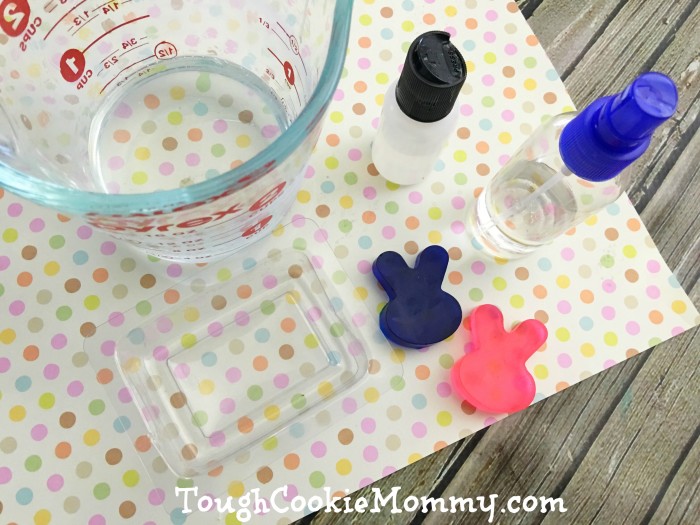 I hope that you enjoy making these soaps and sharing them with your family as much as I did. It's a great way to make natural bars of soap that you will feel confident giving to your loved ones. From my family to yours, have a Happy Easter!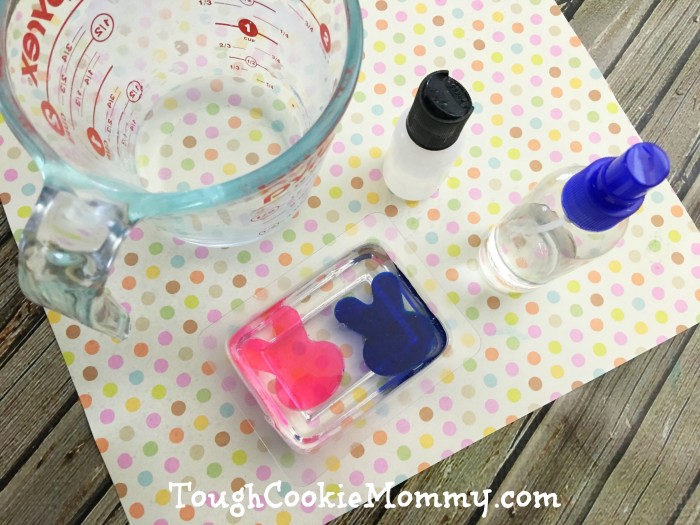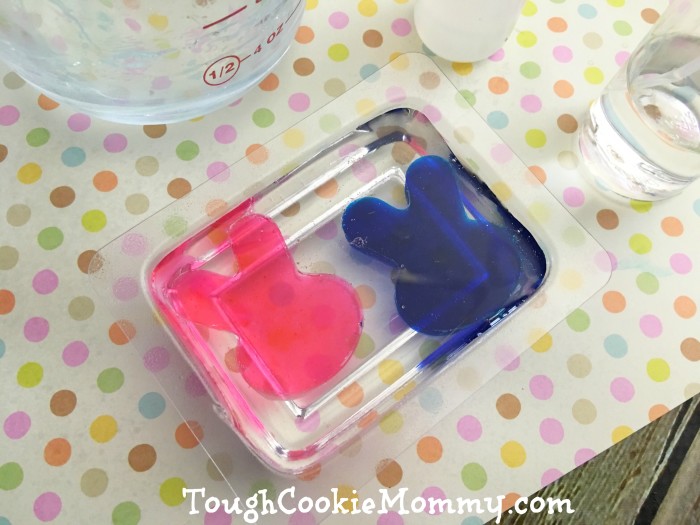 Let's Discuss: What do you think about the idea of making bars of soap right at home instead of buying them at the store?
© 2016, Tough Cookie Mommy. All rights reserved.