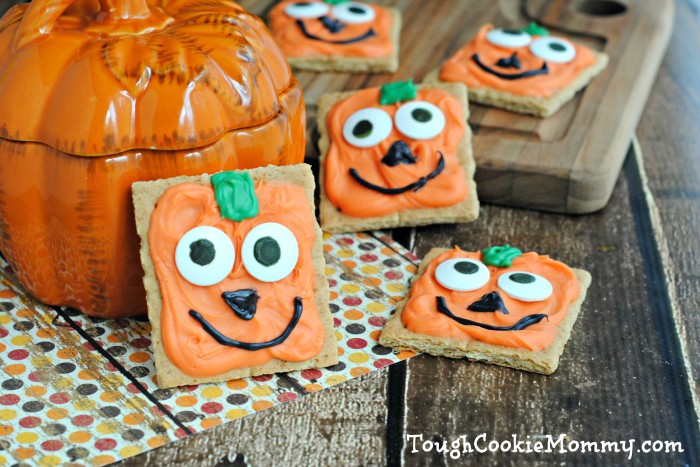 We are two days away from Halloween and I am here going crazy trying to make sure my sons costumes arrive on time. Both of our boys have been sick the past two weeks so I have been very busy taking care of them and trying to sanitize our home of all the sick germs. As a result, I am way behind schedule this year with all my Halloween preparations.
There is always time to prepare and enjoy a delicious treat so I took some time this week to make some Spooky Pumpkin Grahams for my guys. I figured they could use a pick-me-up after being sick and I was tired of the monotony of cleaning everything so I needed a distraction. Not only am I really pleased at how they turned out, but everyone loved them. I plan of making more to give out to the Trick or Treaters on Saturday.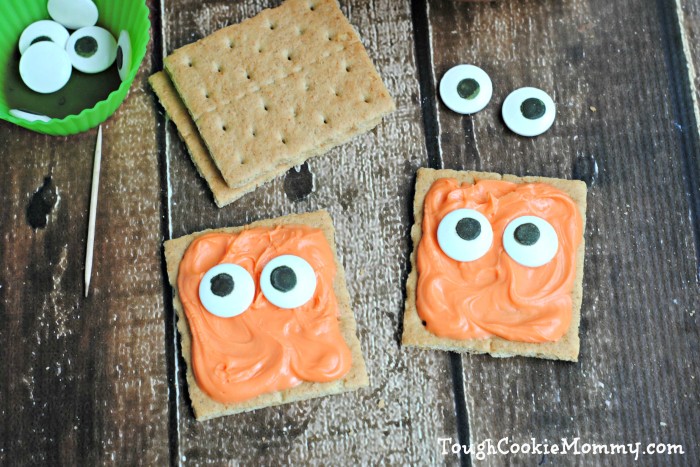 Spooky Pumpkin Grahams
graham cracker squares
12 oz package of Wilton orange candy melts (body)
12 oz package of Wilton green candy melts (stem)
12 oz package of Wilton black candy melts (nose and mouth)
candy eyes
2 small sandwich baggies
kitchen scissors
Directions –
1. Separate the orange, green and black candy melts into separate microwavbles safe dishes. **Note: I only used 1/4 of the package of the black and green candy melts as you won't need as much of these colors.
2. Heat the orange candy melts into 30 seconds increments, stirring until melted.
3. Use a small tablespoon to gently spread the orange chocolate over the graham cracker squares. Give each pumpkin 2 eyes and then repeat.
4. Allow the orange chocolate to set completely (about 30 minutes).
5. Once the orange chocolate is set you can start melting the green and black candy melts like in step #2. Allow the chocolate to cool a few minutes and scoop each color into a separate sandwich baggie. Snip the corner with a pair of kitchen scissors.
6. Using the green, give each pumpkin a small rectangle for a stem.
7. Using the black, give each pumpkin a small triangle for a nose and a mouth.
8. Repeat with each pumpkin.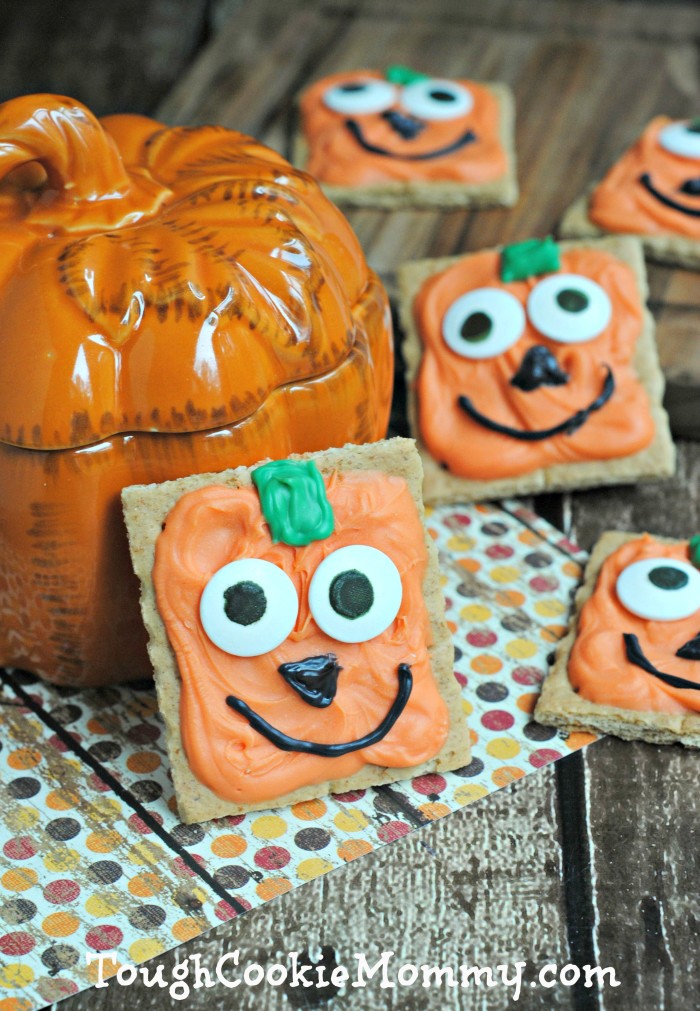 I will be looking forward to seeing all your Halloween photos on social media. Make sure you all have a safe and spooky Halloween!
Let's Discuss: What special treats do you have planned for sharing on Halloween?
[yumprint-recipe id='5′]
© 2015, Tough Cookie Mommy. All rights reserved.