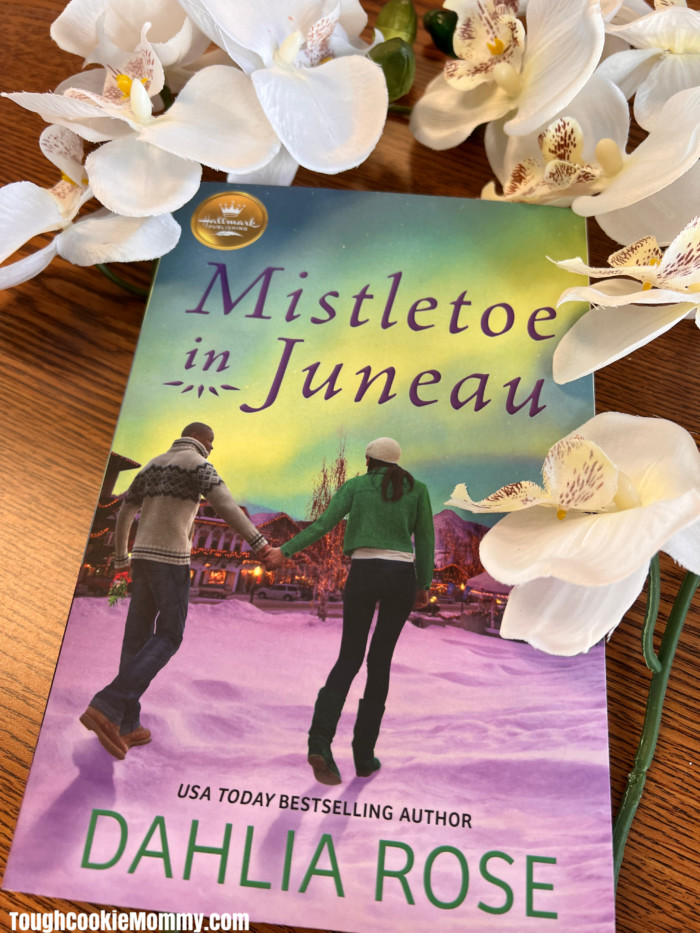 I have been an avid reader since I was a teenager and I still enjoy a good book now that I am an adult. Imagine my delight when I found out that Hallmark Publishing is giving me even more ways to relax and indulge in heartwarming romances with both novelizations as well as original novels with their brand-new holiday book releases! The holidays are my favorite time of the year and I am so excited about being able to enjoy them while curling up with a good book which also doubles as the perfect gift for my loved ones who love reading as much as I do!
Hallmark Publishing is releasing four NEW heartwarming books titled On Christmas Avenue, Mistletoe in Juneau, Wrapped Up in Christmas Hope, and Christmas in Evergreen: Bells are Ringing. All of these titles are available in Paperback, e-book, and Audiobook. I had the opportunity to read Mistletoe in Juneau and I loved it. Reading this story is making me look forward to the holidays even more since it also features additional recipes that are inspired by the story itself. I'm always looking for ways to prepare festive recipes during my favorite time of the year!
Mistletoe In Juneau introduces us to Danni, a social media influencer who's way out of her element. She sort-of broke up with her boyfriend-slash-manager, and she escaped her fast-paced life in L.A. to spend Christmas with an old friend in Juneau, Alaska. Danni takes in the beauty of the scenery and the warmth of the community…and she's drawn to the local sheriff.

Before Declan was the sheriff, he was in the Army. An IED explosion cost him his leg…and his fiancée, who couldn't deal with the injury. He knows Danni's a city girl, while he loves the Alaskan wilderness. Could two very different people find what their hearts are looking for? For a hopeless romantic, like I am, I love the idea of true love being able to find a way to blossom, even against insurmountable odds. After all, the holidays are the best time of the year for true love to thrive.
In Mistletoe in Juneau, Declan owes Danni an apology. So he walks into his mom's bakery and asks her for "a really good cake recipe—as simple as you've got." His mom gives him this one. He's a little doubtful about the "secret ingredient"—mayonnaise—but the cake is delicious, and Danni forgives him immediately. Even if you're like Declan and don't have any baking experience, this moist chocolate cake will win anybody over. I cannot wait to try out this recipe and have my family try it during the holidays!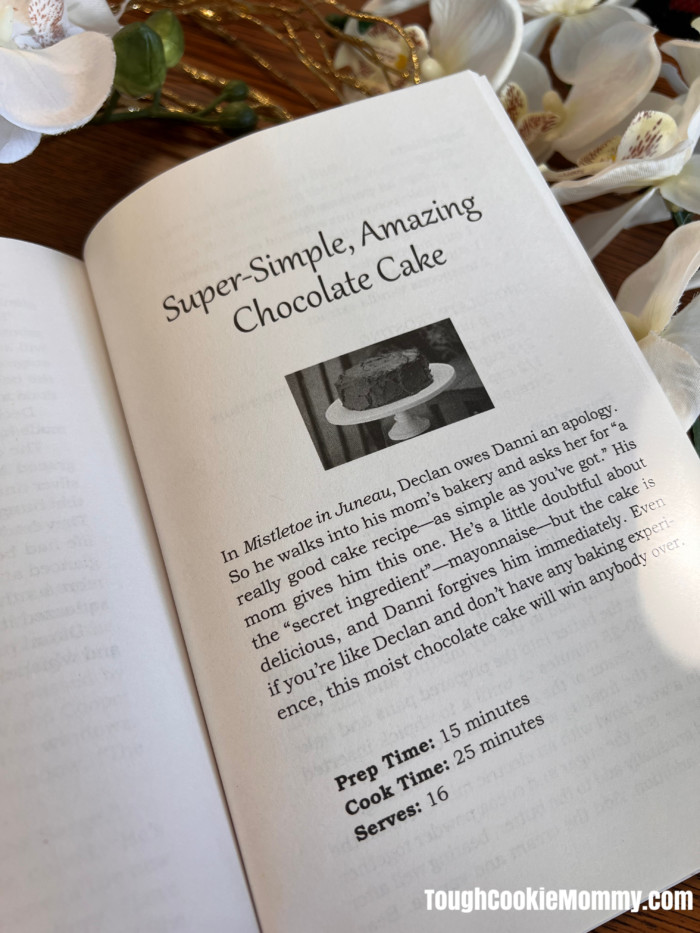 Now, we all have even more ways to relax and indulge in a Hallmark story. The kinds of heartwarming romances and intriguing mysteries we've always loved are now available as books! In addition to companion novels to beloved Hallmark movies, we'll discover brand-new novels to brighten our day and leave us feeling good about life. With the same attention to storytelling that goes into every Hallmark movie, we are introduces to new characters, relationships, romances, and intriguing mysteries. That's having the best of both worlds, as far as I'm concerned!
For more information on this title and other Hallmark Publishing titles, please visit https://www.hallmarkchannel.com/hallmark-publishing/mistletoe-in-juneau where you will find details, excerpts, recipes, photos and more!
GIVEAWAY:
(1) One winner will receive a copy of Mistletoe in Juneau + $25 Visa Gift Card + (1) Hallmark Channel Wine Gift Card
Super-Simple, Amazing Chocolate Cake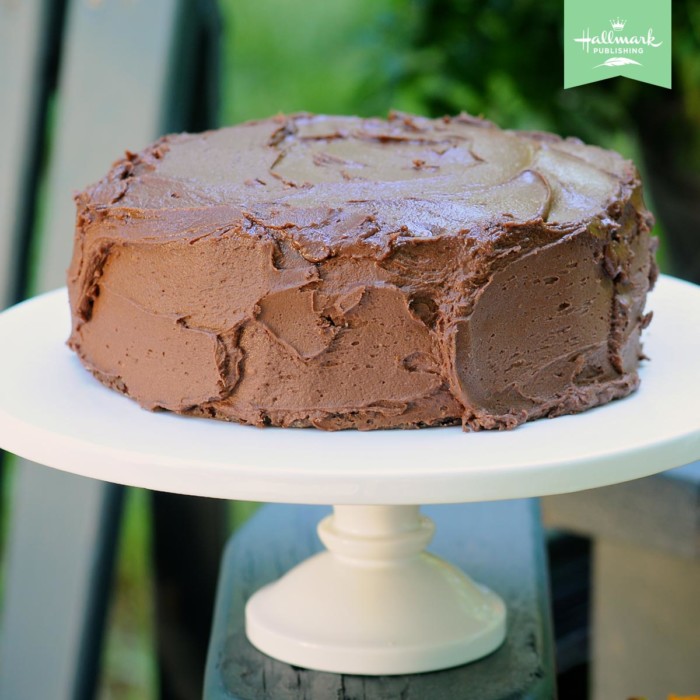 Prep Time: 15 minutes
Cook Time: 25 minutes
Serves: 16
Ingredients
CAKE
2 cups all-purpose flour
4 tablespoons unsweetened cocoa powder
2 teaspoons baking soda
1 cup sugar
1 cup mayonnaise
1 cup cold water
2 teaspoons vanilla extract
CHOCOLATE FROSTING
1 cup unsalted butter at room temperature
6 cups powdered sugar
⅔ cup cocoa powder
½ cup heavy cream
2 teaspoons vanilla
Preparation
1. Preheat the oven to 350°F.
2. Grease two 8-inch round cake pans and dust them lightly with flour.
3. Sift together the flour, cocoa, and baking soda in a small bowl.
4. In a separate bowl, mix together the sugar and mayonnaise, then beat in the water and vanilla.
5. Gradually add in the dry mixture and mix well.
6. Pour the batter into the prepared pans and bake for 20-25 minutes or until a toothpick inserted in the center of the cake comes out clean.
7. Make the frosting while the cake is baking.
8. In a work bowl with an electric mixer, cream the butter. Sift the sugar and cocoa powder together and gradually add to the butter, beating well after each addition. Add the cream and vanilla. Beat until well blended and fluffy.
9. Remove the cake from the oven, remove the layers from the pans, and place them on wire racks to cool.
10. Frost cake.
Disclosure: This is a compensated campaign in collaboration with Hallmark Publishing. I am disclosing this in accordance with the Federal Trade Commissions 16 CFR, Part 255 "Guides Concerning the Use of Endorsements and Testimonials in Advertising."
© 2021, Tough Cookie Mommy. All rights reserved.