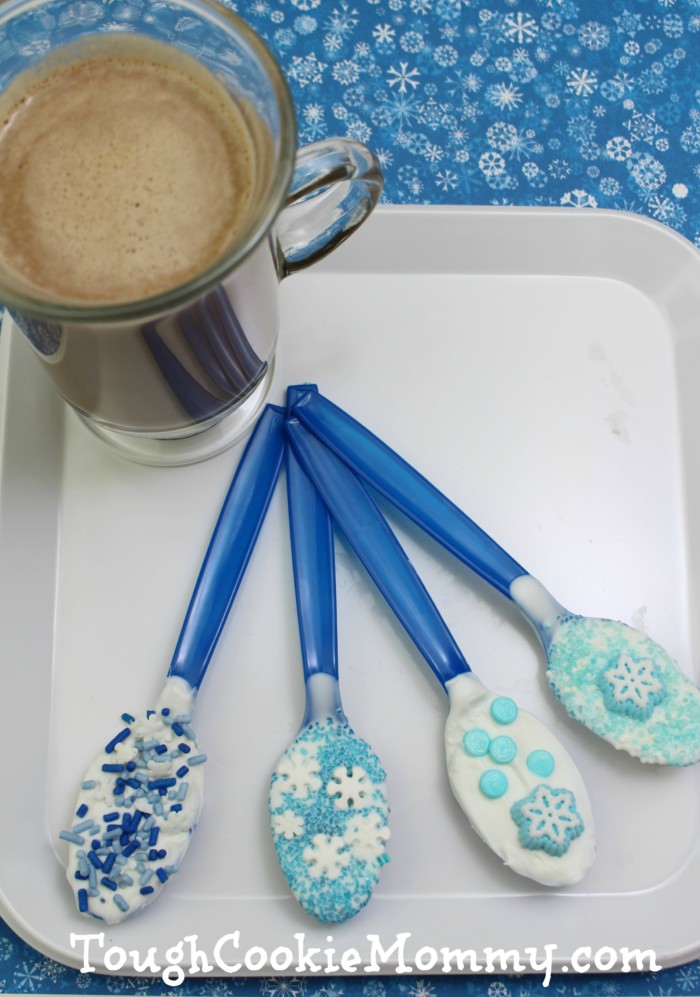 My husband just went out to get breakfast and left the front door open when he came back in to get his car keys. I can't even begin to describe to you guys how cold it has gotten in New York City. I've never been a big fan of the cold weather but I do love certain things about this season. Aside from being able to wear tights and boots, I also enjoy winter recipes and just about anything that will warm me up when I get in from the cold outdoors.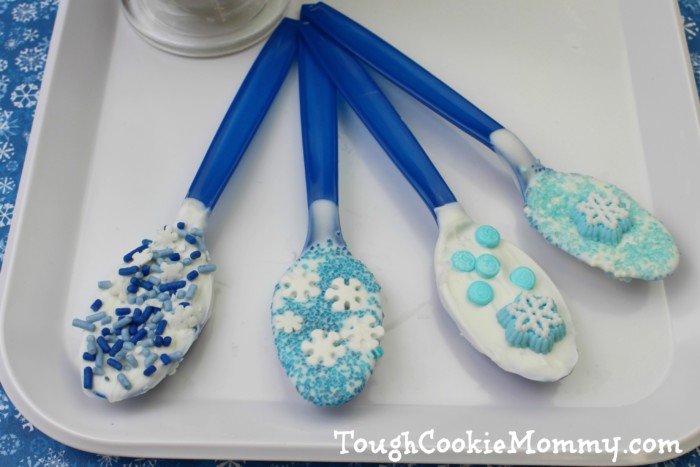 One of my favorite winter treats to enjoy are hot cocoa spoons. They are perfect for dipping in hot chocolate or even in a hot cup of milk. You can make them in white or milk chocolate and can even decorate them and wrap them to give away during the holidays. Since I love Frozen so much, I thought this would be a great theme for my hot cocoa spoons this year. Check it out!
FROZEN HOT COCOA SPOONS
SUPPLIES NEEDED
12 Plastic Spoons
2 T solid shortening
3/4 cup Wilton white and or blue chocolate melts
Wilton edible snowflakes
Wilton sprinkles
DIRECTIONS
1. Line a baking sheet with wax paper. Set aside.
2. In a double boiler, melt the shortening.
3. Add the chocolate melts and stir continuously until completely melted. Let cool for 1 minute.
4. Dip each spoon into the melted chocolate, filling it completely.
5. Lay each spoon onto the baking sheet with the handle of the spoon over the edge of the baking sheet. This will help balance the spoon so the chocolate does not spill out before it sets.
6. Sprinkle spoons with edible snowflakes, sprinkles, nonpareils, pearls, etc.
7. Let each spoon"set" for at least 20 minutes.
8. ENJOY!!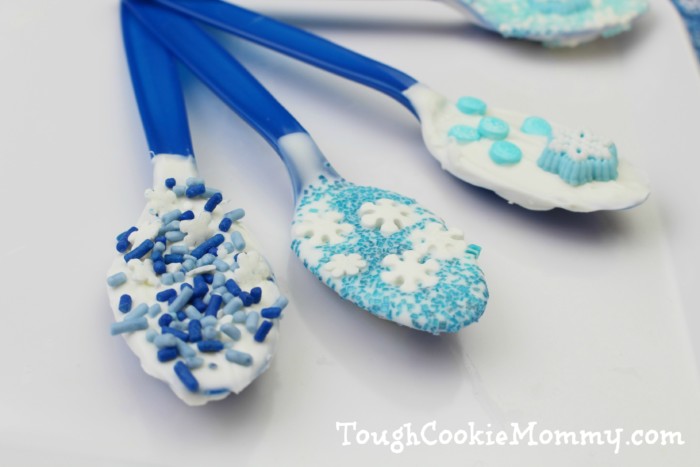 *Gift Idea- wrap each spoon in cellophane and tie with a pretty ribbon to give as a gift or favor!
Let's Discuss: What are some of the ways that you would enjoy these hot cocoa spoons?
© 2016, Tough Cookie Mommy. All rights reserved.