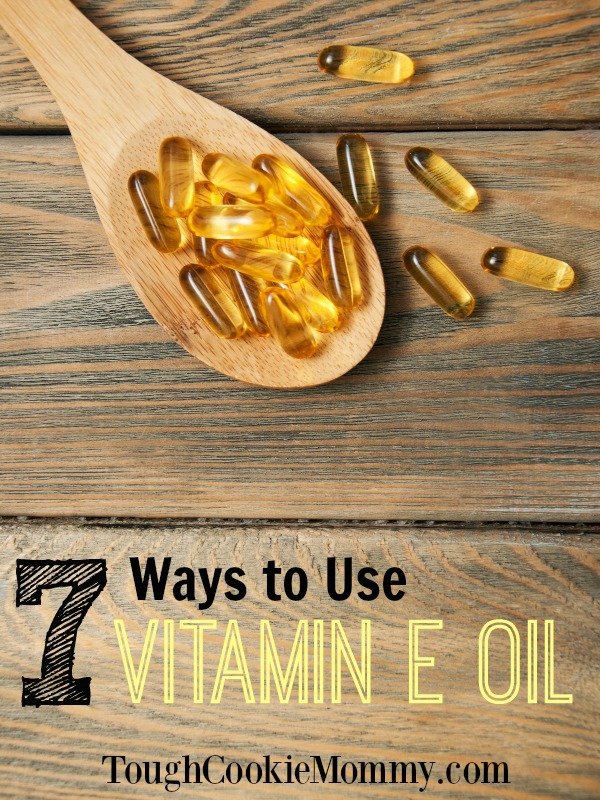 Vitamin E oil is one of the best products to keep in your bathroom cabinet. You will find that it can help solve and soothe many common health and beauty issues, and using it is typically as easy as dabbing it onto your skin. You can find vitamin E oil at most health and beauty stores as well as drug and big box stores, and once you work it into your beauty routine you may never find yourself again without it. If you are curious about how vitamin E oil can help you, take a peek below at 7 ways to use vitamin E oil in your own home.
1. Moisturize your skin.

You can actually use vitamin E in place of your daily moisturizer. You can dab the oil on (a little goes a long way) to your face concentrating on especially dry areas. Once a day should be more than enough, and once it starts to work you can even skip a day between uses. If you wish, you can even add a few drops to your daily moisturizer to help boost its power.
2. Lighten up dark spots.

Sun, aging, and other elements can cause dark spots on the skin. You can use a few drops of vitamin e oil daily to help lighten up these spots. It will provide moisture and replenish the skin, so the darkness can start to fade away. If you experience skin discoloration after tanning, using vitamin on the dark areas can help even out the skin tone.


3. Banish wrinkles.
Who wants to live with wrinkles? You don't have to! All you need is a few drops of vitamin E. Vitamin e oil is one of the best oils for banishing wrinkles! Dab a little around the wrinkles that have started to form on the sides of your eyes and mouth. Massage it well into the creases and over time the area will plump and soften which can help beat the appearance of these wrinkles.
4. Minimize stretch marks.

You can use vitamin e on your stomach skin during pregnancy to soften the skin and help prevent stretch marks from doing too much damage. If you already have stretch marks, no worries. Applying vitamin E to the areas can help soften, moisturize, and plump the skin and help reduce the appearance of the marks.
5. Soothe dry nails.

If you have dry nail beds, rough cuticles, or dry hands, vitamin E is great for softening and moisturizing the skin. Many nail salons use vitamin E when giving manicures, as it can really help with dry and cracking skin issues.
6. Repair your hair.

Vitamin E applied to the dry and damaged ends of your hair can help with the appearance. It can also help with heat damage that has been done to your hair. Add some vitamin E oil to your conditioning products to help boost their potential. Or, just get into the habit of applying a few drops to split ends daily.
7. Soothe minor skin issues.

Vitamin E can be applied to minor cuts, scrape, burns, sores, cold sores, and other minor skin irritations and issue. It will help moisturize which can promote healing, and can offer an overall soothing feeling which can keep you from touching or furthering the damage of the skin.


 Are you ready to stock up on vitamin e oil yet? Give these ways to use vitamin e oil your consideration and see if it isn't an oil that you should keep on hand. Which one will you try first?
Let's Discuss: Which one of the Vitamin E uses above do you think you would benefit from the most and why?
© 2016, Tough Cookie Mommy. All rights reserved.