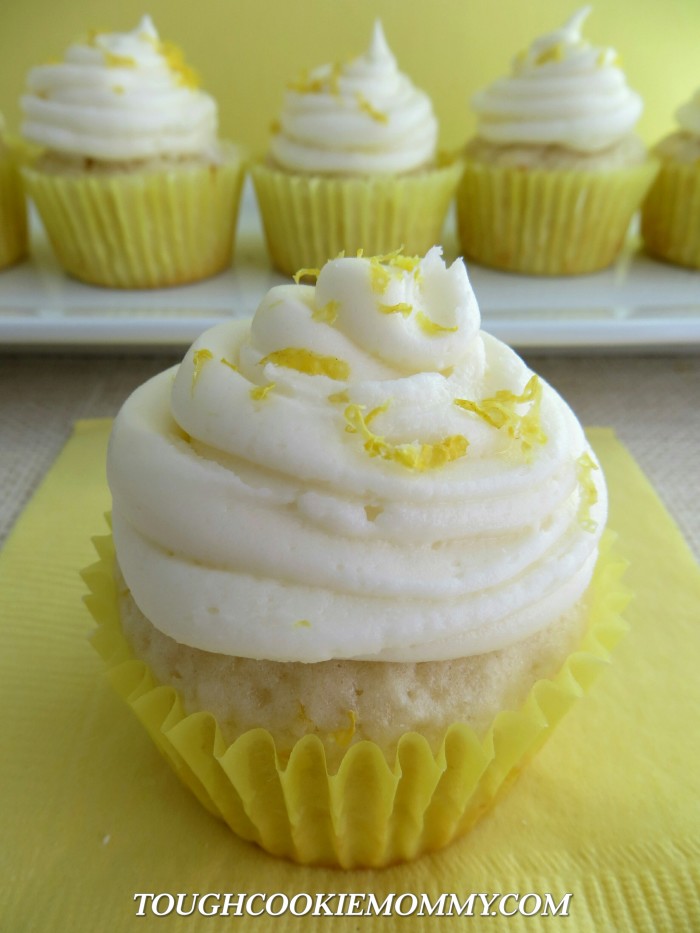 If your family is like our family, we have a lot of birthdays during the summer months and all of the kids love cupcakes so they often ask for them in lieu of having a birthday cake.  Over the years, my Sister in Law has gotten very creative with her cupcake recipe ideas and, not to be outdone by her, I have been looking for unique cupcake recipes to dazzle the entire family with for these events.  However, my Sister in Law is still a better baker than me by far and her cake pops are to die for!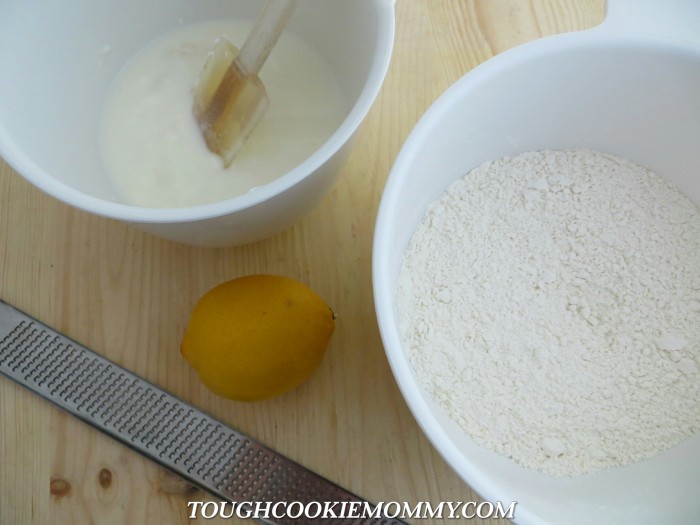 The next birthdays that we will be celebrating will be those of my teenage cousins which fall in the month of July.  To commemorate this joyous occasion, I will be making Lemon Buttercream Cupcakes and I am really excited to see what the rest of the family and our friends think about them.  In the meantime, I wanted to share the recipe with all of you so you could impress your loved ones this summer!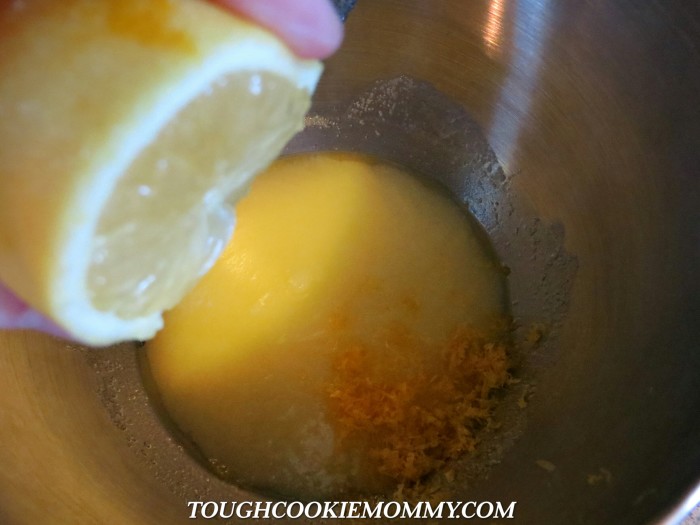 LEMON BUTTERCREAM CUPCAKES
This recipe makes 12 cupcakes
Total Baking Time: 50 minutes
Cupcake Ingredients:
1 ¾ cups of flour/all-purpose
1 ½ teaspoons 0f baking powder
¼ teaspoon of salt
½ cup of sour cream
½ cup of milk
2 egg whites/large, make sure they are consistent with room temperature
1 stick (4 oz) of unsalted butter of melted consistency
1 cup of granulated sugar or sugar substitute
1 tablespoon of freshly squeezed lemon juice
lemon zest from one lemon (about 2 teaspoons)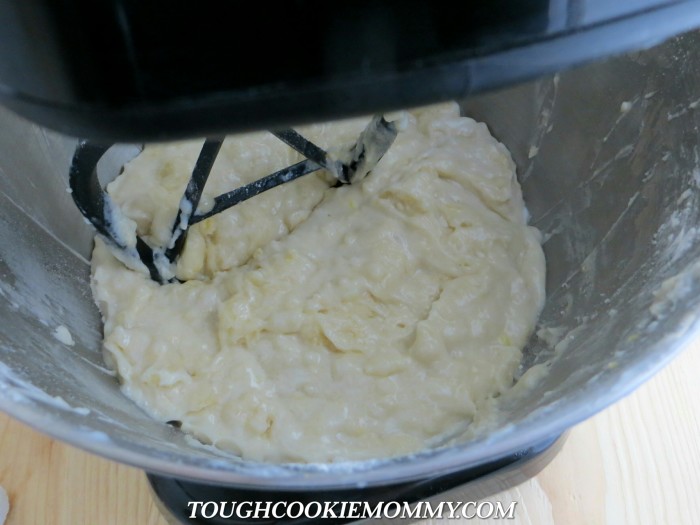 Lemon Buttercream Frosting Ingredients:
2 sticks of unsalted butter or margarine
4 cups of confectioners sugar
1 teaspoon of lemon juice
1 teaspoon of lemon zest
2 tablespoons of heavy cream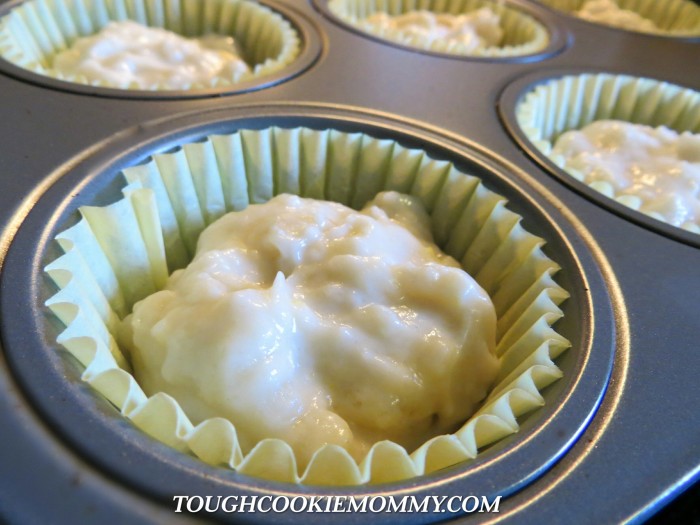 Directions:
Heat oven in advance to 350 degrees Fahrenheit.  Line a muffin pan with cupcake liners and set it aside.
In a mid-size mixing bowl combine the flour, the baking powder, along with the salt and mix them all well until they are thoroughly blended together.  Set aside.
In a large measuring cup or bowl, blend sour cream, milk, and egg whites and mix all of these ingredients well to blend. Set aside.
Use a stand mixer along with a large bowl and beat melted butter and sugar on medium speed until well combined.  This should take a total of just about 2 minutes.  Add lemon juice and zest from lemon and beat for another minute on medium speed.  Little by little, add flour blend to the butter/sugar combination, beating until just combined.  Add in sour cream/milk/egg combination and beat on low level or until just blended.  Over-blending will create a drier/more dense cake.
Divide the batter into the cupcake mold, and then insert the pan in the oven to bake for a duration of 18-20 minutes.  Once that time has elapsed, insert a toothpick into the center of the sponge cake and make sure it the it has no cake residue on it.  Let the cupcakes cool all the way through before adding the frosting as a topping.
To make the lemon buttercream, beat butter until fluffy and light.  Little by little,  add 4 cups of sugar, continuously beating on low to create a well blended consistency.  Add in lemon juice, zest and cream; beat until blended. Using a piping bag, frost cupcakes.  Optional: Garnish with additional lemon zest.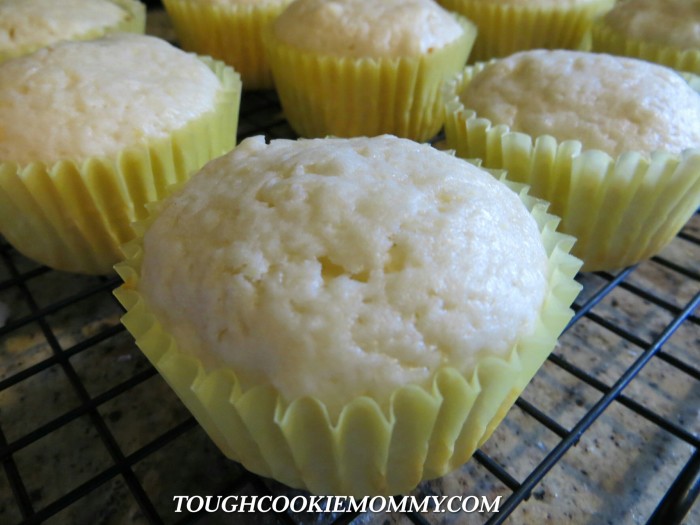 I have no doubt in my mind that your special guests will devour these cupcakes like I anticipate mine will next month.  After all, who can resist a sweet treat of such delectable proportions?
Let's Discuss:  What are some of your favorite cupcake recipes and how do you incorporate them into dinner parties or birthday celebrations?
© 2015, Tough Cookie Mommy. All rights reserved.