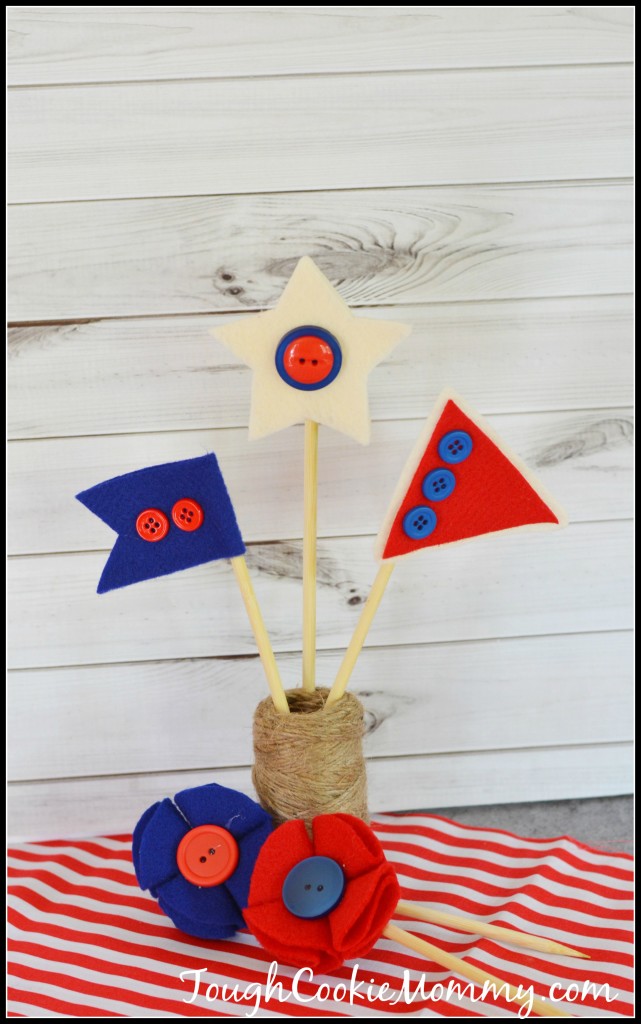 This weekend is Memorial Day and, while many are looking forward to having a long holiday weekend, the real purpose of this day is to remember all of the men and women who died serving our country in its armed forces.
    It is their sacrifices that allow us to enjoy the freedom that we have as citizens of this great country.  What better way to spend some quality time with the family than by doing some arts and crafts together?
    The possibilities with these cute, no sew felt patriotic decorations are endless! Attach a magnet to adorn your refrigerator. Affix to a frame to add patriotism to your favorite photo. Wear as a pin. Attach to a gift box in place of a bow. Plant sticks, or even at your patriotic party table!
Materials:
Hot Glue
Felt
Buttons
Skewer Sticks
Scissors
Directions:
To make the blue (or red) circles:
Cut four, 2″ circles out of felt. Fold circle in half and half again and glue together at the seam. Hold for a minute to let the hot glue set. Repeat with remaining three circles.
Glue four quarters together with hot glue. Affix button. Let set to dry and flip over and glue skewer to back.

To Make Triangle:
Cut about a 3″ triangle and then another smaller one. Glue together and add buttons. Glue skewer on the back.
To Make Tag/Flag:
Cut about a 5″ long piece of felt and fold in half. Cut out a triangle and glue together. Leave fold open a bit and slide in skewer and glue. Add buttons.
To Make Star:
Fold a piece of felt in half. Trace with a cookie cutter and cut out so you have two stars. Glue stars together. Add button and skewer to back.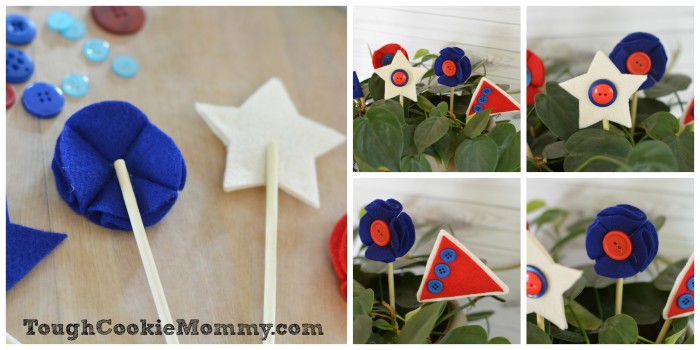 Note: I always use hot glue because it sets up quickly. You can use fabric glue or even white craft glue if you wish. Your dry time will most likely be overnight.
    I hope that you enjoy the time you spend creating these patriotic felt crafts as much as the finished products themselves.  From my family to yours, have a wonderful Memorial Day!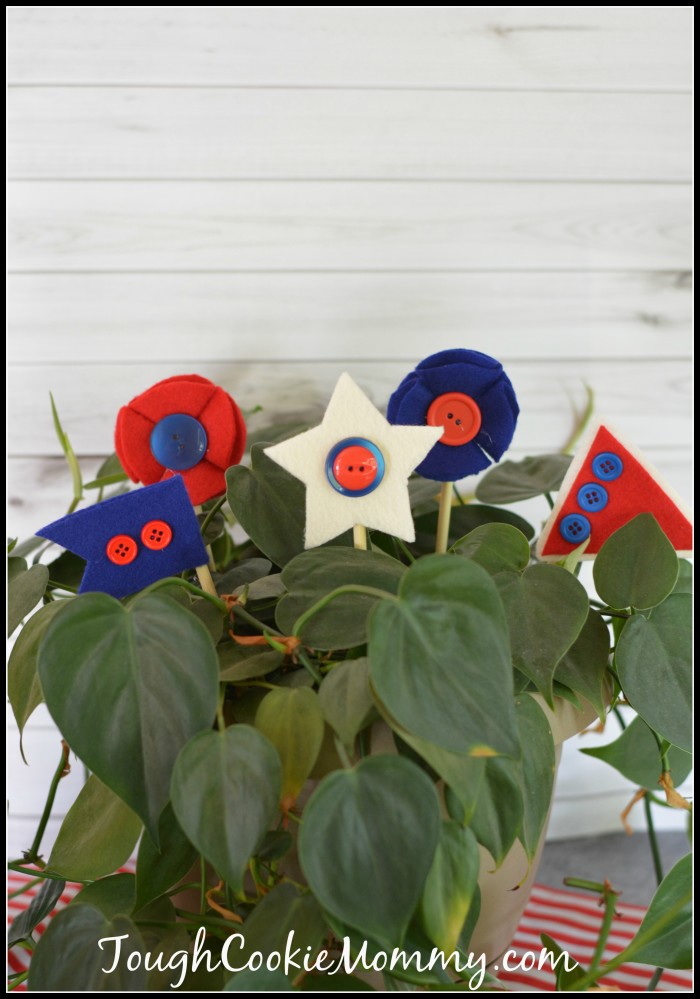 Let's Discuss:  How do you plan on spending your Memorial Day weekend this year?
© 2015, Tough Cookie Mommy. All rights reserved.