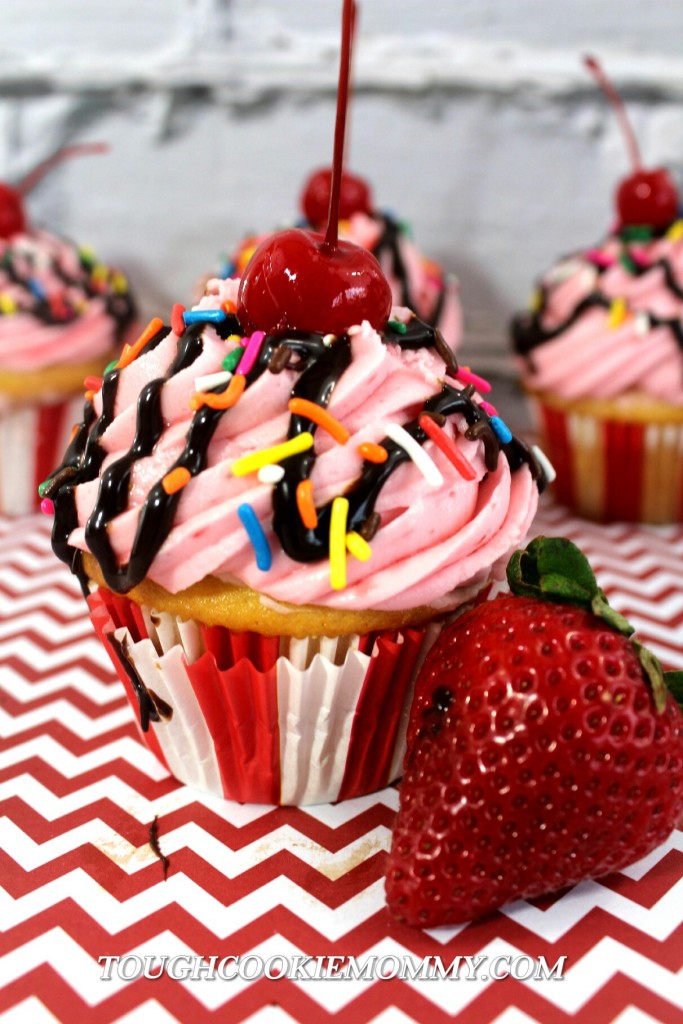 As my boys are getting older, I have noticed that they prefer cupcakes over other desserts.  I think part of it is that cupcakes are so convenient to transport and eat.  Since we are constantly on-the-go, they often have to eat snacks while we are on the road.  Banana Split cupcakes are some of their favorites because they contain fresh strawberries and my sons love them.
    In the past, I have served cupcakes at family dinner parties and events at my kids' school.  This particular recipe is reserved for special events because these cupcakes are so decadent and sophisticated.  Every single one of these is made from scratch and you can taste it as soon as you take the first bite.
Chocolate Cake

1/4 Cup of unsalted butter ( room temp )
1 Cup of sugar
1 Cup of chocolate chips
2 Large eggs ( room temperature )
2 Large egg yolks ( room temperature )
1/2 Cup of vegetable oil
2 Teaspoon of vanilla extract
1/3 Cup of sour cream
1 Cup of flour
1/2 Teaspoon of  tea salt
1/2 Teaspoon of tea baking soda
1/2 Cup of cocoa powder
1/2 Cup of water ( room temperature )

In a medium-sized mixing bowl or the bowl of a stand mixer, mix butter and sugar.  Melt the chocolate in the microwave or in a double boiler.  Add chocolate to the butter/sugar mix and combined.  Add in eggs and egg yolks one at a time mix.  Add in oil, vanilla, and sour cream mix.  Sift flour, salt, baking soda, and cocoa powder into a separate medium bowl.  Add dry ingredients to wet ingredients, mixing them all together.  Mix in water.  Once the batter is thick, start with the banana mix and place chocolate to the side.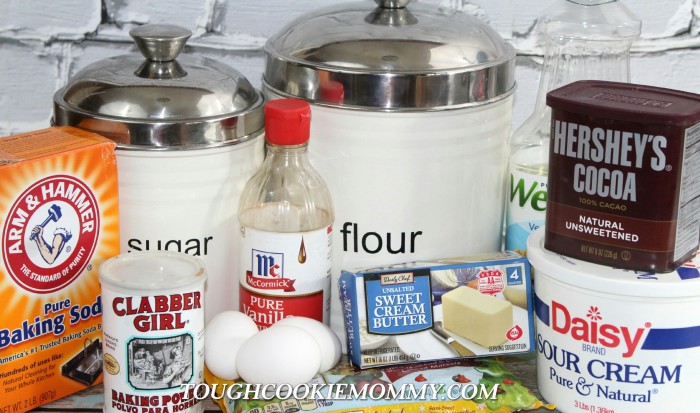 Banana Cake

2 Large ripe bananas
1 1/2 Cup of flour
3 Tablespoons of cornstarch
1/2 Teaspoon of baking soda
3/4 Cup of Sugar
1/2 Cup of unsalted butter ( room temperature )
1/2 Cup of buttermilk
1/4 Teaspoon of salt
2 Eggs ( room temperature )
2 Teaspoons of vanilla extract

Mix in a bowl whisked flour, cornstarch, baking soda and salt.  Using an electric stand mixer with the paddle, cream together sugar, butter and 1 Tbsp of the vegetable oil.  Add in 1 Tbsp vegetable oil.  Add the egg and blend in egg whites.  Add in the mashed bananas.  Working in three separate steps, add the flour mixture 1st , with 1/3 of the flour mixture alternating with half of the buttermilk and mix well.  Continue the steps until all the mix is used.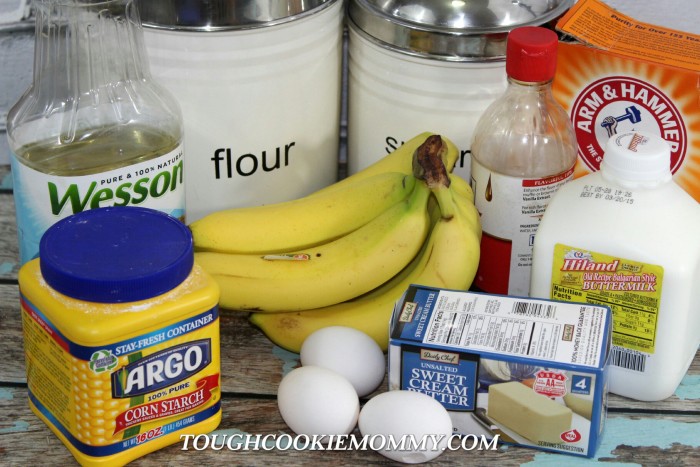 Filling cupcakes

You can utilize a batter divider which can be found at most grocery or craft stores.  

Use a small food scoop or a spoon to place a small amount of chocolate cake batter on the side of each cupcake liner.

Then scoop a small amount of banana cake batter next to it.

Pull out the plastic divider.

Bake the cupcakes in the oven for 15-20 minutes.

Let cool before frosting.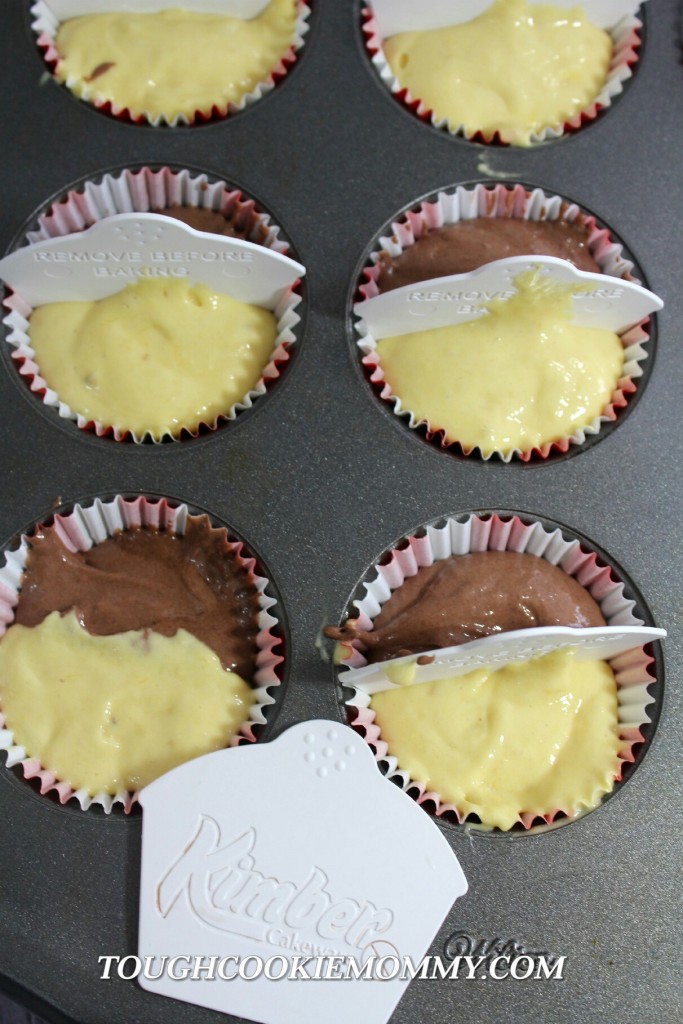 Strawberry Frosting

2 Cups of butter ( room temperature )

6-8 Cups of powdered sugar

1 Teaspoon of vanilla extract

2 Drops of red food coloring

1 TBSP of Strawberry flavoring or 1 cup of fresh washed berries, smashed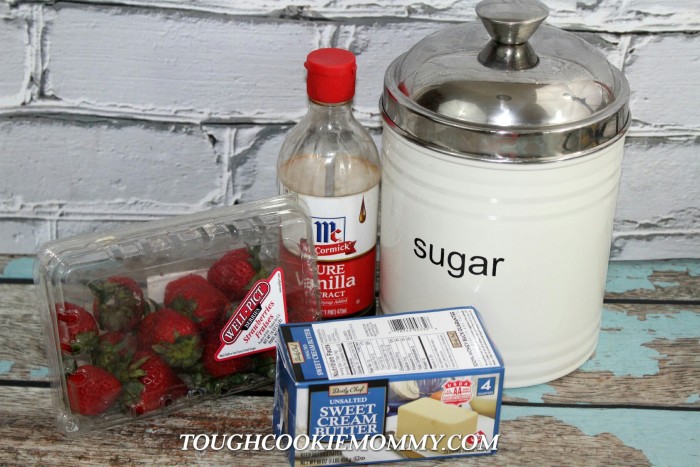 Directions

Add butter, vanilla, and strawberries to the bowl and begin to add the powdered sugar, one cup at a time.  
Make sure you beat all of these ingredients until they are well blended.  
Increase the speed to medium until they are light and fluffy.  
Place frosting in a pastry bag and pip it on the top of the cupcakes.  
Decorate by drizzling chocolate fudge on top and a dash of candy sprinkles.
    No matter what occasion you are celebrating this month, these cupcakes are perfect for adding a little sweetness to your party.  Tomorrow is my husband's birthday and, depending on how nice he is to me, I will be making these for him!
Let's Discuss:  What event will you be celebrating this spring that these Banana Split cupcakes will be perfect for?
© 2015, Tough Cookie Mommy. All rights reserved.