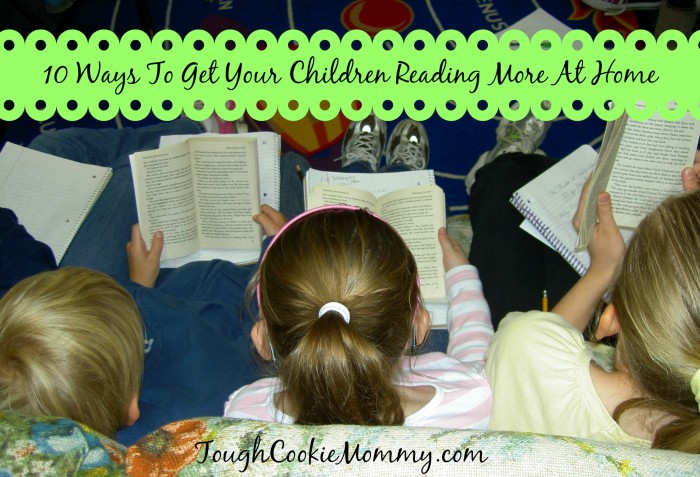 This week are parent-teacher conferences at my school.  If I had to choose the number one question that most parents ask me every year it would have to be how they can get their kids to read more at home.  Many of them have noticed that their children are only interested in spending time on the Internet or on their electronic devices than with a good book.
    As a Literacy Specialist, I know all too well the importance of having kids read outside of school.  Not only does it improve their reading comprehension, but it also helps to better their reading stamina and their fluency.  These are all skills that they will need to navigate texts academically as well as on the state exams.
Here are some of the tips that I give the parents of my own students to help them support their children in reading more at home:
Create a reading nook or area in your home where your child can read quietly without interruptions that is stocked with books, newspapers and magazines that they like to read.

Buddy read with your child and discuss the book with them afterwards. This means you each have a copy of the book and you are reading it simultaneously.

Purchase books for your child that have been made into films and have them compare and contrast the book to the movie.

Subscribe to magazines that discuss some of your child's favorite topics or subjects.

Make regular visits to your local library with your child and choose books to read together.

Set time aside every evening where each member of your family drops everything and just reads for a set amount of time.

Read aloud to your child.  Even older children enjoy being read aloud to and it's a great way to model fluent reading to them.

Have the newspaper delivered to your home and read it with your child while discussing current events together.

Create a reading chart and set reading goals with your child where they are rewarded for reading a certain amount of books.

Make sure you have plenty of reading material available in your home in a variety of genres and about a variety of topics that will engage your child.
    Remember, our children get our cues about the importance of reading from us.  If they see you reading regularly and placing value on reading, they will also see it as being a valuable skill.  This includes the way that you handle books as well as how often you spend time reading them.  Don't forget, reading is also a great way for families to spend time together that is not centered around technology.  This just might be the perfect excuse that you have been looking for to unplug once in a while…
Let's Discuss:  What are some of the ways that you make sure that your children spend more time reading when they are home?
© 2015, Tough Cookie Mommy. All rights reserved.