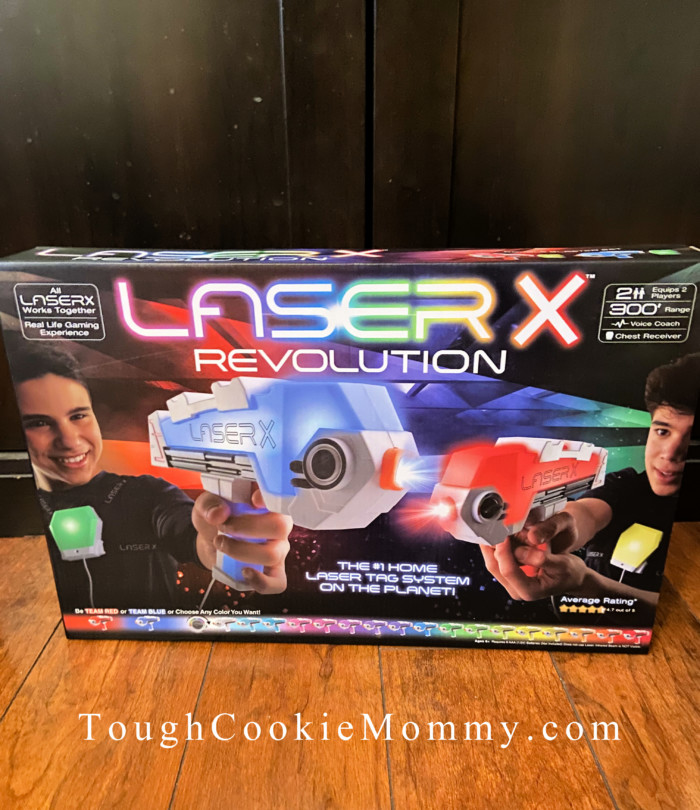 As the holidays are approaching, I find myself scrambling to get all the gifts on my sons' and nephews' holiday list. Since they range from all ages, it can be tricky making sure that I find gifts that meet their unique likes and interests. My nephew loves laser tag ever since I had a laser tag party for my older son for one of his birthdays. I knew that Laser X Revolution would be the perfect gift for him this Christmas.
Laser X Revolution can be found at Target and getlaserx.com.  It is like having a laser tag arena in your own home! Blast opponents up to 300′ away – inside or out, in darkness or bright sunlight.  You can even choose from more than 20 team colors to light up your blaster! Blaster beams have the ability to go through windows and strategically bounce off walls and mirrors to hit opponents, while quick-slide reload keeps the action going. Advanced sensors allow an interactive voice "coach" to offer tips and tricks throughout the game.
I really like that all Laser X gear works together. My nephew is going to love being able to move around all over the house since it is so easy to aim at targets, even indoors. I'm also excited that he will actually be getting some exercise since he has been spending a lot of time sitting and playing video games. Laser X games can include unlimited players which is nice since my sons and nephews live in the same house and can be around one another, even during the pandemic, since they are part of the same family pod. Laser X is recommended for ages 6+ but all our boys from ages 10 to 17 love it and yours will too!
Disclosure: This sponsored post is part of a blogging campaign in collaboration with Element Associates. All opinions are 100% my own. I am disclosing this in accordance with the Federal Trade Commission's 16 CFR, Part 255 "Guides Concerning the Use of Endorsements and Testimonials in Advertising."
© 2020, Tough Cookie Mommy. All rights reserved.