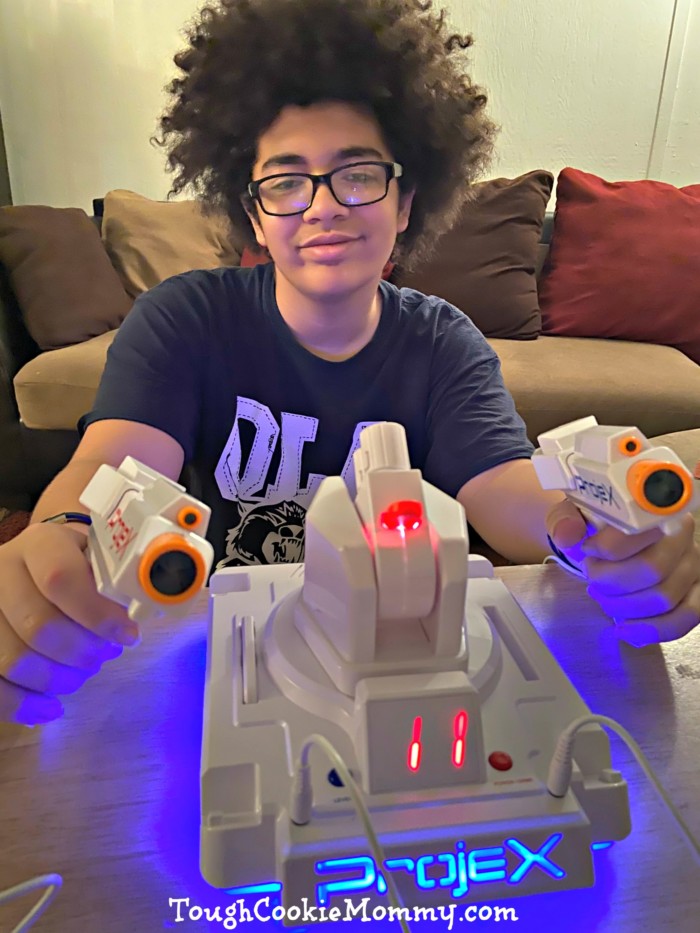 Most families who live in New York suddenly had to spend a lot of time with one another a few months ago and we all realized that this was the perfect opportunity to create opportunities to spend meaningful quality time together. When you have two teenagers like I do, it can be a little more challenging to do things as a family that are "cool" enough to keep teens engaged and away from their phones. If you have teens you know exactly what I am talking about!
I was so excited when I learned that I would have the chance to review the ProjeX™ Projecting Gaming Arcade from New York City-based NSI International, Inc. ProjeX™ lets you blast targets such as ducks or UFOs that are projected right onto your wall like a real life video game! The best part is that all of these targets each come with its own unique sound effects! Since both of my sons are really tech-savvy and love competing against one another, I knew immediately that ProjeX™ was the perfect game for us!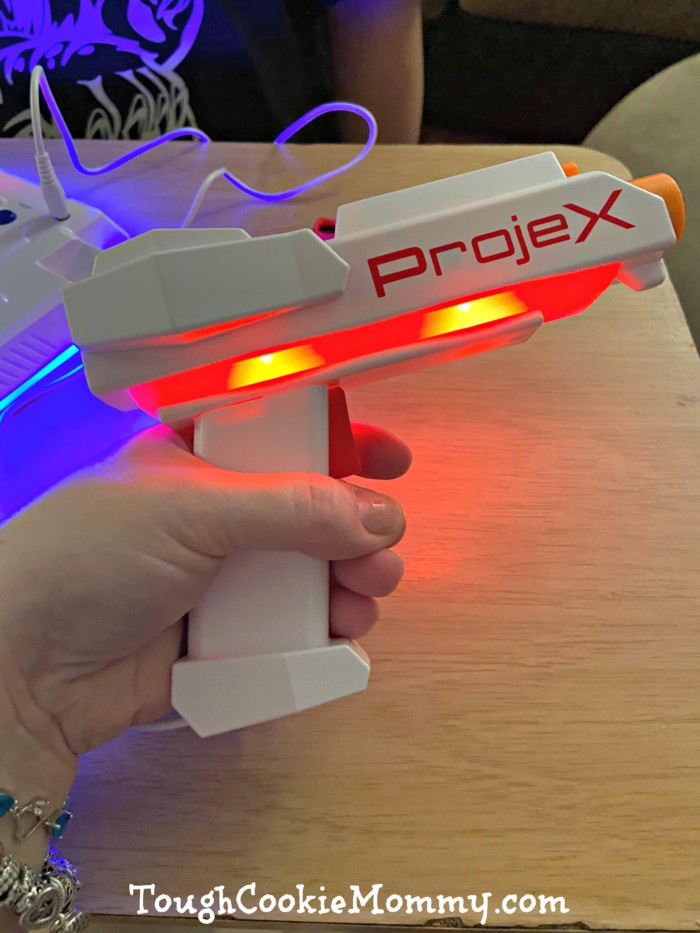 ProjeX easily converts any room in your house into a real life gaming arcade which allows players to project targets onto pretty much any wall in your home. You don't need a television, computer, smart phone or any other technological device because the only limit to the size of your play are is how big or small that walls in your home are.
My older son, who is seventeen, really liked that ProjeX features five games and three skill levels because he is constantly trying to challenge himself to reach the next level whenever he plays any video game. My husband, who is not techie at all, loved the A "beginner" setting because it allowed him to not embarrass himself too much while playing with his technologically advanced teenage sons.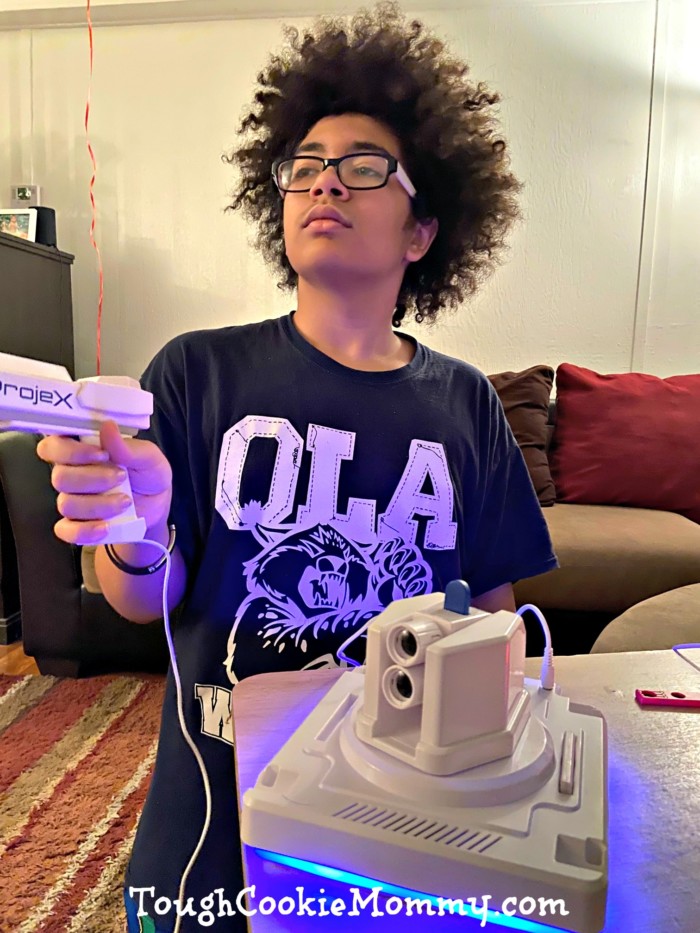 I enjoyed the fact that I can play solo, head-to-head, or team up in "Co-Op" mode, which lets two players combine scores because I have been able to improve my skills when my guys are not around and I'm practicing in my room. I'm really excited about the prospect of showing off my new skills at our next family gathering since ProjeX allows for an unlimited number of players to join the arcade fun.
ProjeX™ is completely portable, battery-operated, and comes with two blasters, which are stored right on the unit, a built-in LED scoreboard, and a place to keep image slides. The fact that it uses batteries means that we are not limited to playing indoors and we are already planning to try it outdoors when it gets dark during the warm, summer months. My husband thinks it will project easily on the side of our garage and, being outdoors at night, will add to the fun and competition that we will experience.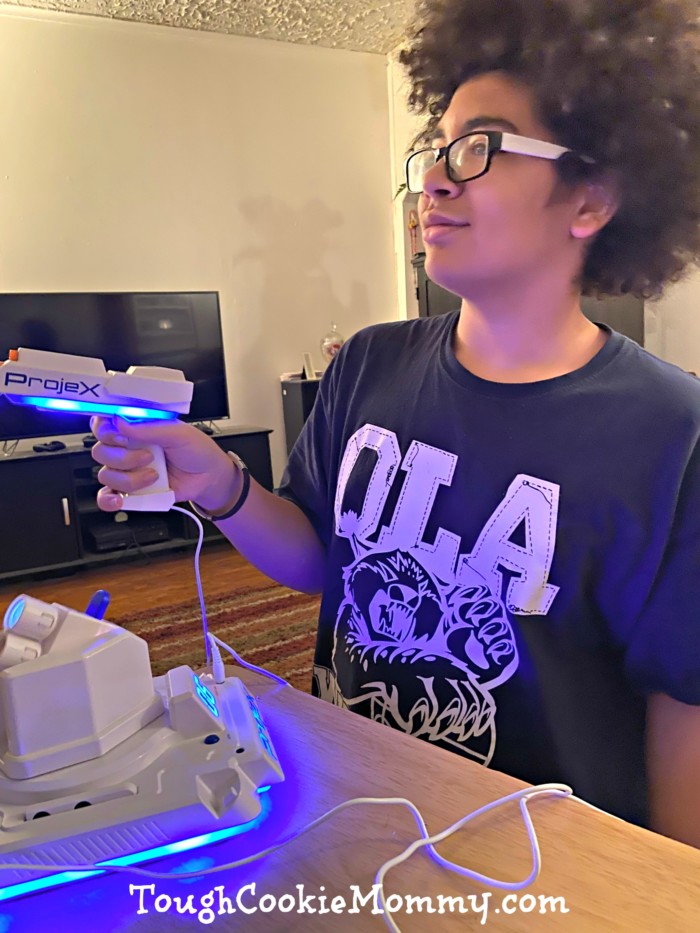 Although recommended for children 6+, ProjeX™ is honestly a lot of fun for children of all ages and for adults. Even though our boys are teens, I'm sure that my nephews who range in ages 8 to 15 will also join in on the arcade fun. ProjeX™ retails for $49.99, the game can be purchased at Target, Walmart and www.ProjeXGame.com.
New York City is starting to open up and we will be able to spend more time away from home, I think that we will continue to make time to connect as a family with ProjeX™. At the end of the day, having this quality time is not just about having fun with one another, it is also about making memories that we will remember for years to come. Order ProjeX™ and start to create your own memories with your family!
Let's Discuss: What are some of the ways that you create meaningful opportunities for quality time in your home?
GIVEAWAY!
Disclosure: This sponsored post is part of a blogging campaign in collaboration with Element Associates. All opinions are 100% my own. I am disclosing this in accordance with the Federal Trade Commission's 16 CFR, Part 255 "Guides Concerning the Use of Endorsements and Testimonials in Advertising."
© 2020, Tough Cookie Mommy. All rights reserved.