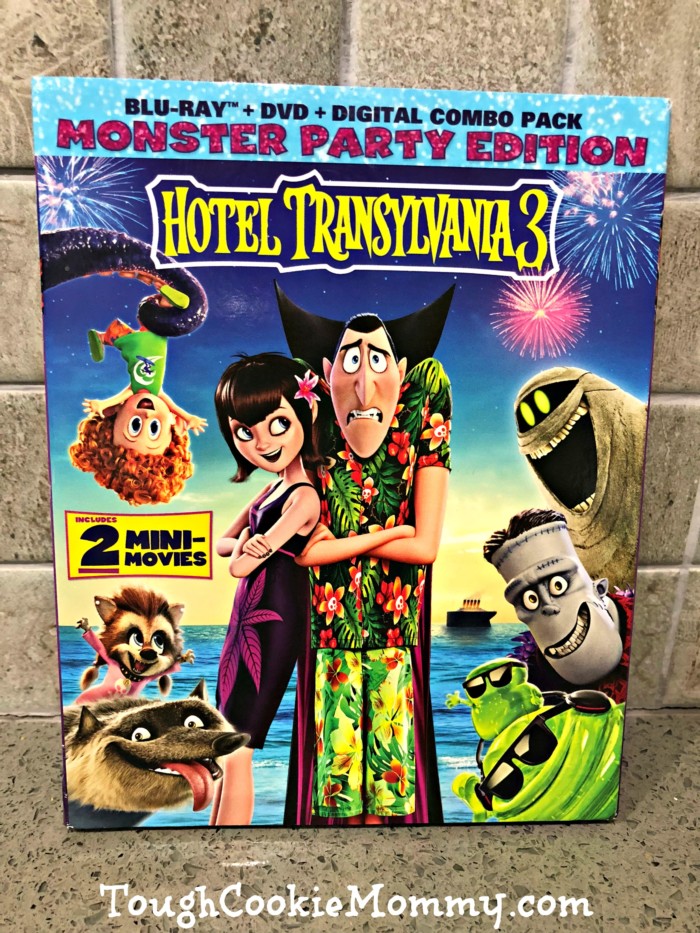 Can you guys believe that Halloween is right around the corner? My family and I are so excited with all the costume and candy preparations that this fun holiday has really crept up on us. One of our favorite Halloween traditions is also watching spooky movies together and making the night a fun monster movie night. That is why we have added Hotel Transylvania 3 to our scary movie collection!
    Available now on Digital HD and on Blu-ray™ Combo Pack and DVD, Mavis surprises Dracula with a family voyage on a luxury, haunted monster cruise ship. Of course, the rest of the Drac Pack has to tag along, and that's when things get a little…batty. The monsters are having a great time, indulging in all of the shipboard fun the cruise has to offer, from monster volleyball to colossus-sized buffets and exotic excursions, but then the unexpected happens when Drac falls for the ship's mysterious, and dangerous, human captain Ericka.
It also has some fun, family bonus features, including:
Three All New Scary-Oke Sing Alongs: Sing along to three Hotel Transylvania 3 inspired songs with your favorite characters!
"Dennis Had a Giant Dog" – Sung by Dennis & Winnie
"Monsters Like to Party Down" – Sung by Johnny
"Oh These Wolf Pups" – Sung by Wanda Werewolf
Plan Your Own Spook-tacular Sleepover: This feature will give you all details on how to make your own sleepover spook-tacular! From snacks to crafts to games and more, follow these steps to create a Hotel T sleep-over with your friends and family, the perfect setting to binge watch all 3 Hotel Transylvania movies.
Vampire Make Over: Mavis and Drac Tutorial: Learn how to turn yourself into your favorite Hotel Transylvania 3 characters.
Behind the Screams – The Voices of Hotel Transylvania 3: Step behind the "screams" with the returning stars and hilarious new cast to see how these characters are brought to life in the recording booth.
Johnny's Home Movies (Franchise Recap): Johnny brings viewers up to speed on what's happened in the Hotel Transylvania franchise so far.
"I See Love" Monster Dance Party Dance Along: Get up and get moving to this haunting monster mash.
Drac's Zing-tastic Read Along: It's storytime with your favorite characters have a silly tale about Drac's search for a Zing!  Read along or sit back and enjoy!
Two Mini Movies (rated G): Two mini-features that will have you howling.
Puppy
Goodnight Mr. Foot
So gear up for  a spooky sleepover this Halloween! Get your copy of Hotel Transylvania 3, available now from Sony Pictures Animation!
Let's Discuss: What are some of your Halloween family traditions?
Disclosure: This sponsored post is part of a blogging campaign in collaboration with Sony Pictures Animation. I received a promotional item as a thank you for participating. I am disclosing this in accordance with the Federal Trade Commission's 16 CFR, Part 255 "Guides Concerning the Use of Endorsements and Testimonials in Advertising."
© 2018, Tough Cookie Mommy. All rights reserved.