*This post is brought to you by The Motherhood and Hassenfeld Children's Hospital at NYU Langone. All opinions are my own.
    Having a child with a chronic medical illness is extremely difficult. As parents, we never want our children to be ill and we want to make them better right away whenever they do get sick. As many of you know, my younger son has had Benign Rolandic Epilepsy since he was eight years old. I can still remember the first time I witnessed him having a seizure, it was one of the worst moments of my entire life. As a result of his illness, we have spent quite a bit of time at the hospital having him tested as well as taking him to the Emergency Room.
    As I navigated the medical system at our local children's hospital, I learned that one of the best things that parents can do for their children is to advocate for them to receive the best care from the best doctors. It's so important to choose the right children's hospital to entrust with the care of your child. Additionally, parents of children with chronic illnesses also require a lot of support. The last thing parents should have to worry about is whether their child is being cared for properly.
    Since we live in New York City, we have the privilege of having access to New York's newest children's hospital. Hassenfeld Children's Hospital—34th Street is NYU Langone's flagship pediatric inpatient care center. Its 160,000 square feet facility is New York City's first new children's hospital in nearly 15 years. Hassenfeld Children's Hospital partners with children and families to provide exceptional care for every type of common and complex condition, in a space where children can be children, and parents feel supported.
    Families can enjoy single-patient rooms, which allows them a very much needed sense of privacy, helps to decrease the risk of infection, and also provide enough space for one parent to sleep comfortably alongside their child. Every single one of its 68 patient rooms features MyWall, a 75-inch electronic display screen with a touch screen tablet at the bedside. MyWall can be used to order meals, watch TV and movies, play video games, use the internet, call or Skype with loved ones or teachers for schoolwork, and adjust room temperature, lighting, and window shades. Having access to modern technology, as well as a comfortable, homey environment, goes a long way in decreasing some of the anxiety associated with any kind of hospital stay.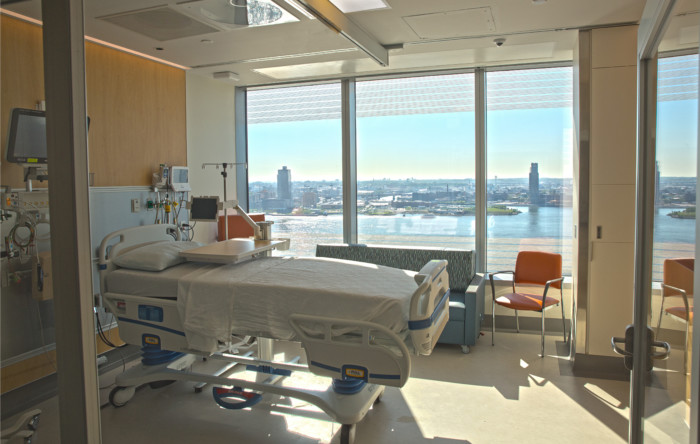 In the past, my son has dreaded going to the hospital. In his mind, it is a scary place where he is poked and prodded for endless EEG's, MRI's and other procedures in a generic and cold environment. As a parent, it has broken my heart to see him cry and worry from the moment we entered through the hospital's front entrance. The fact that so much thought and care has gone into designing Hassenfeld Children's Hospital demonstrates to me that they are in the business of caring for children and their families first. I cannot begin to describe how thankful I am that they are located right here in New York City.
Here are some additional amenities offered to children and their parents at Hassenfeld Children's Hospital:
The Children's Terrace, with a roof garden overlooking the Empire State Building, offers parents sunlight and fresh air during stays with their children.
The Family Resource Lounge features laundry facilities, showers, a lactation and massage therapy room, a family lounge, snack center, and computer work stations.
New York City-themed artwork, including a replica of Lady Liberty made entirely of LEGO® bricks and an Empire State Building children can climb in.
Playrooms for children of all ages and a broadcast studio.
    No parent wants their child to be sick or to have to stay in the hospital. However, life sometimes has a plan of its own and families find themselves in healthcare situations that they did not plan for. The importance of choosing the right children's hospital for your child during these times is paramount. Hassenfeld Children's Hospital doesn't just want to treat children, it wants to support their parents and families so they can be strong and healthy themselves as they accompany their children on this brave journey…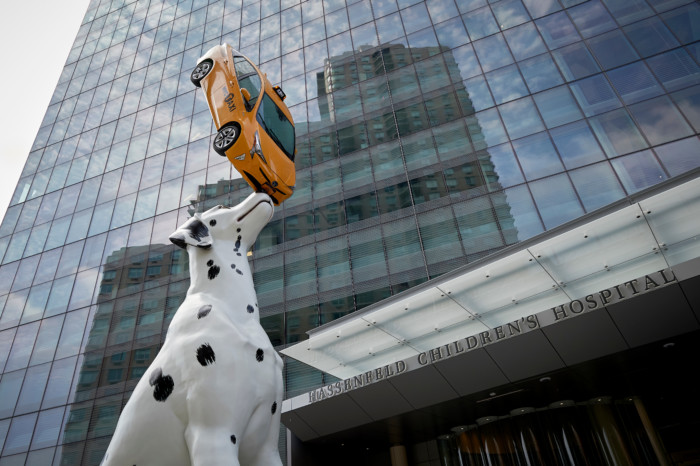 To learn more about Hassenfeld Children's Hospital or search for one of its more than 400 doctors in more than 35 specialties, visit:
nyulangone.org/hassenfeldchildrenshospital
https://www.facebook.com/HassenfeldChildrensHospital/
Let's Discuss: What are some of the qualities that you look for when choosing the right children's hospital for your child?
© 2018, Tough Cookie Mommy. All rights reserved.