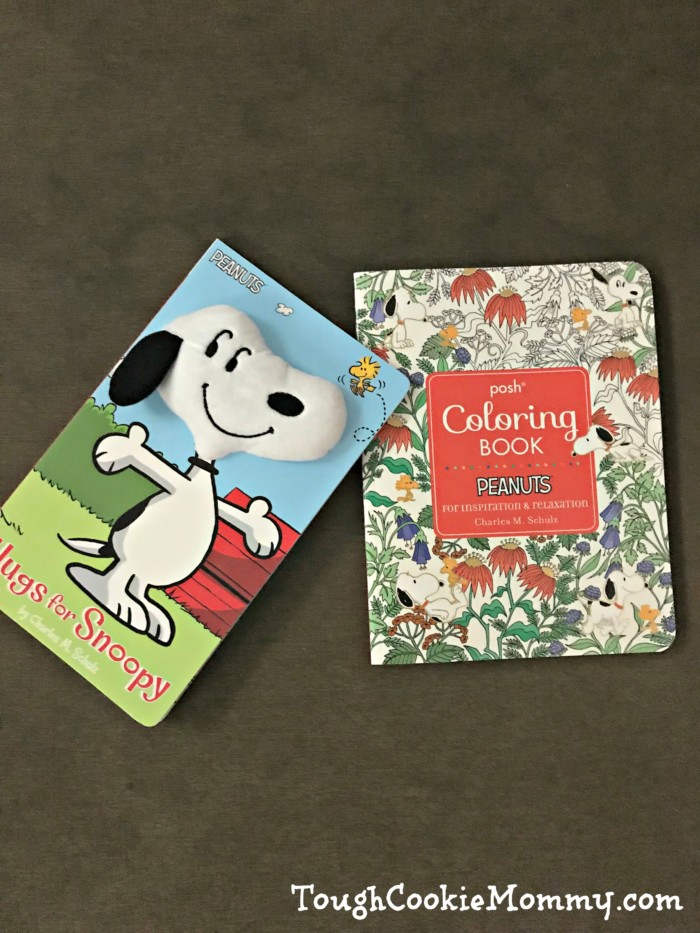 Fall has finally arrived and everyone I know is busy focusing on back-to-school and working hard. Snoopy would like to remind parents and kids that it's important to take a break from the grueling homework and serious textbooks every so often with these two new and entertaining Peanuts-themed books!
    The first, called "Hugs for Snoopy," is a Simon Spotlight novelty board book for kids about hugs with a touchable, lovable plush Snoopy face on the cover! It's perfect for teaching kids how important it is to show love to those who truly matter in their lives.
    It doesn't matter if you're happy, sad, lost, or found, nothing warms the heart like a hug—just take it from Snoopy! In this adorable board book, Snoopy earns a hug from Linus, snuggles away the sniffles for Woodstock, and gets caught in a cuddle with Charlie Brown. Now Peanuts fans, young and old, can feel the love, too!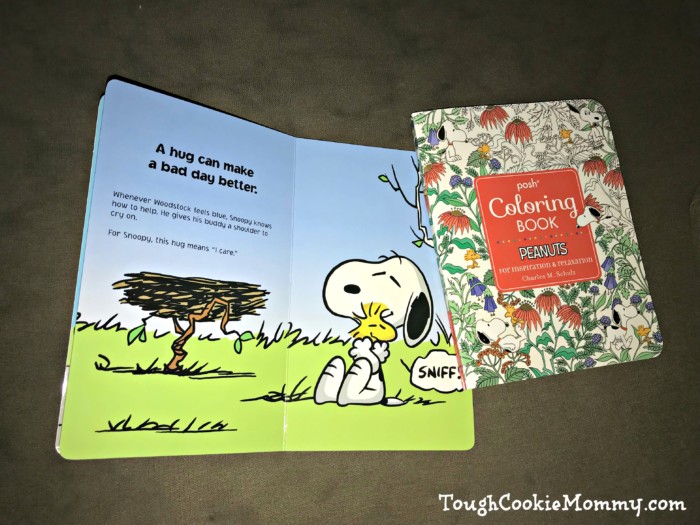 In the second book, entitled "Peanuts for Inspiration and Relaxation," from Posh, adult fans can color along with the Peanuts gang and relive their childhood! There is nothing more relaxing than taking some time out to color with your favorite Peanuts characters.
    The beloved Peanuts characters are reimagined here in 124 fanciful coloring book images, interweaving many classic Peanuts themes, such as: Schroeder and musical items; Charlie Brown and the kite-eating tree; and the Snoopy dance. I can't think of a better way to enjoy a beautiful fall day than with these books!
Let's Discuss: What are some of the ways that you and your family find time to relax during the Fall?
GIVEAWAY:
Our Sponsor is giving away a Snoopy Board Book and Peanuts Themed Coloring Book to one reader of Tough Cookie Mommy!
a Rafflecopter giveaway

Disclosure: This post is part of a blogging campaign as a Peanuts Brand Ambassador. I received a promotional item as a thank you for participating. I am disclosing this in accordance with the Federal Trade Commission's 16 CFR, Part 255 "Guides Concerning the Use of Endorsements and Testimonials in Advertising."
© 2017, Tough Cookie Mommy. All rights reserved.