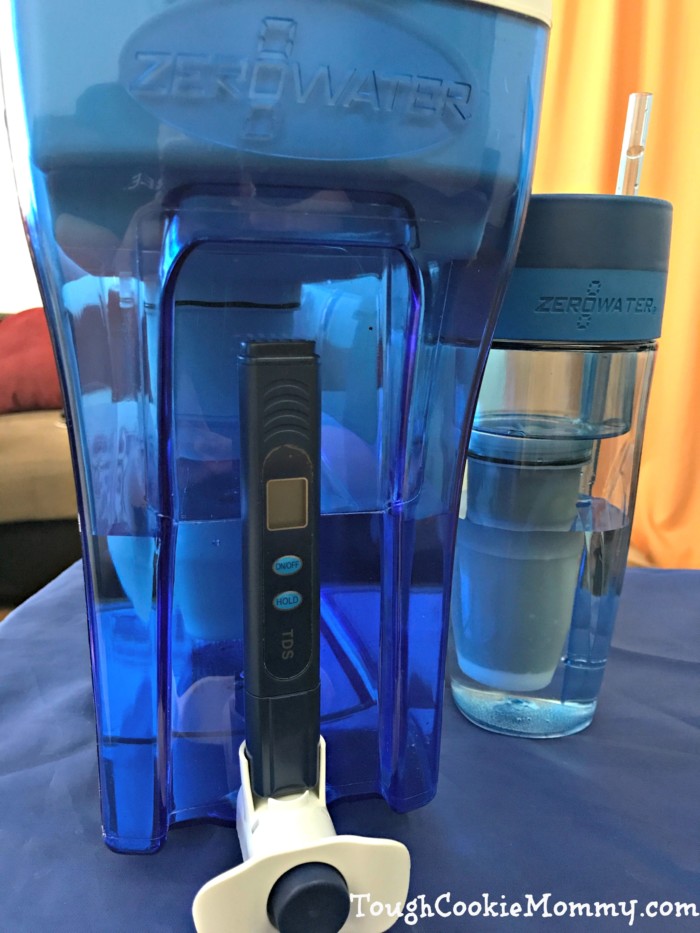 I have to be honest with you guys, I'm not that confident in our tap water.  It's hard to ignore all of  the reports about chemicals such as Chromium 6 and Lead continuously popping up in the news threatening the drinking water in cities across the country.  Both contaminants are blamed for everything from birth defects and neurological disorders to organ deterioration and cancer.  It's scary to think that my family could be exposed to these toxins from our drinking water.
    Most people either purchase expensive water filtration systems or spend billions of dollars on bottled water each year.  If you start to think about how many empty bottles of water you recycle or have lying around in your car you will realize how quickly this expense can add up!  Not to mention all the waste that is being produced from all of these discarded plastic bottles.  Factor in that you're still not getting the purest water possible. There is a better option.
    ZeroWater offers an easy-to-use water meter allowing you to see exactly how your tap water stacks up when it comes to Total Dissolved Solids (TDS).  You can even use the water meter to check the TDS read on bottled water. Let's just say it's not all that pure.  All ZeroWater products are BPA free and their Pitcher Filtration system is certified by NSF (National Science Foundation International.)  Additionally, their water pitcher is the only one certified to reduce lead and chromium 6 by NSF.
ZeroWater Products:
Test TDS levels in water with fast read result.
Prices $4.99 to $20.00
ZeroWater Pitchers are available in 6, 10, 12 cup pour size.
ZeroWater's 23 cup Dispenser is easy and convenient and fits in most refrigerators.
Prices range from $19.99 to $40.00
Powerful exchange 5-stage filter system offers 000 TDS Water anywhere you go. Chlorine taste, Aluminum, Lead, Zinc, Nitrate, and other solids are removed.
Filter change technology tells you exactly when the filter needs to be changed.
Price $14.99
    We love ZeroWater because it is the best filtration system on the market today that also removes lead.  When it comes to our tap water, we are not taking any chances with the health of our family!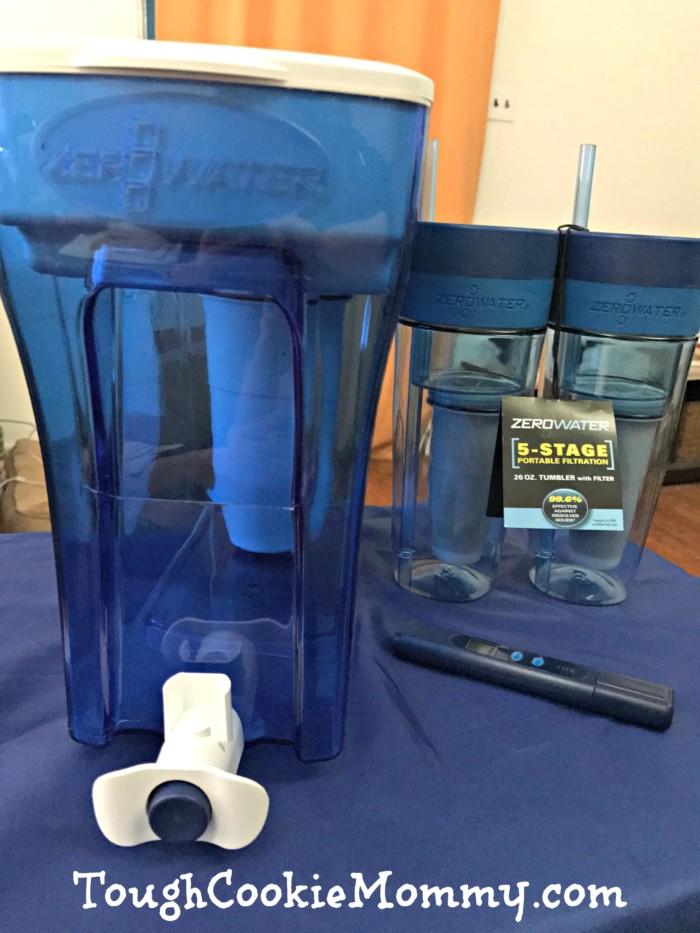 Let's discuss:  How confident are you with the tap water that your family drinks?
GIVEAWAY:
Our Sponsor is giving away a ZeroWater Family Starter Pack: 23C + 4 replacement filters and 2 tumblers with replacement filters MSRP: $125.a Rafflecopter giveaway

Disclosure: This sponsored post is part of a blogging campaign in collaboration with ZeroWater. All opinions are 100% my own. I am disclosing this in accordance with the Federal Trade Commission's 16 CFR, Part 255 "Guides Concerning the Use of Endorsements and Testimonials in Advertising."
© 2017, Tough Cookie Mommy. All rights reserved.