Growing up, our mother was not raising my sister and I to be damsels in distress. I can still remember her telling us how important it would be to get an education and to always be independent women. It might seem unbelievable but studies have shown that girls are being influenced by gender stereotypes from as young as six years old. That is why it is so important that they have access to positive role models in the media and within the entertainment programming that they are being exposed to.
Thankfully, Netflix is home to girls who mean business and that's something all kids can get behind. Whether it's Violet's quick wit, Elena's activist mentality, or Deidra & Laney's unorthodox thinking, there's something for every girl to relate to. Strong female characters aren't just important for girls. Boys are growing up with Eleven saving the crew and Tip showing that true friendship knows no bounds.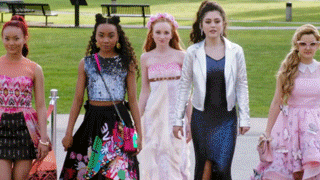 One woman who has broken many barriers for women over the years is Julie Andrews. She is one of the most accomplished women in performing arts and has now joined Netflix. She debuts her new Netflix original Julie's Greenroom which is sure to get kids and families singing, acting, designing costumes and much more.
Julie's Greenroom unlocks hidden passions through all aspects of the arts and gives kids a chance to express themselves. Common Sense Media, experts in balancing digital media and technology in kids' lives, has some great conversation starters for families on how the performing arts are not only fun, but great for building character.
Netflix is committed to providing programming that allows kids to grow and learn in different ways!
Let's Discuss: Which Netflix characters do your kids connect with?
Disclosure: This post is part of a blogging campaign in collaboration with Netflix. As a member of the Netflix Stream Team, I received a promotional item as a thank you for participating. I am disclosing this in accordance with the Federal Trade Commission's 16 CFR, Part 255 "Guides Concerning the Use of Endorsements and Testimonials in Advertising."
© 2017, Tough Cookie Mommy. All rights reserved.