This Sunday, my entire family will be descending upon our home like a plague of locusts so that we can all celebrate Christmas together. Don't get me wrong, we all really love each other but we are all also aware that we can get on each other's nerves when we are forced to spend a significant amount of time together. I'm sure many of you feel the same way about spending the holidays with your family. You can't live with 'em, and you can't live without 'em!
In our home, our bathroom has become a sort of sanctuary for everyone to get a little breathing room while the rest of the family continues to annoy each other in the living room. While pulling off a successful holiday gathering can be rewarding, sometimes the only way to recharge your batteries is to hide out in the bathroom and get some much needed peace and quiet. Whether it be scented candles, reading material, or five-minutes of silence, I'm a firm believer that Charmin Mega Roll is really the one item that will turn your bathroom into the refuge that you desperately need.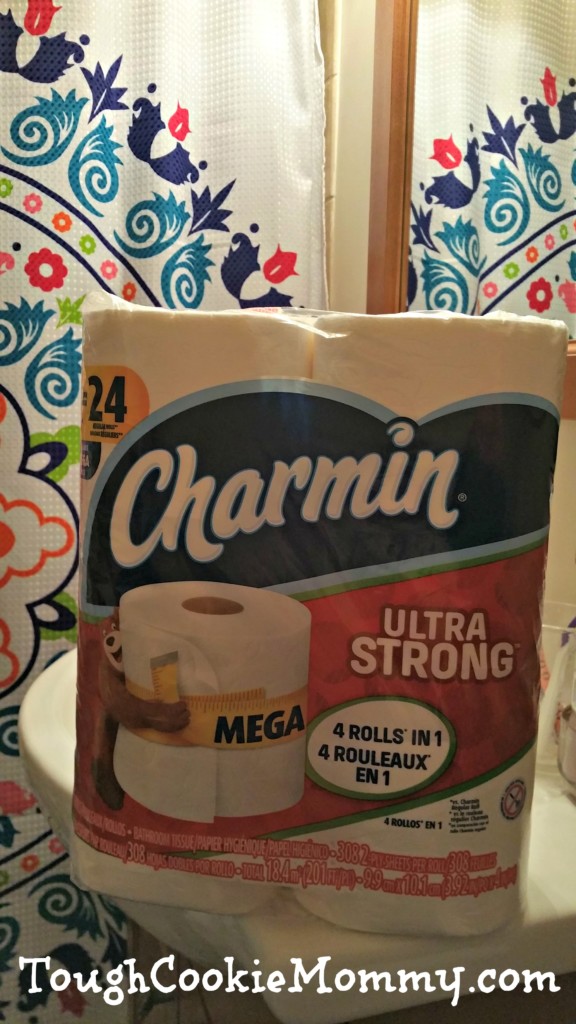 Toilet paper may seem like a no brainer, but it's hard to predict just how quickly guests will go through a roll before you finally get the chance to relax and take the throne. In our family, it's my younger son and one of my nephews that always seems to spend all the toilet paper. I'm pretty sure that they like playing with it and rolling it up and actually just waste most of it. These are photos of what they were doing last time when I caught them in there. Luckily, Charmin Mega Roll is longer lasting, so no matter how late in the day I decide to retreat into the bathroom, I don't have to worry about just finding myself with no toilet paper.
Charmin Ultra Strong Mega Roll is the same great strength we love, but just more of it! More convenient, more value and more long lasting "go's" per roll so we don't have to change the roll that often. Believe me, it is tragic for me when I head into the bathroom to hide out from the rest of the family. Aside from needing the toilet paper to wipe away the tears of frustration that arise from wondering why I keep inviting all of my family back year after year, I also need it for more practical reasons, if you know what I mean.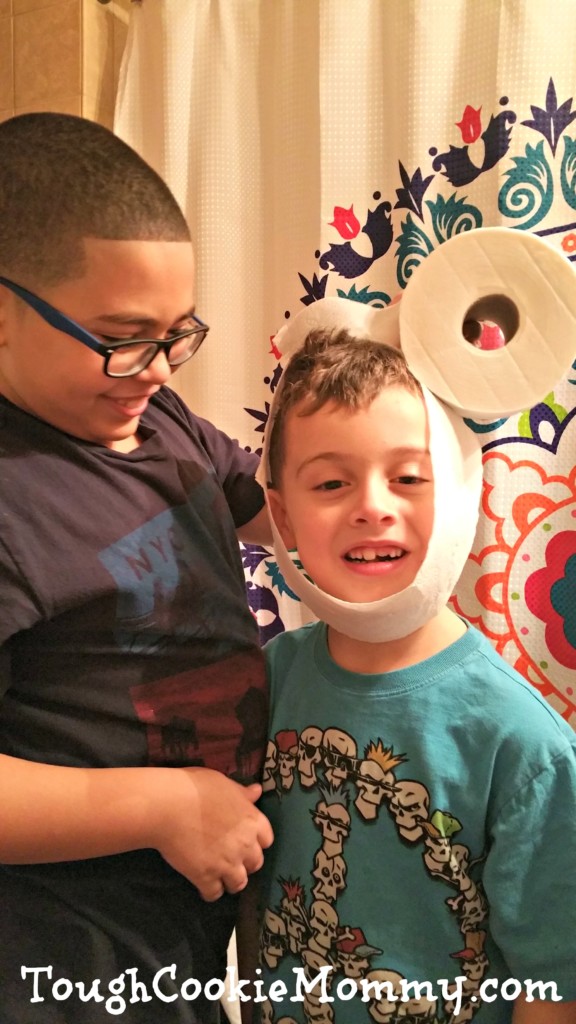 If you are looking for a strong and confident clean in a long-lasting roll, Charmin has got you covered. Now, as far as dealing with your family during the holidays, you're on your own with that one…
Let's Discuss: What are some of the ways that you manage to survive spending the holidays with family?
Disclosure: This sponsored post is part of a blogging campaign in collaboration with Charmin. As a Charmin Influencer, I received a promotional item as a thank you for participating. I am disclosing this in accordance with the Federal Trade Commission's 16 CFR, Part 255 "Guides Concerning the Use of Endorsements and Testimonials in Advertising."
© 2016, Tough Cookie Mommy. All rights reserved.