I recently had the opportunity to visit the Domino's World Resource Center in Ann Arbor, Michigan and I am excited to tell you about all I learned during my two days there. I have loved Domino's pizza for years and was thrilled to learn just how dynamic of a company they truly are.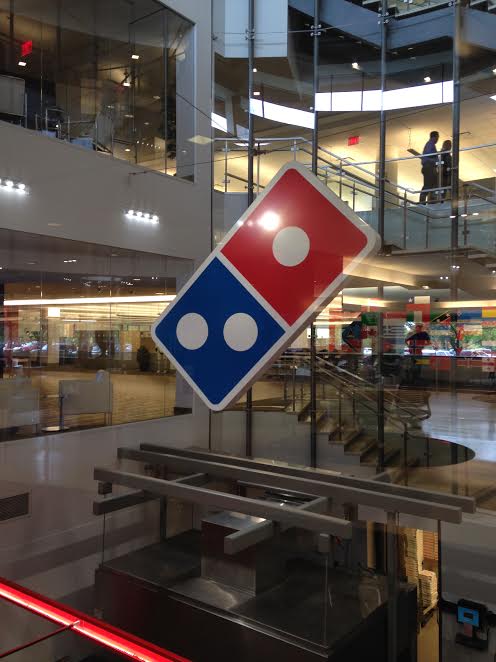 Domino's Pizza started as a single store back in 1960 and today they are recognized as the world leader in pizza delivery. Back in 1960, Tom Monaghan and brother, James, purchase "DomiNick's," a pizza store in Ypsilanti, Mich. Monaghan borrowed $500 to buy the store. In 1961 James trades his half of the business to Tom for a Volkswagen Beetle. Then in 1965, Tom, the sole owner of the company, renames the business "Domino's Pizza, Inc." The first Domino's Pizza franchise store opens in Ypsilanti, Michigan in 1967.
From the very beginning, Domino's has been dedicated to providing their customers with the best service, quality products and delivery excellence. Every day more than one million customers enjoy hot, delicious Domino's products across six continents. Currently Domino's operates more than 12,900 stores in more than 80 international markets, and of course they are all dedicated to providing great-tasting pizza delivered directly to your door or available for carryout.
Domino's offers customers a full menu to choose from, including five types of pizza crust (Hand Tossed, Crunchy Thin, Handmade Pan, Gluten Free and Brooklyn), Specialty Pizzas, Penne Pastas, Domino's Oven Baked Sandwiches, Stuffed Cheesy Bread, Breadsticks, Parmesan Bread Bites, Chicken Wings, Boneless Chicken, Marbled Cookie Brownies, Chocolate Lava Crunch Cakes, Cinna Stix®and Coca-Cola®products.
Throughout their history, in addition to pioneering the concept of efficiently delivering made-to-order pizzas, Domino's has been involved in many innovations that have made a significant impact on the pizza and delivery industries. Here's a look at some of Domino's innovations:
Domino's HeatWave®Hot Bags:
Domino's HeatWave hot bags were introduced in 1998 to keep pizzas oven-hot during normal delivery. Originally, each hot bag contained a patented heating mechanism charged by plugging into an electric outlet at the store. The outer material of the bag is made with water-repellent nylon, which replaced the less sturdy vinyl material previously used. Domino's has continued to innovate and evolve the technology, removing the electric cord and heating each bag via an induction heating system. The latest edition of Domino's HeatWave hot bags relies solely on a patented insulation system that keeps pizzas both hot and crisp –completely eliminating the need for electricity.
Spoodle:
This tool combines the best features of a spoon and a ladle, cutting down the time spent applying sauce to the pizza.
Domino's Supply Chain Centers:
To allow Domino's stores to concentrate on making and delivering pizzas, Domino's developed a central commissary system. This relieves stores from long hours making dough, grating cheese and preparing toppings. Through a network of domestic dough manufacturing and food distribution centers, we provide high quality dough and ingredients nationwide, keeping the pizza consistently delicious. We regularly supply nearly 5,000 pizza stores with more than240 products, allowing customers 34 million different ways to order a single Domino's pizza. Other pizza and fast food companies in the U.S. have also adopted this same system.
A Better Box:
Domino's was the innovator behind the sturdy, corrugated pizza box, which keeps moisture from weakening the box and prevents cheese from sticking to the top of the box during delivery.
Pizza Screen Development:
A delicious, crisp crust is one of the most important parts of a pizza. In search of the perfect crust, Domino's developed the pizza screen –a mesh tray that helps cook pizza crust more evenly than a tray made of wood or stainless steel.
Car-Top Sign –in 3D:
Today it's hard to miss pizza delivery cars –thanks to Domino's Pizza. Domino's invented the 3D car-top sign, which is currently used by a variety of industries, including taxis and driving schools.
Domino's 'Pizza Theater':
After years of development and concept testing, in 2012 Domino's unveiled a new 'Pizza Theater' store design. The new store design allows flexibility for a number of features otherwise unheard of when it comes to the "traditional" Domino's Pizza store. Some features include a comfortable lobby, open-area viewing of the food preparation process and the ability to track carryout orders electronically on a lobby screen. Some stores also feature chalkboards to allow customers to express their creativity or to leave feedback for the store team members.
Domino's DXP™ (Delivery Expert):
In October 2015, after three years in the making, Domino's launched the DXP, the first purpose-built vehicle aimed at revolutionizing pizza delivery. The DXP was born out of Domino's passion for innovation and started with a five-stage crowdsourcing competition hosted by Local Motors. The contest, called the Domino's Ultimate Delivery Vehicle Challenge, fielded 385 entries from designers around the world. Then, Michigan-based Roush Enterprises, and GM R&D executive Kenneth R. Baker adapted the concept and worked closely with Domino's to transform the Chevrolet Spark® (with its international style, tech-savvy command deck and nimble maneuverability) into a delivery vehicle for pizza and other menu items – ensuring hot and great tasting pizzas delivered right to customers' doors.
The DXP can hold up to 80 pizzas, along with other menu items including salads, wings and 2-liter bottles of soda. It features a warming oven, located behind the driver's door, that can hold two Heatwave™ bags and is quickly accessible to drivers with the touch of a key fob button. The car also comes equipped with a puddle light projecting the Domino's logo on the ground, as well as an illuminated Domino's car topper.
On our second day at the Headquarters, we actually had our lunch delivered to us in a DXP, so we all had the chance to see one in action.
Domino's Online Ordering:
The beginning of Domino's technological innovation started with its online and mobile ordering system, which was launched in 2007. Today, more than 50 percent of Domino's orders in the U.S. are taken online, and Domino's is consistently one of the top 10 companies in terms of online transactions, behind companies such as Amazon and Apple.
Domino's Tracker™ and Pizza Builder:
In 2008, Domino's revolutionized the customer experience by launching its innovative Pizza Builder and Domino's Tracker tools. Pizza Builder allows customers to see their pizza come to life on the computer screen, as toppings and crust styles are selected in real time. Domino's Tracker allows customers to follow the progress of their order, from the time it's placed until they receive it. Domino's Tracker has seen various looks, themes and interactive opportunities since its debut. While the Pizza Builder has since been mimicked by other pizza companies, Domino's remains the only company offering the engaging ordering experience of Domino's Tracker.
Domino's Ordering Apps:
Domino's features an ordering app lineup that covers nearly 95 percent of the U.S. smartphone market. In addition to ordering apps for iPad, iPhone, Android, Windows Phone 8 and Kindle Fire, Domino's recently introduced several innovative ordering platforms that bring even more convenience to the ordering experience. Customers can now order from anywhere, at any time, using any of the following technologies: Ford SYNC®, Samsung Smart TV®, Pebble smartwatch, Android Wear smartwatch, Apple Watch, Amazon Echo, voice ordering with Dom, as well as Twitter and text message using a pizza emoji.
Domino's most-downloaded app is for iPhones, and has been downloaded more than 10.7 million times and counting, while Domino's Android app comes in second with more than 7.95 million downloads. Domino's also features an iPad app called Pizza Hero, which allows customers to play a pizza-making game before they place their order. This iPad app has been downloaded more than 1.2 million times since 2011, and is available in the U.S. and many international markets.
Domino's Interacts with Fans:
Domino's prides itself on interacting and engaging with its fans online in original ways, including on Facebook, Twitter, Instagram and Tumblr. Domino's has more than 10.5 million Facebook fans and more than 1 million Twitter followers. Domino's emoji ordering campaign, which introduced customers to a whole new way of ordering –via text and Twitter –garnered numerous social media awards in 2015, including a Grand CLIO, a Mashies for "Best Use of Twitter" and an award for Most Surprising Use of Social Media from Restaurant Business/FSTEC.
Emphasis on technology innovation has helped Domino's generate more than 50 percent of U.S. sales from digital channels at the end of 2015, and reach an estimated $4.7 billion annually in global digital sales. It's no wonder CEO Patrick Doyle has been described as turning "a pizza business into a tech business." Below are some of the many ways Domino's backs up that claim.
Speaking of Patrick Doyle, Domino's President and Chief Executive Officer – one of the highlights of my time at the World Resource Center was getting a chance to chat with him. He was very open and candid with the group and I loved hearing his thoughts on the different things Domino's is working on.
I hadn't been aware of this before my trip, but Domino's gives back in a big way. In addition to helping feed those in need after the 9/11 and Hurricane Katrina, they work closely with St. Jude Children's Hospital.
Domino's and St. Jude Children's Research Hospital®
In a 2004 vote by its franchisees and team members, Domino's selected St. Jude Children's Research Hospital as its national philanthropic partner.
Since opening more than 50 years ago, St. Jude Children's Research Hospital has changed the way the world treats childhood cancer and other life-threatening diseases. No family ever pays St. Jude for the care their child receives, and for every child treated here, thousands more have been saved worldwide through St. Jude discoveries. The hospital has played a pivotal role in pushing U.S. pediatric cancer survival rates from 20 to 80 percent overall, and is the first and only National Cancer Institute-designated Comprehensive Cancer Center devoted to children. It is also a leader in the research and treatment of blood disorders and infectious diseases in children.St. Jude was founded by the late entertainer Danny Thomas, who believed that no child should die in the dawn
of life.
As part of the national partnership, Domino's assists St. Jude with its national fundraising efforts and delivers special pizza parties to the hospital for patients and their families. Additionally, the partnership includes monetary donations to the national office, inclusion of the St. Jude logo on millions of Domino's pizza boxes to help build awareness, and support at the local level through relationships with Domino's franchisees.
We each got a chance to make our own Domino's pizza as well. It was fun to see exactly how their pizzas are made.
I went with pepperoni on my pizza:
Another trip highlight was the chance to try some international Domino's pizzas. Here's what we tried:
Double decker: (Korea) A creamy camembert sauce filled between two thin crusts. Topped with fresh tomatoes and basil. This was one of the first international pizzas that inspired a domestic used to create double melt which was launched in USA in 2004. Several countries have launched this style of product.
Mayo Jaga: (Japan) Hand tossed topped with sliced potato, corn and bacon. Then topped with a Japanese style mayo
La 4 Fromages Pizza: (France) Hand tossed topped with Crème Fraiche, pizza cheese, Blue cheese, goat cheese and shredded emmental.
Shawarma pizza: Several markets currently have this style of pizza (Netherlands, Australia and St. Maarten to name a few). Hand tossed pizza sauce, cheese, seasoned beef and lamb, tomato slices, feta cheese and topped with tzatziki sauce.
Peppery Paneer: (India) Hand tossed topped with paneer cheese, green peppers and hot pepper slices.
Finally, I wanted to share some fun facts that I learned about Domino's while I was in Ann Arbor.
• Domino's is consistently one of the top 10 companies in terms of online transactions, behind companies such as Amazon and Apple.
• 95% of smartphones are covered with the ordering app (iPhone, Android, Windows Phone 8).
• More than 50% of Domino's sales in the U.S. come through our digital ordering channels.
• 39 Domino's international markets feature online ordering.
• Halloween is the busiest delivery day of the year for Domino's.
• Halloween is followed by New Year's Eve, Super Bowl Sunday, New Year's Day and Thanksgiving Eve.
• Domino's sells more than 11 million pizza slices on Super Bowl Sunday, 350% more than a typical Sunday.
Let's Discuss: What is the most interesting fact that you have learned about Domino's Pizza throughout the years?
Contributor Bio: Robin has lived on the south shore of Massachusetts for her entire life She is a mom to two energetic little boys ages 7 & 10 and she loves to share her family's adventures on her website, Masshole Mommy. She loves to travel, she's a major Disney fanatic and absolutely loves 80's movies! When she's not busy chasing her boys around, you will most likely find her in a zumba class or at the dojo working towards her black belt in krav maga. She is a self proclaimed geek and enjoys sharing her love of pop culture, especially Star Wars, with her children.
Disclosure: Our contributor received complimentary lodging, entertaiment and meals as part of a Press Trip from Domino's Pizza. As always, our opinions are 100% our own. I am disclosing this in accordance with the Federal Trade Commission's 16 CFR, Part 255 "Guides Concerning the Use of Endorsements and Testimonials in Advertising."
© 2016, Tough Cookie Mommy. All rights reserved.