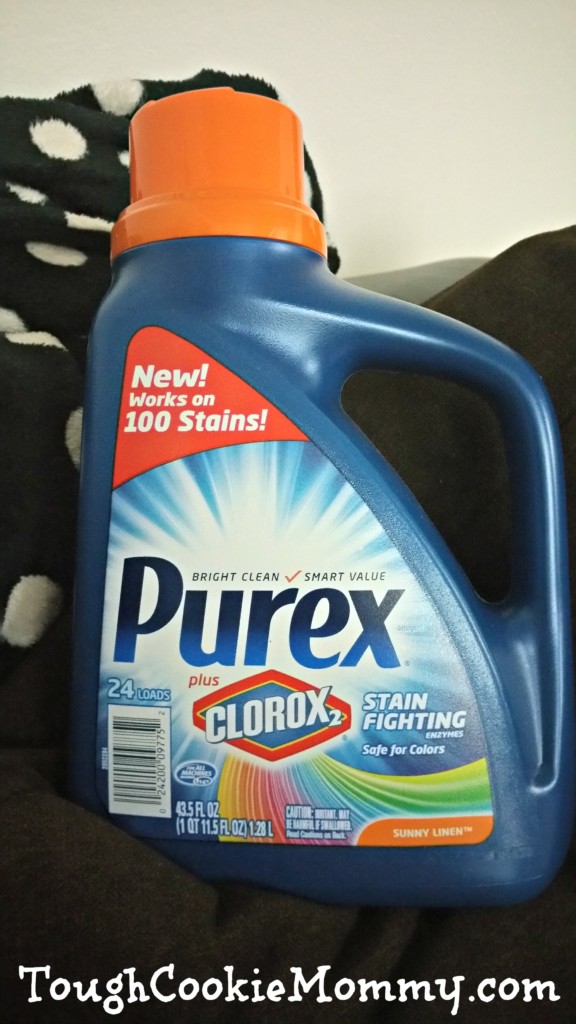 Now that basketball season has arrived, I am going to be up to my elbows in dirty uniforms and other sports related laundry. It can be pretty difficult to remove some of those tough stains which is why I am glad to have the help of New Purex Plus Clorox 2 detergent. Not only does it work on 100 stains, but it is also safe for colors, and bleach free.
This is big news because my son's uniform is navy blue and white so I always have to stay away from bleach products when I am destaining it. It's available in two fragrances: Original Fresh and Sunny Linen! I really love the idea of being able to remove stains from all our clothes that will also smell fresh and clean, at the same time.
Purex plus Clorox 2 detergent contains 3 stain-fighting enzymes to remove 100 stains such as:
Starchy stains like chocolate and tomato sauce.
Protein-based stains like grass and blood.
Food stains that use guar gum like ice cream and BBQ sauce.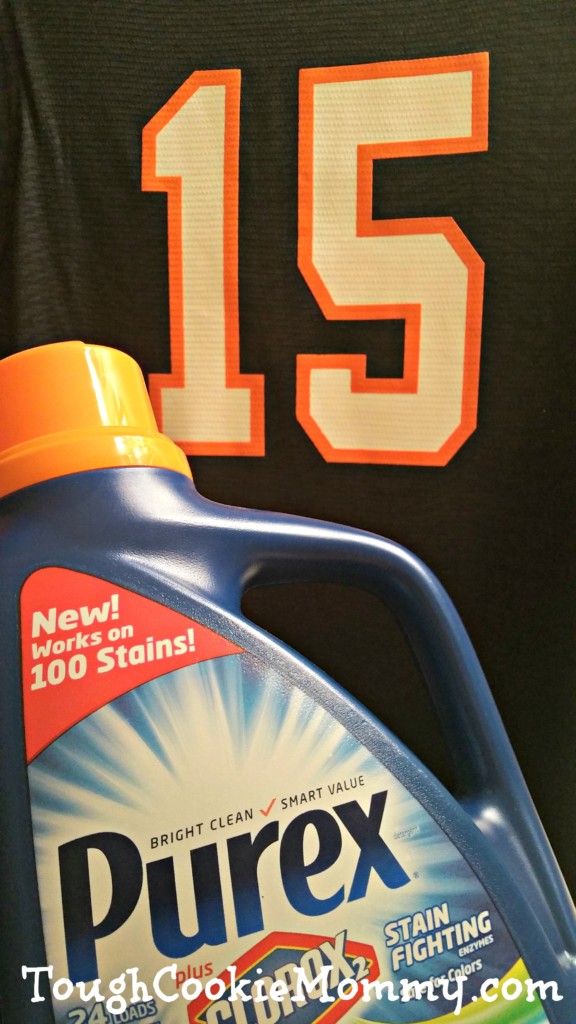 To remove some of these tough stains, I usually rub some Purex plus Clorox 2 detergent into the fabric and let it sit for 5 minutes before washing. Believe it or not, that is all it takes to get rid of some of the stains that my boys manage to attract to all their clothes, especially their sports uniforms. Gone are the days of having to spend hours rubbing out stubborn stains.
Since Purex plus Clorox 2 detergent combines the bright clean of Purex with an extra powerful boost of Clorox 2 stain fighters, I don't have to work as hard to bright clean all our clothes. This allows me to spend more time doing the things that I really enjoy, like hanging out with my three favorite guys!
Let's Discuss: What are some of the toughest stains that you tackle when you do your family's laundry?
GIVEAWAY:
Our Sponsor is giving away 2 coupons for free bottles of Purex® plus Clorox 2® detergent to two readers of Tough Cookie Mommy!a Rafflecopter giveaway

Disclosure: The Purex® brand provided me with a sample of Purex® plus Clorox 2® detergent in exchange for a product review. However all the opinions expressed here are my own. I am disclosing this in accordance with the Federal Trade Commission's 16 CFR, Part 255 "Guides Concerning the Use of Endorsements and Testimonials in Advertising.
© 2016, Tough Cookie Mommy. All rights reserved.