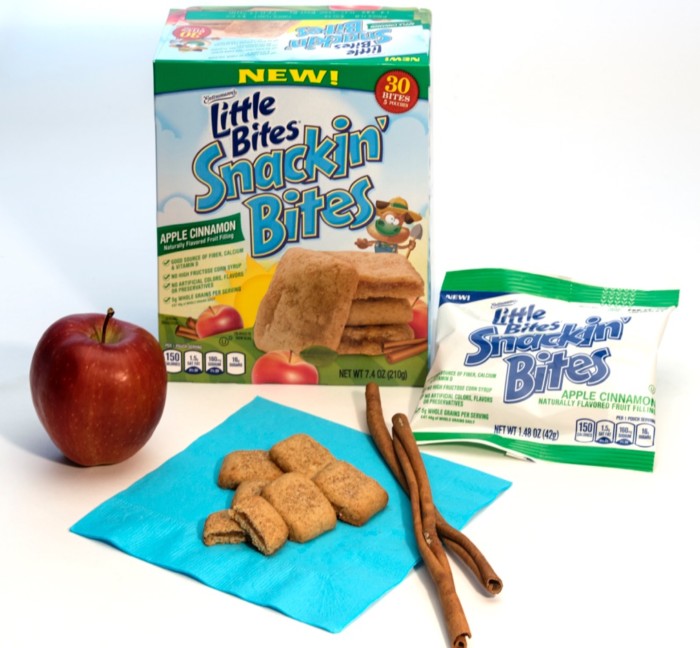 Since my sons attend parochial school and I teach in a public school, I'm the only one who is off this week for Spring Break. They come home every single day from school famished and asking me what snacks I have available for them. This can be a tricky thing since they tend to be very selective about what they like and I tend to be even more selective about what I give them to eat. Thankfully, Entenmann's has taken the guesswork out for all parents with their New Little Bites Snackin' Bites!
When it comes to snacking, parents are not only looking for better choices, but also ones that make their kids happy. The ever popular and hugely successful Entenmann's Little Bites line has announced the launch of an exciting new line extension … introducing NEW Little Bites Snackin' Bites! The delicious new addition to the Entenmann's Little Bites family of snacks is consistent with the Little Bites goodness that families already love, is destined to put a smile on kids' faces and make parents feel good when they serve them!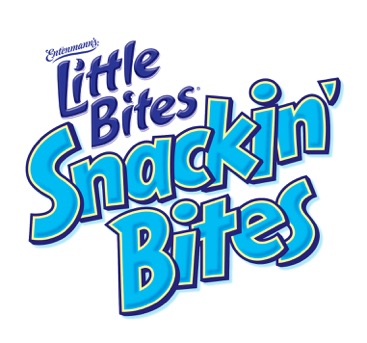 Made with a soft cereal crust and packed with delicious fruit filling, Snackin' Bites rich and savory flavors, Apple Cinnamon and Strawberry, serve as a great breakfast OR the perfect go-to happy snack! A good source of Calcium, Vitamin D and Fiber, these new "pop in your mouth" bite-sized snackin' squares contain no artificial flavors, colors, or preservatives and have 0g trans fat. Each box contains five portable pouches with six individual Snackin' Bites mini bars per pouch.
These snacks are definitely something that the kids and I can agree upon. I think my husband might be dipping into our Little Bites Snackin' Bites stash too because there are always a few missing whenever I check in the afternoon. Looks like they are a big hit with everyone in our household!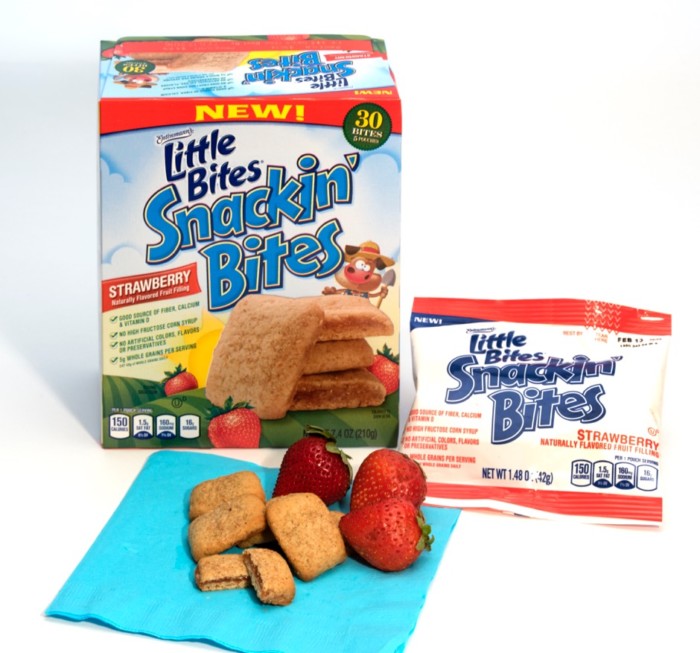 Let's Discuss: Why do you think Little Bites Snackin' Bites are the perfect snack for your family?
GIVEAWAY:
Our Sponsor is giving away an Entenmann's Prize Pack (ARV $45) containing: Two boxes of Little Bites Snackin' Bites, five Little Bites coupons, and one custom Little Bites Snackin' Bites USB portable charger!a Rafflecopter giveaway

Disclosure: I participated in this campaign on behalf of Entenmann's. I received a promotional item as a thank you for participating and to facilitate this review. I am disclosing this in accordance with the Federal Trade Commission's 16 CFR, Part 255 "Guides Concerning the Use of Endorsements and Testimonials in Advertising."
© 2016, Tough Cookie Mommy. All rights reserved.