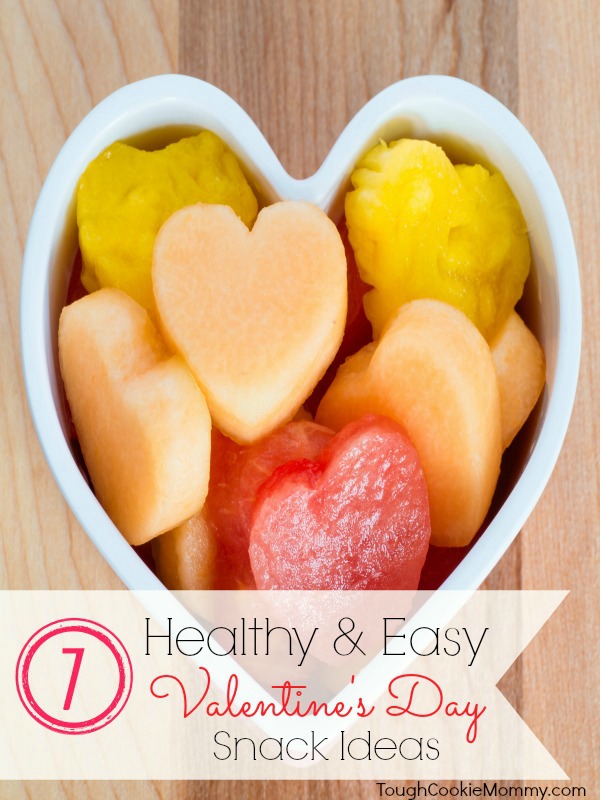 Do you love celebrating Valentine's Day but hate all of the sweet and sugary treats that come with it? Valentine's Day can quickly turn into a sugar overload if you aren't careful, but the good news is you do have some healthy alternatives. If you are looking for some tasty yet healthy Valentine's Day treats, look no further. Take a peek below at 7 healthy and easy Valentine's Day snack ideas, perfect for treating the sweethearts in your life!


1. Grape Hearts.
Take red grapes and slice them at an angle. Then, skew the two halves onto a toothpick matching the angles so they look like a heart. This is an easy snack for kids to make, and they will love dipping the grape hearts into yogurt dip or other fruit dips.
2. Banana Boats.

Peel a banana and put it in a sundae dish. Add healthy toppings such as dried fruit, nuts, and coconut. For a little Valentine's Day color, you can garnish with a few Conversation Hearts. This is a great way to eat healthy while getting a little sweetness in too.
3. Heart Sandwiches.
Find heart cookie cutters in various sizes. Make mini cheese or turkey sandwiches in the shape of the hearts. Just press, stack, and eat! Kids will love making their own heart shaped sandwiches, and you will love all of the different, healthy ingredients you can add.
4. Sweetheart Fruit Skewers.
Use cookie cutters (flower or heart shapes, or both) to cut out various types of fruit. Cutting fruit into ½ inch slices and then cutting with the cookie cutters works best. Then, take your heart shaped fruit pieces and place them on wood skewers. Dip in yogurt for an extra treat!
5. Cupid's Arrows.
Use pretzels and cheese to make Cupid's arrows. Cut triangles out of cheese and press them to the end of the pretzel sticks. You can add another triangle at the opposite end and score with lines to look like the feathering. This is an adorably healthy and hands on snack that kids will love.


6. Sweetheart Toast.

Toast whole wheat or multi grain bread and cut out a heart with a heart shaped cookie cutter. Top with low fat cream cheese that has been colored with red food coloring. You can even top with fresh fruit and berries if you wish for extra flavor and garnish.
7. Fruit Parfaits
.
Color vanilla yogurt with red food coloring and place in a glass. Top with fresh red berries. Add another layer of the colored yogurt, and repeat with more fresh berries. You will have a healthy, sweet, and festive looking Valentine's Day parfait in no time.
See how easy and healthy Valentine's Day snacking can be? Give these healthy Valentine's Day snacks a try and see if they don't become holiday favorites!
Let's Discuss: What are some of your favorite Valentine's Day healthy snack ideas?
© 2016, Tough Cookie Mommy. All rights reserved.