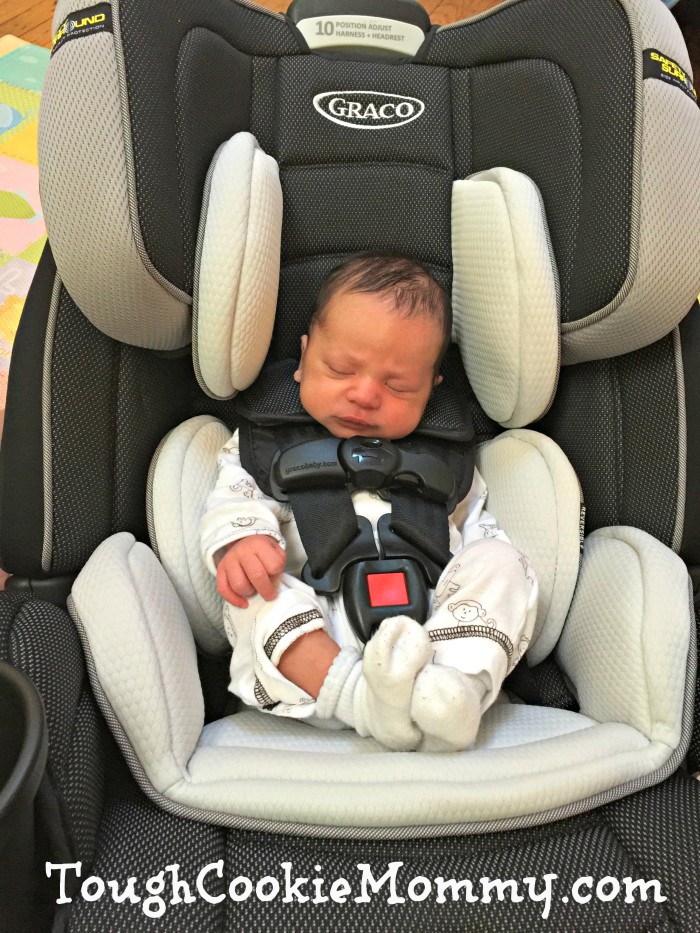 Having children spanning ages from 13 years to a week old I have literally tried almost every car seat system out there. As a mom my number one priority is safety. I want to make sure that my babies are safe from the moment they step foot in the car. I have a kindergartner, a toddler, and a newborn so I have 3 different car seats in my minivan right now. So when I got the opportunity to check out the Graco 4ever car seat I jumped at the chance.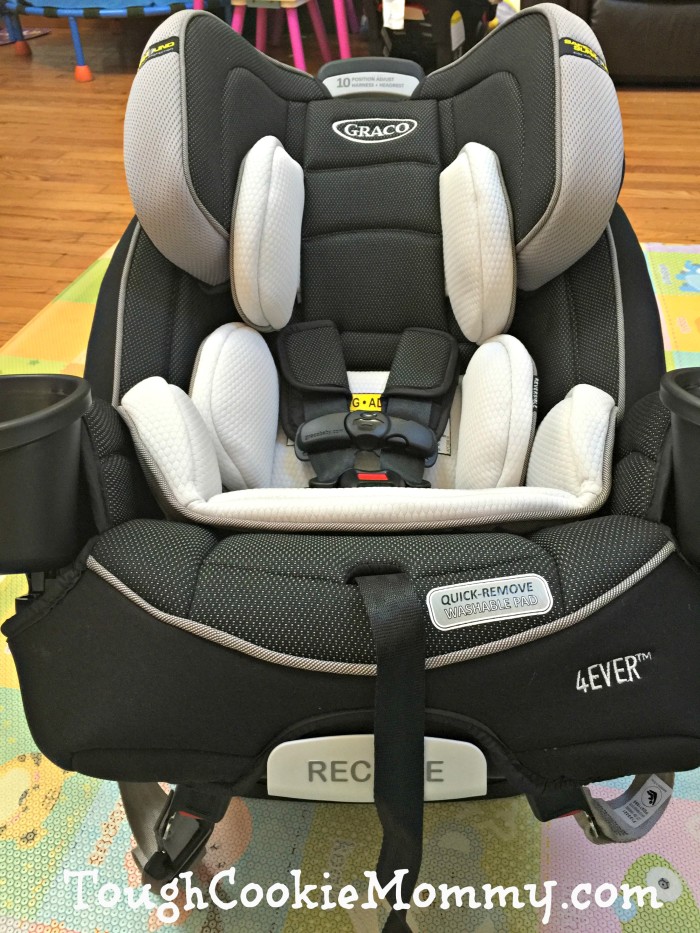 This car seat has everything I look for in a car seat. It is extremely simple to set up and use. It is very plush and comfortable so I know my babies will feel cozy during short and long rides. The safety surround side impact protection really caught my eye because I know they are fully protected. One of the best things about this car seat is that you can use it from infancy to childhood.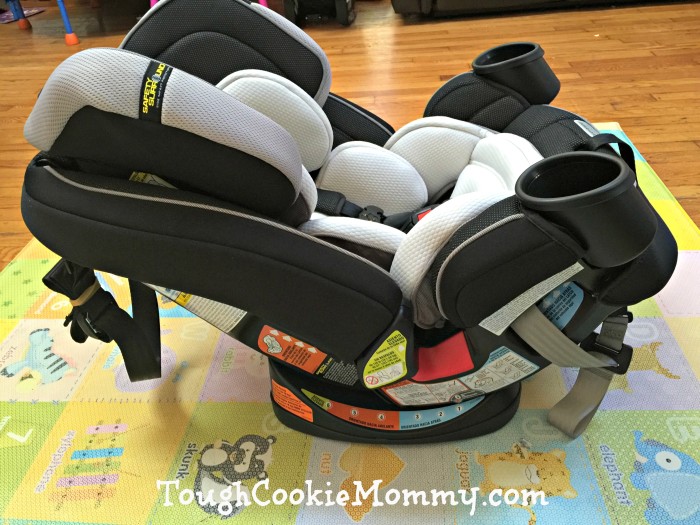 Car seats are very expensive so it's nice to know you only have to buy one and it will grow with your child. It has a newborn insert for babies as little as 4 pounds; my little guy is 6 lbs. 7 oz., and it cradles him perfectly in the fully reclined position. The Graco 4ever can be used for children up to 120 pounds. I have not seen a car seat out there with this much versatility, and that is so easy to use.
I just want to list some of its features before I go on:
It can be used rear facing for 0-2 years old up to 40 lbs.
It can be used forward facing with 5 point harness for 2-6 years old from 22-65 lbs.
It can be used as a high back booster with seat belt for 6-8 years old from 30-100 lbs.
It can be used as a backless booster with seat belt for 8-10 years old from 40-120 lbs.
The Graco 4ever transitions through all these variations seamlessly.
I tried the Graco 4ever for all 3 of my younger children. My 5-year old said it was very comfortable, and my 3-year old didn't want to get out. She actually got mad when it was her sister's turn. Now if you're like me you dread installing car seats in your car. It's usually tons of pushing and pulling, and struggling to get it tight so it doesn't move more than an inch.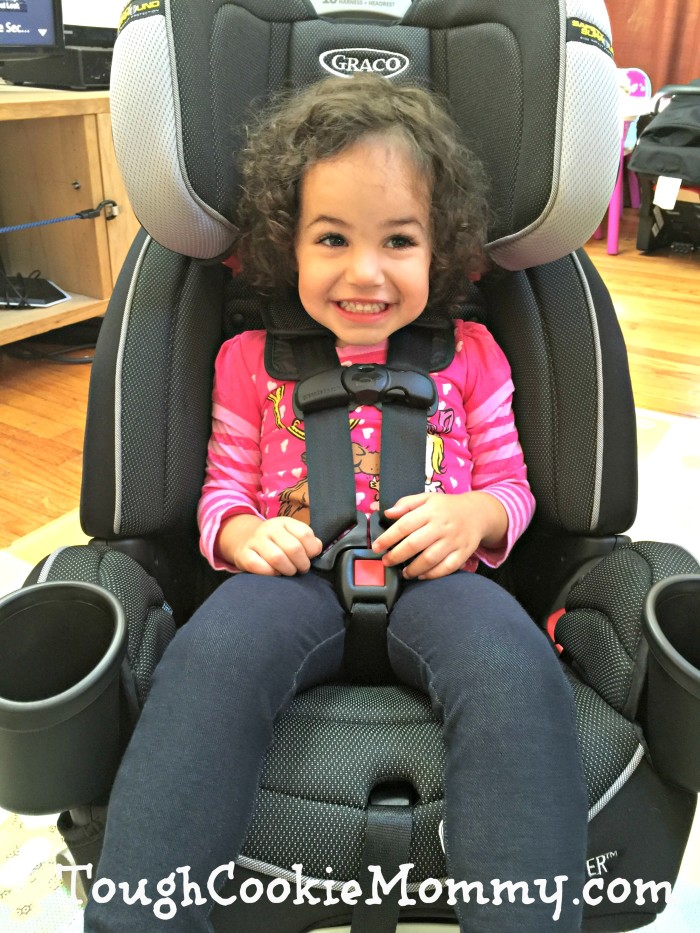 I remember when I had my first son I brought our infant car seat to the local DOT safety center to have them install it and teach me what to do. I needed a foam roll to get it reclined perfectly, and after seeing them do it I knew I had it wrong. The number one cause of injury of children in car accidents is improper car seat installation and harness positioning and fastening.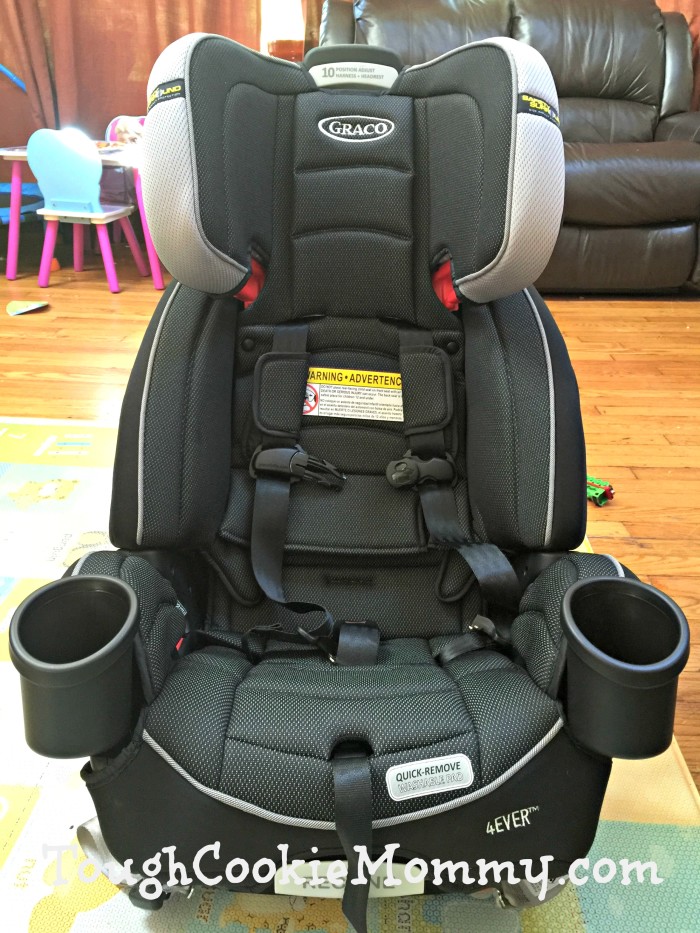 Well this car seat makes all of this a breeze. It practically installs itself. It has 6 recline positions clearly labeled for each position. The latch system which is in every new car out there makes installation very simple. There is a level on the side which lets you know if the seat is properly installed so it takes away all the guesswork. In addition to all these great features it is easy to disassemble and clean, and it has two convenient cup holders for thirsty little ones.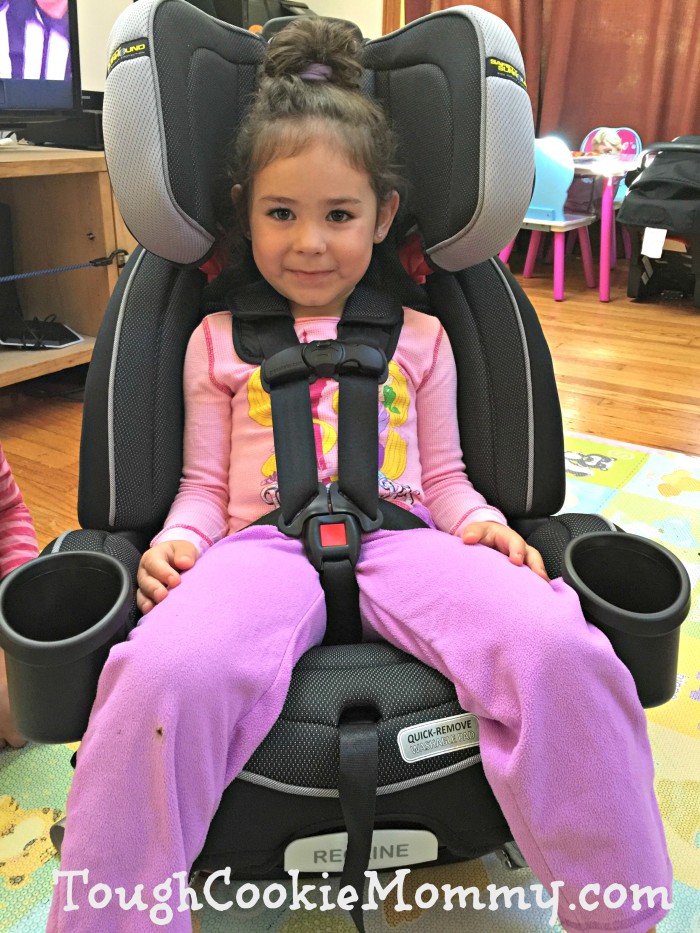 All in all I would say this is one of the best car seats on the market today, and I highly recommend the Graco 4ever for any mom/dad out there looking to keep their children safe in a quick and efficient manner.
Let's Discuss: Why do you think the Graco 4Ever would be the perfect car seat for your child?
GIVEAWAY:
Our Sponsor is giving away a Graco 4Ever car seat (ARV $299.99) to one reader of Tough Cookie Mommy!a Rafflecopter giveaway

Contributor Bio: Maura Picard is a devoted mom of six who comes from a large Irish-American family. Her children are being raised in a multicultural home as her husband is of Puerto Rican descent. She is a pediatric Physical Therapist who works with children with special needs from birth to five years old. Also, she loves spending time with her family at the beach, park, and you will most certainly see the Picard clan on the basketball court! She is the Contributor of all things baby here at Tough Cookie Mommy.
Disclosure: I participated in this campaign on behalf of Graco. I received a promotional item as a thank you for participating and to facilitate this review. I am disclosing this in accordance with the Federal Trade Commission's 16 CFR, Part 255 "Guides Concerning the Use of Endorsements and Testimonials in Advertising."
© 2015, Tough Cookie Mommy. All rights reserved.