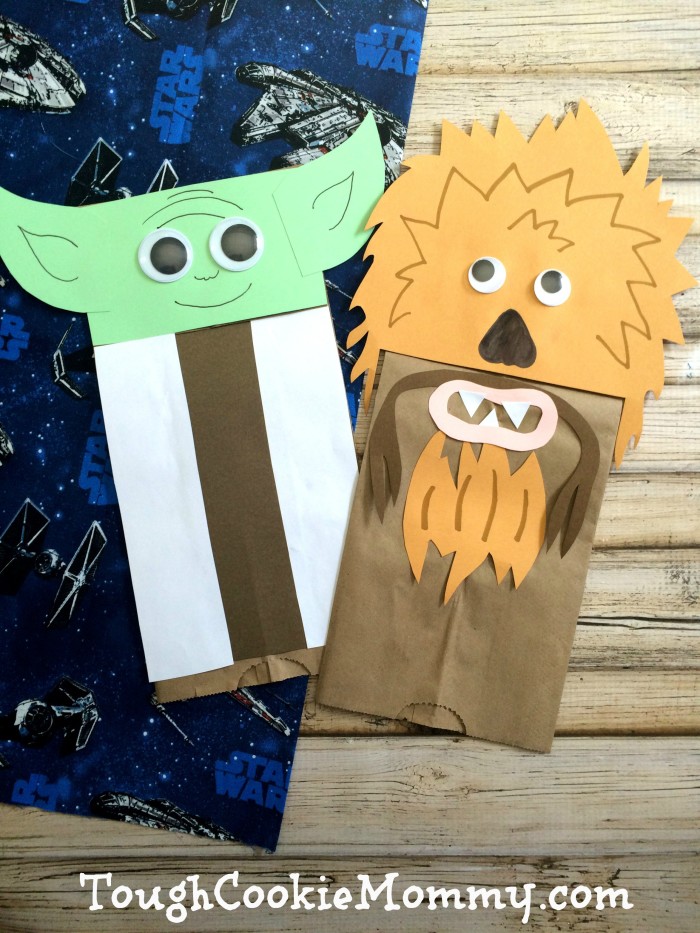 Although I have always been a movie buff, it takes a special film to get me really excited and make me want to go see it on its opening weekend. Star Wars: The Force Awakens has me literally on the edge of my seat in anticipation. So much so, that I have already purchased tickets in advance for my entire family the weekend that it debuts in theaters in December. Let me tell you, that is the first time that I have bought movie tickets that far in advance!
This movie is special for me because of the nostalgia involved in watching the original Star Wars movies when I was a kid with my siblings. I have nothing but great memories of the three of us being glued to the big screen watching some of our favorite characters like Han Solo, Princess Leah, Yoda and Chewbacca on their intergalactic adventures.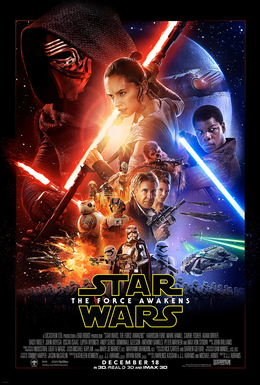 In this continuation of the epic space opera saga, a downed stormtrooper goes on a journey reconnecting him with heroic faces from the past. I can't wait to see all of the Star Wars characters that I know and love from when I was a girl! Thankfully, I was able to purchase my tickets in advance through Fandango. It was so easy to use their app on my smartphone to secure the tickets during my lunch break. I can't wait to head to the movies with my family and experience this movie franchise with my own boys this December!
To get my boys really excited, I decided to make some Yoda and Chewbacca hand puppets that we can take with us to the theater. After all, if I'm going to introduce my sons to Star Wars, we are going to go all the way and completely geek out! Hopefully this will become a tradition that they will pass on to their own children!
YODA HAND PUPPET
Materials-
Paper lunch sack
Colored paper: light green, brown, and white
Plastic eyes
Kid scissors
Pen/pencil
Glue stick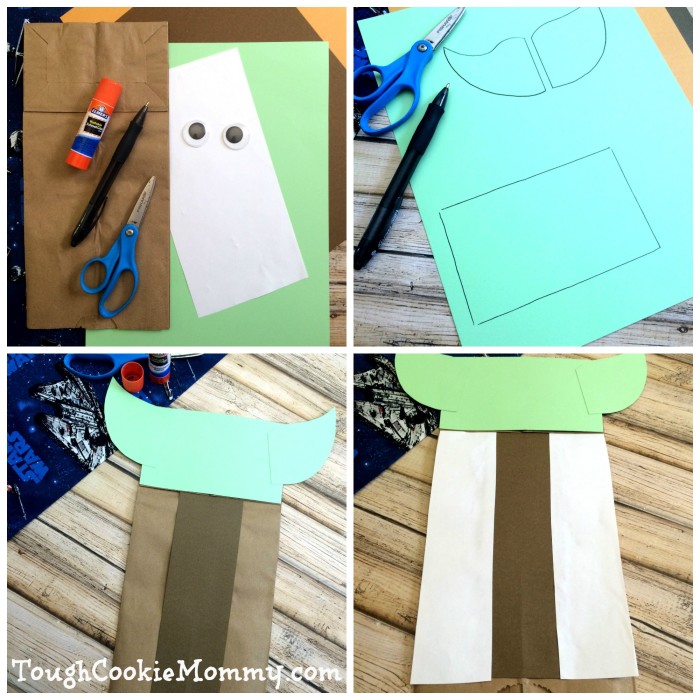 Step 1- trace the rectangle on the bottom of your paper bag onto the green paper
Step 2- draw two ears (doesn't have to be perfect)
Step 3- glue your rectangle and ears onto the bag like so
Step 4- cut out a long skinny rectangle out of brown paper and glue to the bag vertically
Step 5- cut out two long skinny rectangles from your white paper and glue to each side of the brown piece
Step 6- glue your plastic eyes towards the bottom of your green rectangle (the face)
Step 7- to finish your yoda, draw a free wrinkles, a little shape inside the ears, a mouth, and nose and yoda is finished!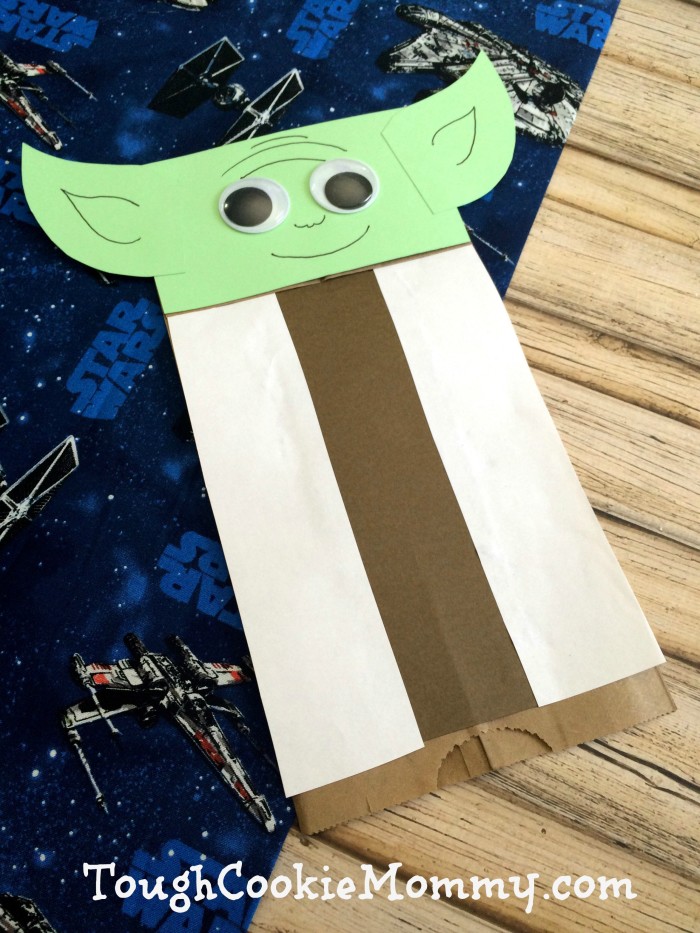 CHEWBACCA HAND PUPPET
Materials-
Paper lunch sack
Large plastic eyes
Colored paper:light pink, white, black, mustard brown, and black
Kid scissors
Glue stick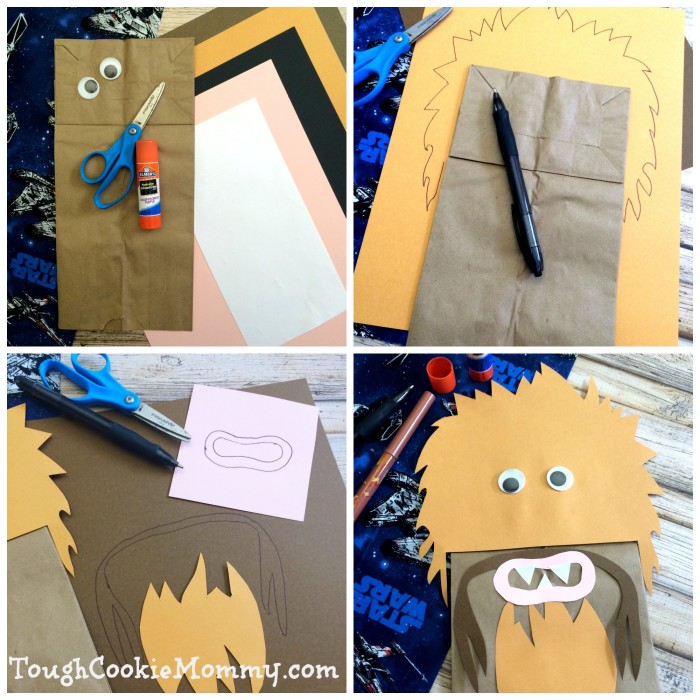 Step 1- Place your bag on top of your mustard brown paper, use the bag as a outline of where to draw Chewbacca's hair, draw a bunch of spikes around your bag like so
Step 2- Cut your spiked hair out and glue to the rectangle shape on the bottom of your bag
Step 3- Draw and cut out a peanut shaped mouth
Step 4- Draw and cut out a long mustache
Step 5- Draw and cut out a oval with a spiked top and bottom
Step 6- Now glue these pieces and your plastic eyes onto your Chewbacca like so
Step 7- Using a brown marker, draw on a little extra hair
Step 8- Draw on a upside down heart for a nose and Chewbacca is ready!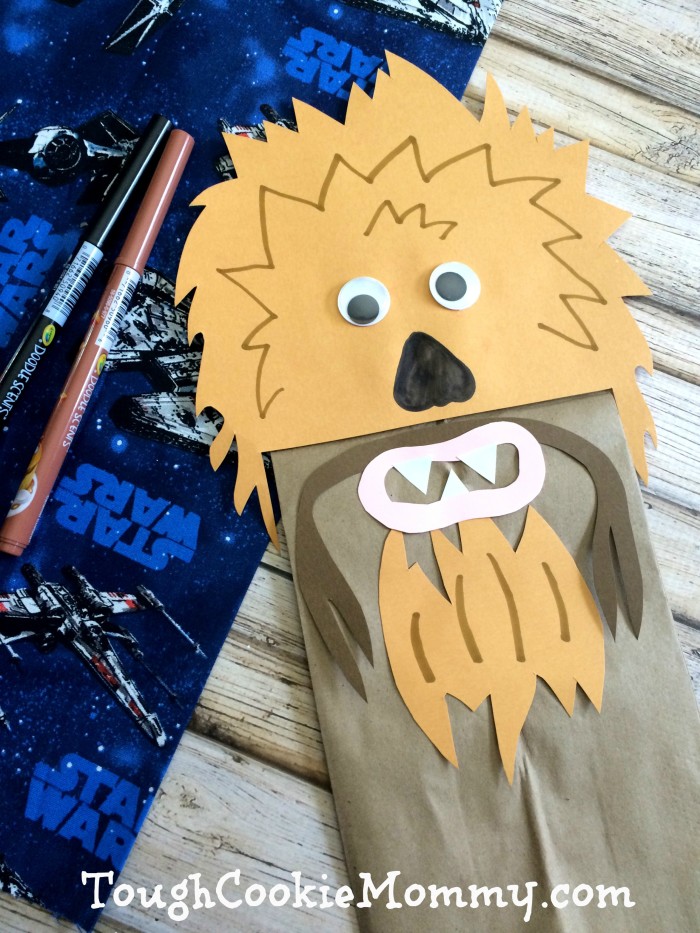 Make sure you order your tickets to see Star Wars: The Force Awakens and let Fandango take the hassle out of planning this magical event for you to experience with your own family!
Let's Discuss: What are some of your favorite Star Wars memories from when you were a kid?
GIVEAWAY:
Our Sponsor is giving away 2 $50 Fandango Gift Cards to 2 readers of Tough Cookie Mommy!a Rafflecopter giveaway

Disclosure: This sponsored post is part of a blogging campaign in collaboration with Fandango. As a Fandango Family Ambassador, I received a promotional item as a thank you for participating. I am disclosing this in accordance with the Federal Trade Commission's 16 CFR, Part 255 "Guides Concerning the Use of Endorsements and Testimonials in Advertising."
© 2015, Tough Cookie Mommy. All rights reserved.