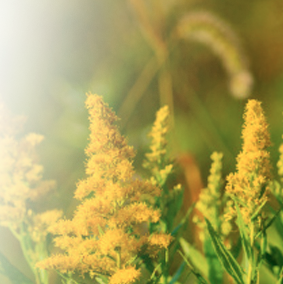 *Disclosure: This is a sponsored post by MinuteClinic.
If your family is like ours, you experience seasonal allergies the moment that summer turns into fall. As a matter of fact, we don't even need the calendar to let us know that the seasons are changing because we have our sniffly noses and watery eyes to let us know this time has come. The symptoms from seasonal allergies are very uncomfortable and many people struggle to find relief as soon as possible.
There are more allergy triggers in the fall. Typically, weed pollens, like ragweed and mold allergies are those that flare up come fall. Dust mites are a common allergen in the fall. When you start to close up your house when the weather gets cooler, old blankets and quilts could be hosting dust mites that can be an irritant. Itchy eyes, sneezing, runny nose, headache, sinus pressure are general allergy symptoms and we experience all of them in this home.
For those of us looking for some relief, symptoms can usually be controlled with treatment. Nasal saline, decongestants and over- the-counter or prescription antihistamines may help relieve symptoms as well. Thank goodness, there are plenty of options! At MinuteClinic, their nurse practitioners and physicians assistants can recommend the right over-the-counter medications and write prescriptions when medically appropriate.

Here are some tips to help you stay healthy and to help prevent allergies:
In the early fall, keep your windows closed from 10am to 4pm. This will reduce your exposure to allergens like ragweed.
Clean and change air filters every three months to reduce the amount of dirt, debris, and allergens that you come in contact with everyday.
Avoid window fans! While convenient, they tend to bring in unwanted pollens or mold spores.
Don't accessorize w/ itchy red eyes! Visit @MinuteClinic for the allergy relief you need.
In the fall, we start pulling out cozy quilts when it gets cold. But these can be the home to dust mites, causing your allergies to become enflamed. Wash your bedding every two weeks to help ease allergy symptoms.
If you're diagnosed with allergies, medication may help relieve your symptoms. The best way to treat allergies is to avoid the allergen – whatever it may be. Let MinuteClinic help you and your family enjoy the fall without pesky allergy symptoms!
Let's Discuss: Do you or someone in your family suffer from seasonal allergies and how do you find relief from allergy symptoms?
Disclosure: I wrote this post as part of my participation in a blog tour for MinuteClinic and received compensation to thank me for taking the time to participate. However, all opinions expressed are my own. I am disclosing this in accordance with the Federal Trade Commission's 16 CFR, Part 255 "Guides Concerning the Use of Endorsements and Testimonials in Advertising."
© 2015, Tough Cookie Mommy. All rights reserved.