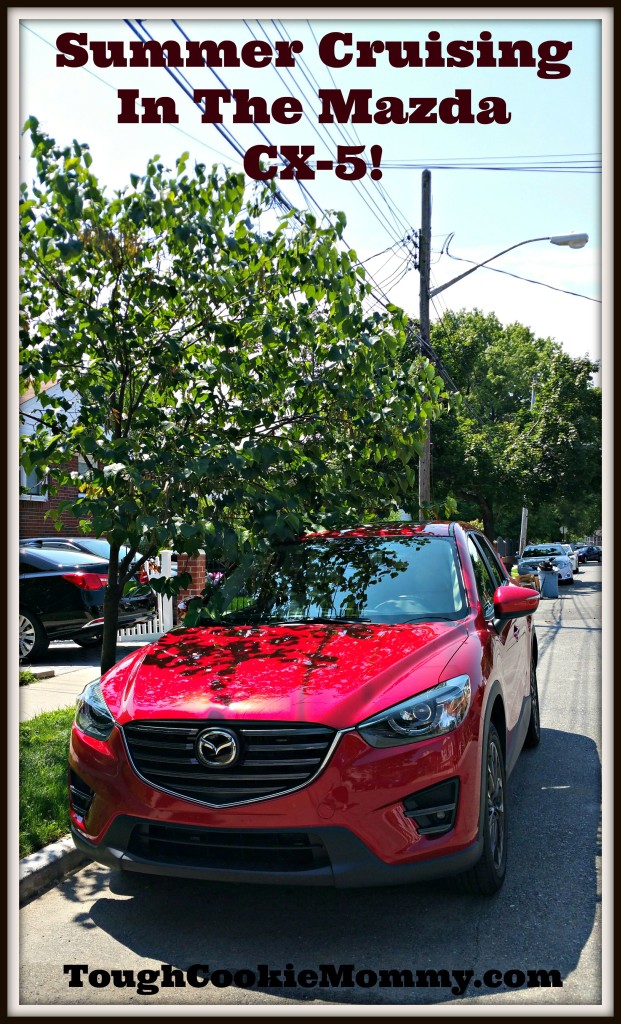 As many of you know, red is absolutely my favorite color.  You can imagine how excited I was to see the 2016 Mazda CX-5 Grand Touring parked in front of my driveway in candy apple red!  When I realized that I would have the opportunity to drive such a beautiful car in my favorite color, I knew that we were sure to have a memorable week.  Our drive out to a local resort that weekend would certainly be a classy one.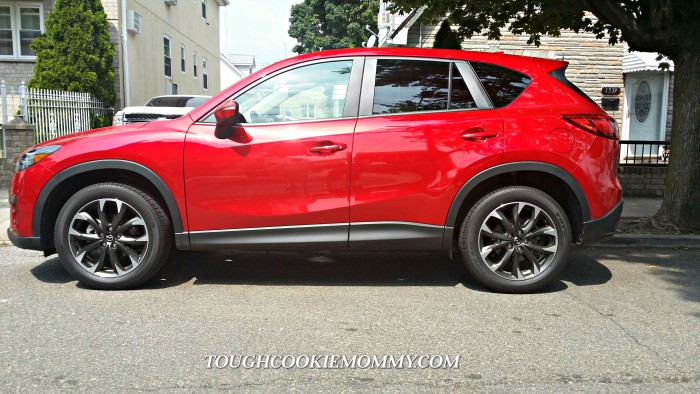 I have to be completely honest, I have driven other Mazda models in the past and I loved them but I couldn't help feeling like they really outdid themselves when they designed the CX-5.  You really do get the best of both worlds with this vehicle because is is the perfect size to accommodate a family of four like ours but sporty looking enough to not have that whole minivan vibe that I personally like to avoid.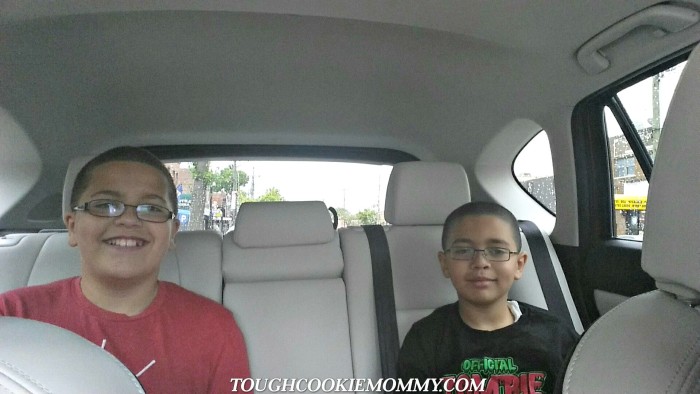 The CX-5 comfortably seats 5 and has a lot of legroom.  My 12 year-old commented about this throughout our entire road trip.  He loved that he was able to stretch his legs and have plenty of room to make himself comfortable while we were on the road.  Another favorite feature of his was the touch screen radio system and Bose speakers that he learned how to navigate right away so he could load his playlist and grace us with his DJ skills the whole week.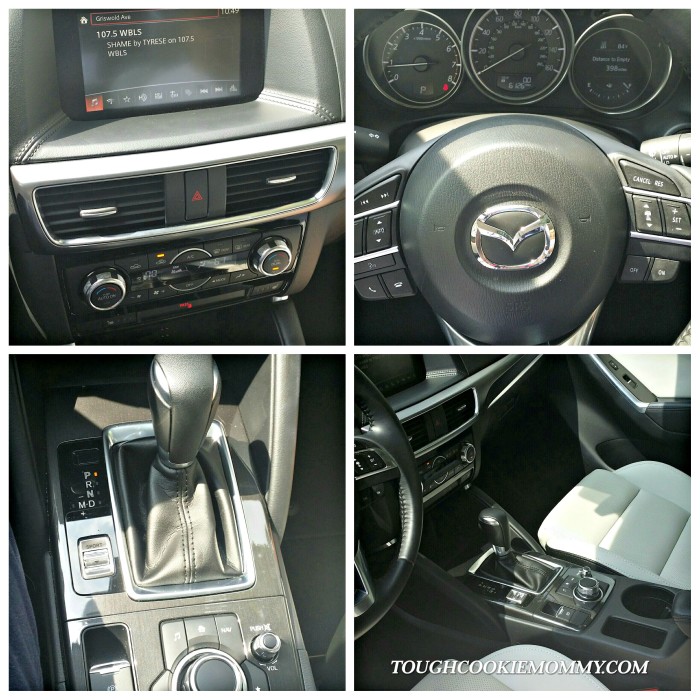 My husband was very happy with the gas mileage on the Mazda CX-5.  During the entire week of summer fun, and driving back and forth for three hours from New Jersey to vacation at the resort, we did not have to fill up the gas tank not once. As a matter of fact, we still had a quarter tank of gas left at the end of the week.  With gas prices fluctuating the way they have been, it was such a pleasure to enjoy a vehicle that got such great gas mileage.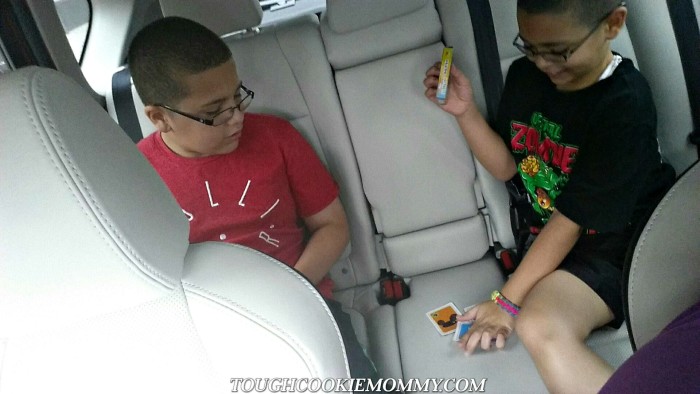 So what did I love the most about driving the Mazda CX-5 for a week?  Here are the top 5 things:
Blind Spot Monitoring – Available Blind Spot Monitoring alerts you if a vehicle or object is in one of your blind spots and it's unsafe to change lanes.
Distance Recognition Support System – Perfect for long road trips, it measures the distance between your vehicle and the vehicle ahead when traveling at speeds of 19 mph or faster then recommends a comfortable following distance.
Rear Cross Traffic Alert – Alerts you if a vehicle approaches your vehicle from the side when you're backing out of a parking space or driveway.
Rearview Camera – Helps detect objects behind the car when it's geared for reverse.
All-Wheel Drive – A necessity for winters here on the East Coast.  It might be sunny now but winter is right around the corner.
    Clearly, I am thoroughly enamored with the Mazda CX-5.  It's the kind of car that I can take on road trips with the family but it's also the type of car that I could drive on my own and look great doing so.  Mazda has definitely outdone itself with this car, it is sheer magic!  Unfortunately, now it's time for me to unpack from our summer cruising…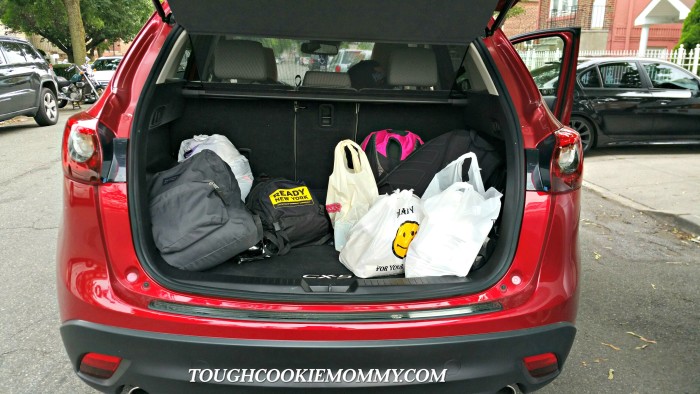 Let's Discuss:  What is your favorite feature of the Mazda CX-5 and why is it the perfect vehicle for your family?
Disclosure: This is not a compensated post. I received a 2016 Mazda CX-5 to test-drive for the purposes of writing this review. All opinions are 100% my own based on my experiences with this vehicle. I am disclosing this in accordance with the Federal Trade Commission's 16 CFR, Part 255 "Guides Concerning the Use of Endorsements and Testimonials in Advertising."
© 2015, Tough Cookie Mommy. All rights reserved.