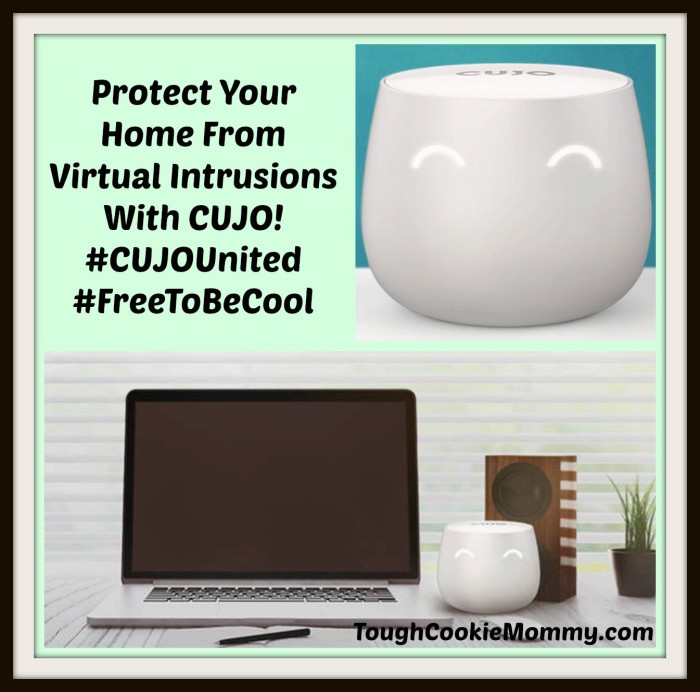 This afternoon, I practically had to peel my boys from their electronic devices in order for them to get ready to go out to dinner as a family. Although we monitor all of the time that they spend on the Internet, the reality is that they need to know how to navigate it in order to be successful in these technologically advanced times that we live in. As a result, they are extremely savvy when it comes to using their tablets and the rest of their gaming devices.

My husband and I have always been concerned about the threat of having hackers or predators access our personal information, or that of our children, through our home network. After all, you hear about it all the time on the news how people's identities are being stolen or how children are being lured into unsafe situations with strangers that they met online.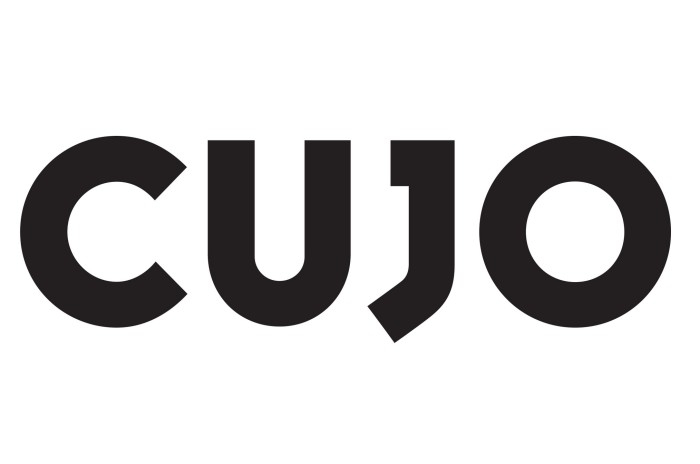 When I found out about CUJO, it gave me a sense of peace to know that it is available to protect our family against hacks, viruses, malware, and virtual intrusions. It is very user-friendly and all you have to do is to simply plug it into your router, launch their app, and CUJO begins monitoring all of your devices that connect to your Internet.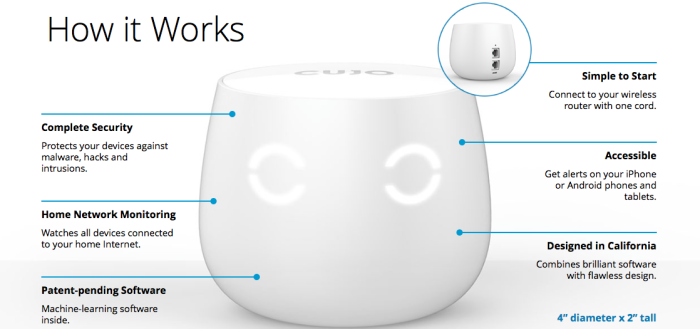 When I say all of your devices, I mean ALL of your devices such as baby monitors, cell phones, wearables, Smart TVS, laptops, game consoles, and more. When your home network is attacked, CUJO blocks the threat and a notification will be sent to your app with additional details. It acts as a gateway between your devices and their connection to the Internet.
CUJO analyzes behavior and secures all devices connected to your network. The majority of smart devices don't have pre-installed security. I bet many of you didn't even know that hackers and predators could access your entire life through all of these devices that your family relies on regularly. Believe me, even I was shocked to find out how vulnerable we have been.

Unlike other solutions, CUJO learns from your home environment and continuously adapts safety measures to safeguard against virtual intruders. In essence, it is security that teaches itself based on your family's unique online behaviors. Their Indiegogo campaign will be launching on September 15th. By entering the sweepstakes below, you will also be eligible for their early bird discount of up to 25%. Honestly, though, could you really put a price on the safety and welfare of your loved ones?

Make sure you connect with CUJO on Facebook and Twitter to learn more about Internet security for your entire home. You and your family deserve to live a connected life without compromise…
Let's Discuss: What are some of the devices that you use in your home that you think could put your family at risk of virtual intrusions or having your personal information hacked into?
GIVEAWAY:
Our Sponsor is giving away an Amazon Echo "Smart" Speaker (ARV $180) to one reader of Tough Cookie Mommy!a Rafflecopter giveaway

Disclosure: This is part of a sponsored collaboration with CUJO. All opinions are 100% my own. I am disclosing this in accordance with the Federal Trade Commission's 16 CFR, Part 255 "Guides Concerning the Use of Endorsements and Testimonials in Advertising."

© 2015, Tough Cookie Mommy. All rights reserved.