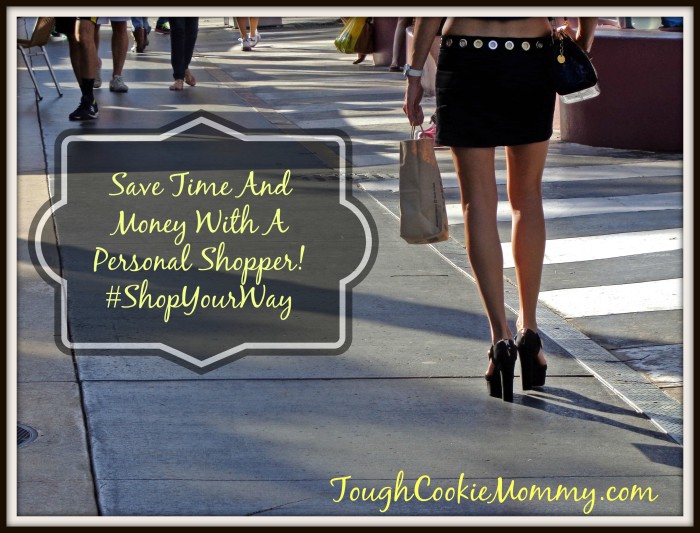 Being a mom of two who works full-time, I am always looking for ways to save more money at some of the stores where our family loves to shop.  That is exactly why I love the Shop Your Way Rewards program at Kmart and Sears.  We shop there quite often and they always have some great prices so I was excited to find out that I could earn and redeem Points at Kmart, Sears, Lands' End, Sears Auto Centers, and mygofer.
    The Shop Your Way Rewards program is designed to reward you with special offers. You will receive custom offers and exclusive deals based on the purchases you make. You may get offers sent via email, text message, postal mail, and online.   You earn 10 points for every $1.00 you spend on qualifying purchases.  I love that you have the option of redeeming your points immediately or saving them for up to a year to use during the holidays or to buy birthday presents for loved ones.

    Have you partnered with a FREE Personal Shopper yet? Did you know it's FREE to use the service? I would love the opportunity to help you save time and money. Besides, I LOVE to spoil my clients with coupons!  Are you thinking of redecorating your kitchen and need to purchase new appliances?  Do you have a formal event that you need to buy an outfit for?  As your Personal Shopper, I can help you plan for all of these shopping trips by finding the best deals for you.
    All you have to do is choose me as your Personal Shopper and click on BECOME A CLIENT.  After that, all you have to do is provide the email you signed up with whenever you shop at Kmart, Sears, or the other participating stores either online or in store. You earn rewards that you can use at checkout. I will also be sending you coupons as they provide them to me and I can help you plan for making purchases at any of these participating stores.

    Don't worry if you have a Shop Your Way Rewards account already.  You can still use your account number and email to sign up with me as your personal shopper if you don't already have one.  To celebrate our Shop Your Way Family, I am giving away $30 in Paypal cash to one reader of Tough Cookie Mommy to use along with the coupons that I will send that person as soon as he/she signs up!
Let's Discuss:  What home improvement project or shopping trip do you have planned for the near future?
GIVEAWAY:
One reader of Tough Cookie Mommy will receive $30 in Paypal Cash!
Mandatory Entries:  
1)  Let me be your Personal Shopper on Shop Your Way by CLICKING HERE.  (You must click on "BECOME A CLIENT.") 
2)  Confirm this by leaving a comment below telling me the name you signed up under as my client, your email address, and answer the following question:  "What home improvement project or shopping trip you hope to be able to use your rewards to fund?"
Extra Entries:
Retweet this post (you can use the tweet button at the bottom/top of the post) and leave me a comment with a link to your retweet.  (You can do this once daily for the duration of the giveaway)
Contest ends midnight, August 12, 2015. Prizes must be claimed within 48 hours.  See Official Site Rules Regarding Giveaways.
Disclosure: This post is part of a sponsored collaboration with Shop Your Way Rewards. All opinions are 100% my own. I am disclosing this in accordance with the Federal Trade Commission's 16 CFR, Part 255 "Guides Concerning the Use of Endorsements and Testimonials in Advertising."
© 2015, Tough Cookie Mommy. All rights reserved.