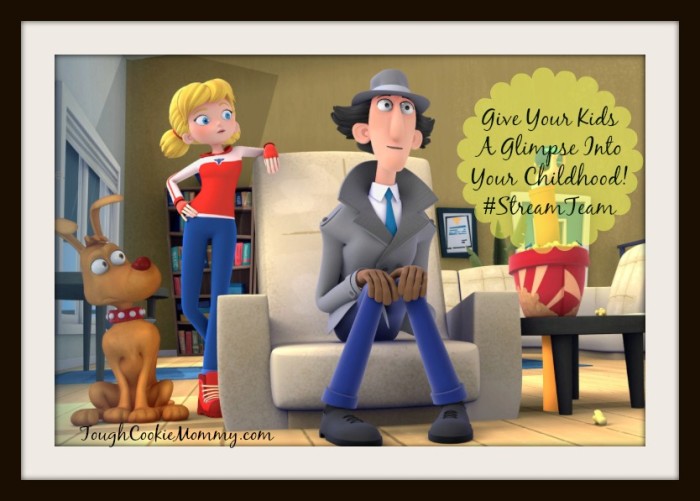 One of my favorite things to do is listen to music and watch shows with my sons that I used to enjoy when I was a kid.  There is just something magical about bridging the gap between your own childhood and your children's childhoods by connecting through these "blasts from the past."  It's a great way to let them know that you weren't always an adult and you weren't always their parent.  Also, it allows you to create memories with them that will last a lifetime.
    My siblings and I used to lay on a blanket on the floor and watch Inspector Gadget while munching on our favorite snacks.  It was so much fun to say, "Go, Go, Gadget, Go!"  These special moments allowed us to bond with one another and I love now having the opportunity to watch Inspector Gadget with my boys on Netflix.  They enjoy all of his antics and adventures as much as I did when I was a little girl.

    You guys can create these precious memories with your children as well.  Netflix has an entire list of of must-watch throwbacks that you can pass down to your own children.  Not only can you all enjoy timeless classics such as Scooby Doo, but you can also watch new reboots with them that are introducing a whole new generation to some of our most favorite characters.
Here are some must-watch movie throwbacks on Netflix:



    Watching these shows with your kids offers them a glimpse into your own childhood.  We would love to hear what retro titles you're most excited to pass down to your kids. Are there favorites you've already watched with the kids or any fun traditions you've started?
Let's Discuss:  What are some of your favorite throwback shows from your childhood that you enjoy watching with your own children?
Disclosure: This post is part of a blogging campaign in collaboration with Netflix. As a member of the Netflix Stream Team, I received a promotional item as a thank you for participating. I am disclosing this in accordance with the Federal Trade Commission's 16 CFR, Part 255 "Guides Concerning the Use of Endorsements and Testimonials in Advertising."
© 2015, Tough Cookie Mommy. All rights reserved.