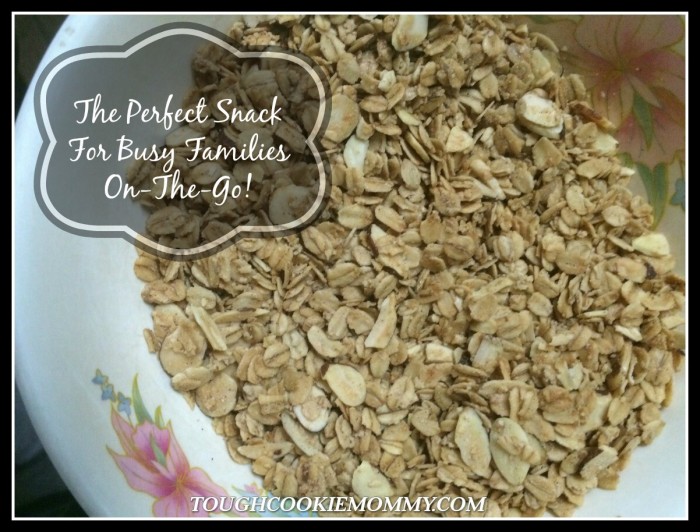 I wish you could spend one week with our family so you could see how much time we spend running around and maybe lend a helping hand.  I'm just kidding, maybe…Seriously, though, it can get pretty hectic around here.  I think the neighbors have probably heard me yelling in the morning, "We have to go, or else I'm going to be late for work."  As a result of all this craziness, it can sometimes be difficult planning healthy snacks and meals that our boys can enjoy while we are on the road or on-the-go.  That is why I love how wholesome and versatile Golden Girl Granola is!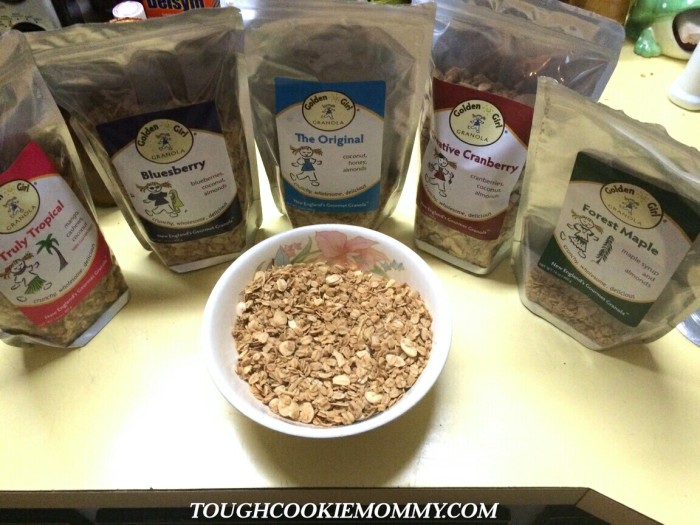 Golden Girl Granola comes in seven head-over-heels delicious flavors that include: Bluesberry, Chocolate Decadence, Creative Cranberry, Forest Maple, Home Sweet Honey, Original and Truly Tropical.  It is an all-natural, whole-grain granola that is non-GMO, dairy free, cholesterol free, casein free, trans-fat free, wheat free and has no preservatives, artificial color or flavors.  Say what?  Yes, it is a natural and healthy food that your whole family can enjoy in a variety of ways.  The best part is that, although it is really good for you, it also tastes delicious and you won't have to convince your kids to eat it because they will ask for it like mine do every day.
    My sons enjoyed Golden Girl Granola as a cereal in the morning, as a topping on their favorite desserts, and also ate it right out of the bag while we were driving to basketball games in the car.  This was just fine by me because I am happy that they love to eat such a healthy food and that I can feel good about them eating it all the time.  They use the finest ingredients and hand-stir each small batch to create a lightly crunchy, wholegrain treat.  It's no surprise that anyone who tastes it says it is the best granola they have ever had!
Let's Discuss:  How would your family enjoy Golden Girl Granola on-the-go?
GIVEAWAY:
Our Sponsor is giving away 2 bags of Golden Girl Granola to one reader of Tough Cookie Mommy in the 2 flavors of their choice!a Rafflecopter giveaway

Disclosure: I participated in this campaign on behalf of Golden Girl Granola. I received a promotional item as a thank you for participating and to facilitate this review. I am disclosing this in accordance with the Federal Trade Commission's 16 CFR, Part 255 "Guides Concerning the Use of Endorsements and Testimonials in Advertising."
© 2015, Tough Cookie Mommy. All rights reserved.