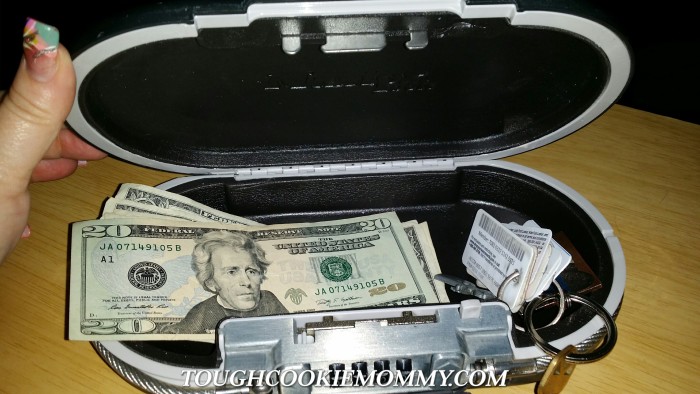 Over the years, I have always had a Master Lock safe in my home.  It started when I was a teenager and lived in my parents' house.  Since I didn't have a bank account yet, I would stash my valuables and important papers in my portable safe.  My parents actually took me to buy it to teach me how to be responsible.  I've loved the feeling of security that I enjoy knowing that documents such as my birth certificate and passport are safe and protected under lock and key.
    I've been looking for a safe lately that I could keep in my car that will allow me to store my valuables safely while living in an urban environment.  The Master Lock SafeSpace® Portable Personal Safe was perfect for me because it features durable construction made to withstand abuse and it's water resistant at the same time.  With its compact design, this safe is ideal for recreation, campus, office, travel or leisure use.  My husband loves that it includes a cable to wrap securely around a fixed object or use as a carrying handle.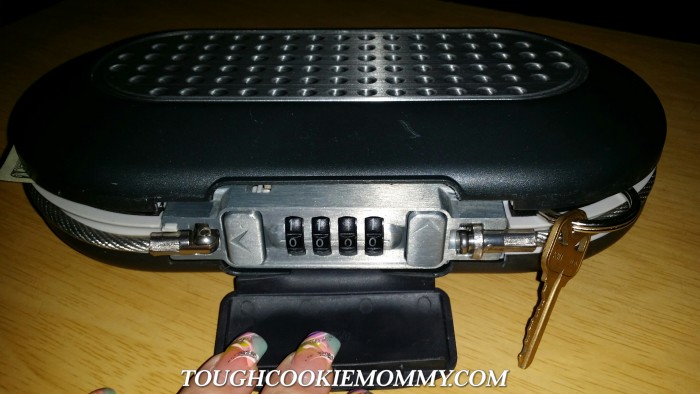 Here are some of the awesome features of the Master Lock SafeSpace® Portable Personal Safe:
Lightweight & Portable. Protects MP3 players, cell phones, cameras, gaming devices, cash, credit cards, jewelry, keys, passports, sunglasses or other small valuables
Lock Up & Lock Down. Lock up valuables with the cable wrapped tightly to the safe or wrapped securely around a fixed object. Cable doubles as a carrying handle
Durable Water-Resistant Construction
Set Your Own Combination for keyless convenience
Ear Bud/Charging Cable Access Port
Shock absorbing foam lines the interior storage area
    I really appreciate this product because it provides me with peace of mind when we are traveling.  After all, one can never be too sure when it comes to protecting valuables when away from home.  Let Master Lock give you the peace of mind that you desire in a fast changing world!
Let's Discuss:  When in your life has safety and security been more of a priority than ever before?
GIVEAWAY:
Our Sponsor is giving away a Master Lock SafeSpace® Portable Personal Safe to one reader of Tough Cookie Mommy!a Rafflecopter giveaway

Disclosure: I participated in this campaign on behalf of Master Lock. I received a promotional item as a thank you for participating and to facilitate this review. I am disclosing this in accordance with the Federal Trade Commission's 16 CFR, Part 255 "Guides Concerning the Use of Endorsements and Testimonials in Advertising."
© 2015, Tough Cookie Mommy. All rights reserved.