It's so important for students to have opportunities in the STEM fields and be able to have hands-on experiences with the subjects of science, technology, engineering and mathematics.  These types of engaging investigations inspire children in the areas of developing technological advances and healthy competition.  As a middle school educator, I have had the chance to see first-hand the learning and connecting that takes place when students are exposed to a well-rounded curriculum such as this.
    Recently, I had the opportunity to help my son with his sixth-grade science project which focused on simulating the Rock Cycle using melted crayons in various stages.  It was inspiring to see the look of joy on his face as he progressed through the phases of his experiment and was able to prove his hypothesis.  Being an educator, I realize that these experiences allow students to bridge the gap between their prior knowledge and the conclusions that they draw.  It certainly promotes a higher order level of thinking.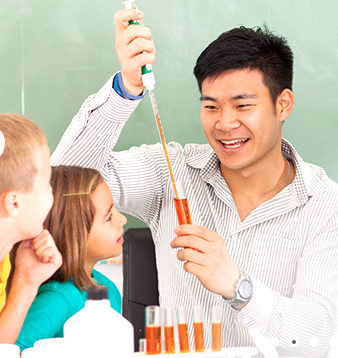 3M, a science-based company with a passion for creative collaboration that inspires powerful technologies, making life better, and Discovery Education is sponsoring  The Discovery Education 3M Young Scientist Challenge!  This is the perfect opportunity for students who are interested in science to explore scientific concepts and creatively articulate their findings.  3M and Discovery Education are committed to fostering and supporting the next generation of American scientists who will make legendary strides in science and technology.
    The thing that makes The Discovery Education 3M Young Scientist Challenge different from other science competitions is that the ten challenge finalists will each be paired with a 3M scientist mentor.  That is a once-in-a-lifetime opportunity for these young people to be mentored by experts in the science field who can guide them.  Final projects will be presented to a panel of judges at the final competition at the 3M Innovation Center in October.
    One winner will receive $25,000 and the title of "America's Top Young Scientist."  Aside from the prestige of receiving such a title, past Challenge winners have gone on to speak in front of members of Congress, work with the nation's premier scientists, participate in the White House Science Fair, meet the President and pursue academic careers in the sciences.
COMPETITION TIMELINE:
April 21st – Video Entry Deadline (LAST DAY TO SUBMIT ENTRY!) – Middle school students are asked to create a one to two-minute video communicating the science behind a possible solution for an everyday problem.

June/July – Ten finalists will be announced and have an exclusive opportunity to work directly with a 3M scientist during a summer mentorship program, during which they were challenged to create an innovation which solves a problem in society. State Merit Winners are also announced at this time.

October: Finalists will demonstrate their scientific innovation and creativity in a series of challenges at the 3M Innovation Center in St. Paul, MN.
    So don't wait!  If you have a Young Scientist in your family who is in middle school, head over and enter them in The Discovery Education 3M Young Scientist Challenge by clicking HERE!  Also, make sure you connect with them on Facebook so you can learn more ways to support the budding scientists in your family!  You never know, you might be inspiring the next generation of innovations that will make life better for all of us!
Let's Discuss:  Why do you think STEM Education is important to inspiring young scientists?
Disclosure: This is a sponsored campaign created in collaboration with 3M. I am disclosing this in accordance with the Federal Trade Commission's 16 CFR, Part 255 "Guides Concerning the Use of Endorsements and Testimonials in Advertising."
© 2015, Tough Cookie Mommy. All rights reserved.