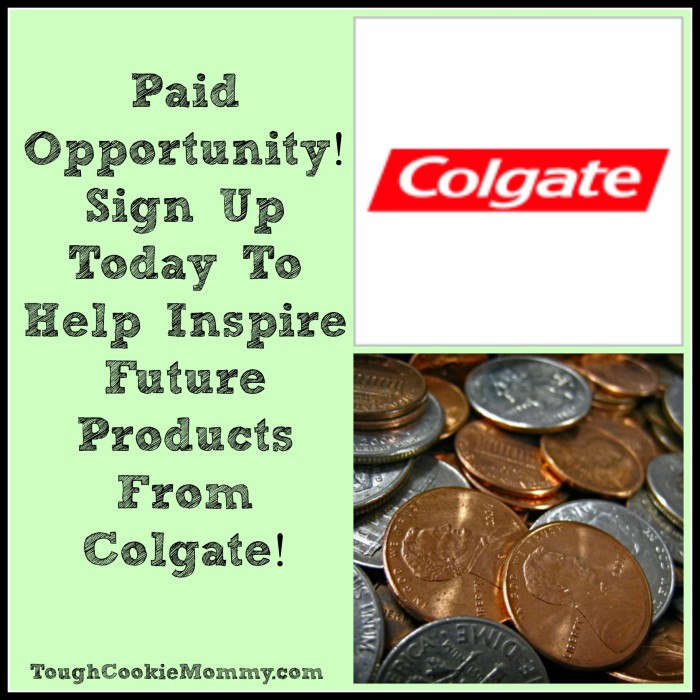 I'm very excited this afternoon because I have the opportunity to present all of you you with this amazing opportunity to collaborate with Colgate to help inspire their future products.  If you love to share your thoughts and opinions you are already the perfect candidate for this campaign.  Colgate is looking for some creative women to share ideas with and the best part is that they are going to compensate you for them!
    Do you live close to Miami, Houston, LA, or the NY Metro area and come from a Hispanic/Latina background?  If so, you can sign up to join an exclusive, private, 2-month online community where you can share your opinions directly with brand decision makers.  As a mom, I jump at the chance to be able to connect directly with brands to voice my family's needs and preferences which is why I love that Colgate is reaching out to mothers around the country.
    Not only will you have the opportunity to impact the brand, but members will also receive a $100 Amazon gift code at the end of the 2 months. Additionally, there will be a chance for a select group to participate in an in-person workshop for an extra $250.  I'm hoping that many of you will take advantage of this unique opportunity to communicate directly with a household brand and to earn some income while doing so.
    Since sign-ups end today, it is really important that you hurry over to see if you qualify by clicking HERE!  Good luck to all of you and I'm so glad I was able to pass on this opportunity!
Let's Discuss:  Did you sign up and why would you like to be a part of this panel of women?
Disclosure: This post is part of a blogging campaign with Colgate. I received a promotional item as a thank you for participating. I am disclosing this in accordance with the Federal Trade Commission's 16 CFR, Part 255 "Guides Concerning the Use of Endorsements and Testimonials in Advertising."
© 2015, Tough Cookie Mommy. All rights reserved.