There is no better time of the year for teaching my boys about the importance of being thankful for friends and family who bring so much love and support into our lives on a daily basis.  Last week, we celebrated Thanksgiving with our family and then had a great time together for my father's birthday the following day.  It is during these times that I know our boys are making precious memories that will last them a lifetime.
    Whether you're planning a family feast or sticking to your traditional holiday routine, it's important to show your kids that friends are worth being thankful for during these special times of the year.  Thanks to Netflix, I can introduce our sons to a few of the greatest duos, including Rory and Lorelai, Charlotte and Wilbur and Bob and Larry, whose all-new Netflix original, "VeggieTales in the House," started streaming Nov. 26.
Here are some dynamic duos available on Netflix for your big kids: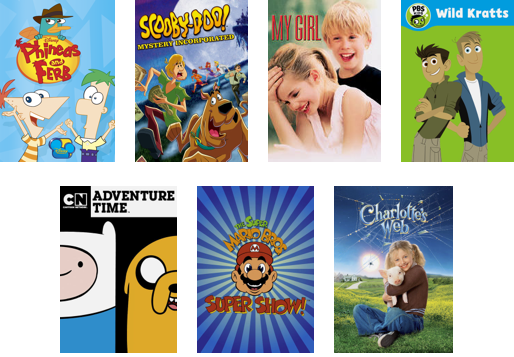 1. Phineas and Ferb
2. Shaggy and Scooby: Scooby-Doo! Mystery Incorporated
3. Vada and Thomas: My Girl
4. Martin and Chris: Wild Kratts
5. Finn and Jake: Adventure Time
6. Mario and Luigi: The Super Mario Bros. Super Show!
7. Charlotte and Wilbur: Charlotte's Web
    While you're prepping your holiday dinner, give the kids a few extra veggies, paint and paper to see what fun designs they can make. Click here to learn how to make your own veggie stamps, including instructions for making our favorite veggie friends, Bob the Tomato and Larry the Cucumber.
We enjoyed making Vegetable Stamps this month as we watched our favorite friends on Veggie Tales and Netflix: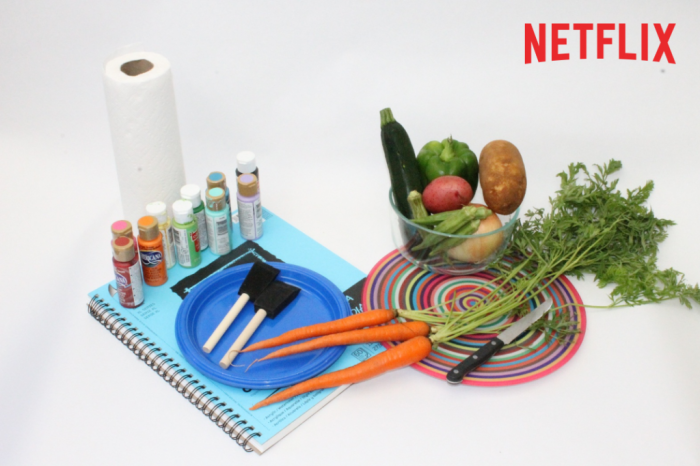 Supplies:
Raw cut vegetables
Acrylic paint
Foam brush
Paper
Paper towels
Paper plate
Cutting board and knife – for mom)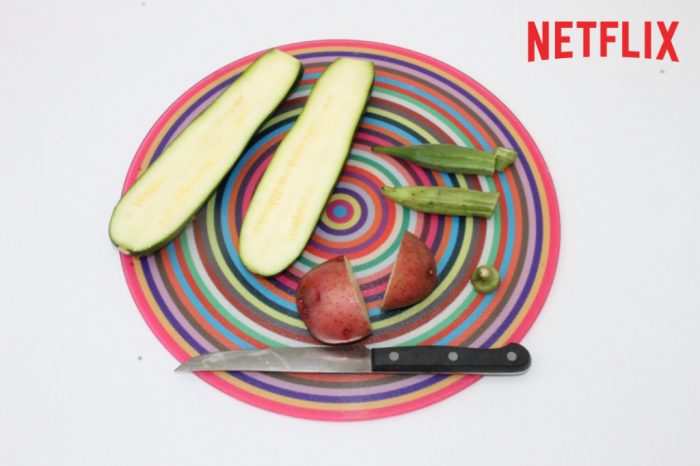 Step 1. Mom or Dad cuts the veggies in different shapes and sizes. Slice them vertical and horizontal.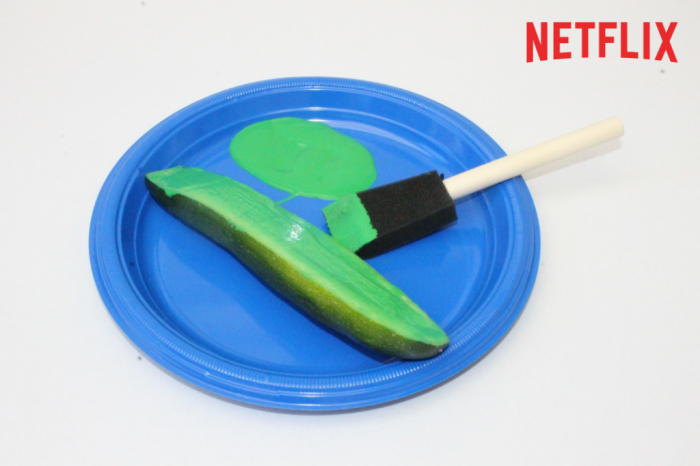 Step 2. Pour your paint on your paper plate. Dip your foam brush into the paint and spread it onto your vegetable.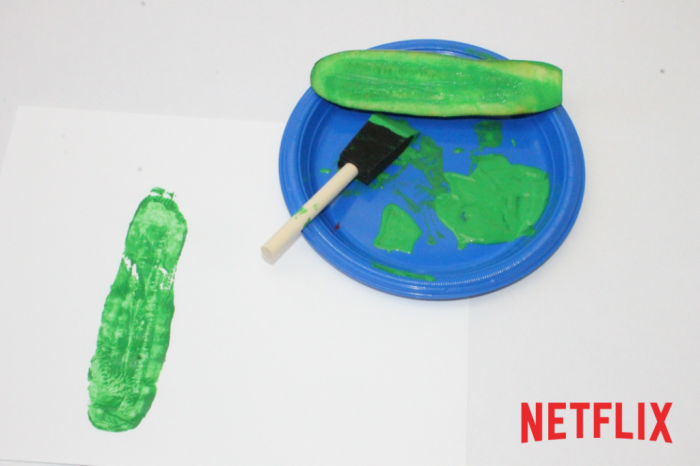 Step 3. Press your veggie, paint side down, onto your paper. Do it again and again to make beautiful shapes.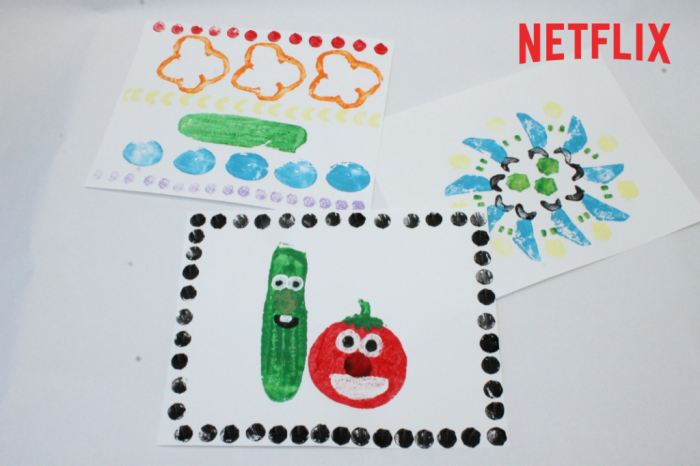 To make Larry the Cucumber you need: (Make sure you let the bottom layers dry completely first)
Body: A vertically sliced zucchini
Eyes: Two horizontally sliced carrots in different sizes for the black and white parts
Nose: Wide carrot slice
Mouth: A half of a potato slice
Teeth: A square chunk of carrot
To make Bob the Tomato you need:
Body: A slice of the bottom portion of an eggplant
Eyes: Two horizontally sliced carrots in different sizes for the black and white parts
Nose: Wide carrot slice
Mouth: A half of a potato slice
Hair: A celery stalk
Let's Discuss:  How do you teach your children the importance of family and friendship during the holidays?
Disclosure: This post is part of a blogging campaign in collaboration with Netflix. As a member of the Netflix Stream Team, I received a promotional item as a thank you for participating. I am disclosing this in accordance with the Federal Trade Commission's 16 CFR, Part 255 "Guides Concerning the Use of Endorsements and Testimonials in Advertising."
© 2014, Tough Cookie Mommy. All rights reserved.