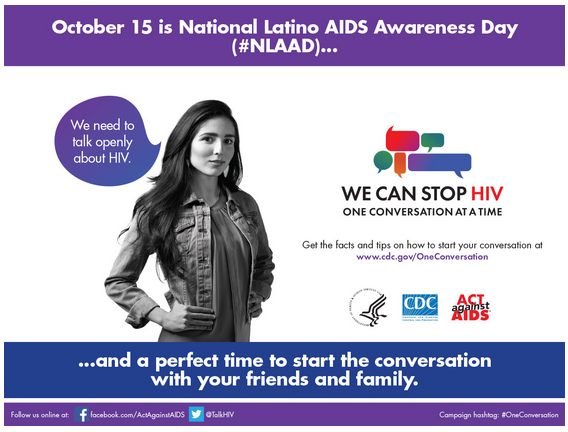 How has HIV or AIDS affected your life?  Unfortunately, chances are that you know someone, or are related to someone, who is HIV positive.  Since there is still a huge stigma around the disease, most people choose not to talk about it.  As a result, they forego having important conversations with their friends and family about how they can protect themselves or what the facts are around how one can contract it.
    Our own family has been directly affected by HIV because both my husband and I have cousins who are HIV positive.  I was 13 years old when I found out my older male cousin had HIV.  I can still remember how it was something that was discussed only in whispers and that the entire family went to great lengths to keep a secret from outsiders.  These were just not topics that were openly talked about in the Latino community.
    Honestly, I didn't know much about HIV back then and, every time I asked an adult in the family about it, they shushed me and changed the subject.  In retrospect, I now know that this secrecy also had a lot to do with the fact that my cousin was also a homosexual.  As far as I was concerned, he was still my cousin and nothing had changed about the way that I felt about him.  One of my favorite memories is dancing with him at my other cousin's Sweet Sixteen.
    I wish I could say that much has changed almost 25 years later when it comes to talking about HIV, sex, and sexuality.  The reality is that there is still a huge stigma around HIV.  Due to this shame, many people continue to be silent about it  which is something that we cannot afford to continue to happen.  Studies show that talking about HIV/AIDS helps to educate people about what to do to prevent and treat HIV.  We need to talk openly about HIV prevention, HIV testing, and condom use, all of which lower new HIV infections.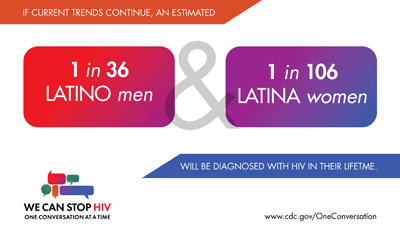 Young Hispanic/Latinos, ages 13-24, made up 20% of all new HIV infections among youth in 2010.  That is an unacceptable number!  Parents need to educate their children about preventing HIV infections and they can start the dialogue with just a few words here and there.  Our kids have to know that if they are sexually active they need to protect themselves from HIV.  We also need to make it very clear that HIV/AIDS does not discriminate and anyone can get it.
    This month, I had the opportunity to participate in a teleconference with Maria Mejia who is Colombian-born and was told in 1991 that she was HIV-positive at age 18.  She was infected by her boyfriend at age 16 and considers herself a "Survivor, not a victim."  As an advocate for Latinas with HIV, she aims to save lives and educate others in the Latino community by keeping the conversation going and working to eradicate the stigma around the disease.  I was inspired by her courage and her willingness to share her story so candidly with others.

    Have the #OneConversation that you cannot afford not to have with your children and loved ones.  This month is National Latino AIDS Awareness Day and it's the perfect time to start the conversation and to help protect the health of our community as well as reduce the spread of HIV among Hispanics/Latinos.  Every conversation we have about HIV brings us one step closer to reducing the stigma around it and sharing of the wrong information.
    Visit the CDC website to get facts and tips on how you can start the conversation with your loved ones about HIV and AIDS.  You can also reach out on Twitter and Facebook because we need to talk openly about HIV and it needs to happen NOW!
Check out the Sin Vergüenza (Without Shame) telenovela:
Let's Discuss:  How do you plan on talking to your children about HIV and sex when the time comes?
Disclosure:  This post is made possible by support from the We Can Stop HIV One Conversation at a Time campaign. All opinions are my own.  I only recommend products or services I use personally and I believe will be "family friendly." I am disclosing this in accordance with the Federal Trade Commission's 16 CFR, Part 255 "Guides Concerning the Use of Endorsements and Testimonials in Advertising.
© 2014, Tough Cookie Mommy. All rights reserved.