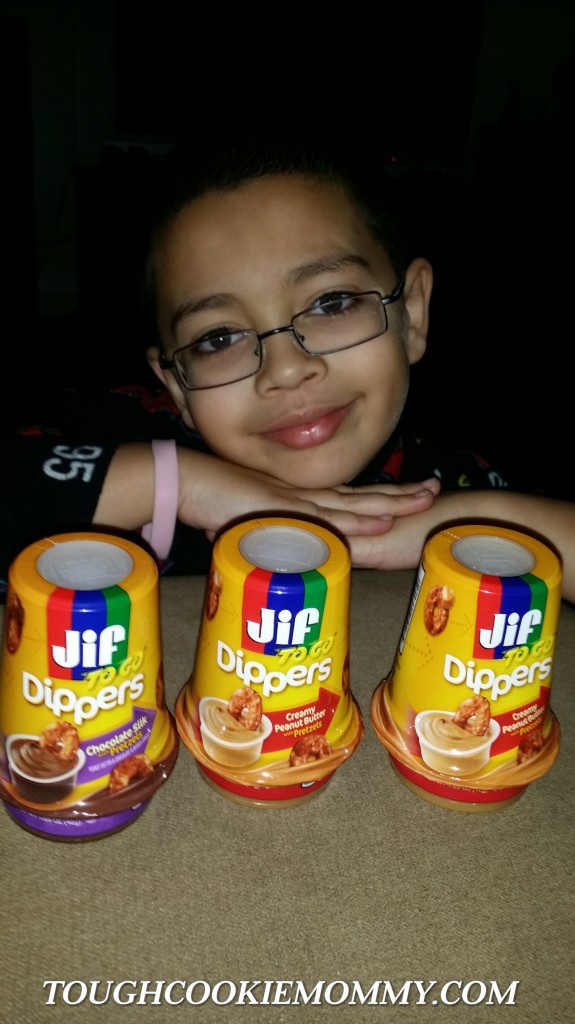 *I participated in an Influencer Activation Program on behalf of Influence-Central for Jif To Go Dippers. I received a sample to facilitate my review and a thank you item for participating.
    Whether we are headed to basketball practice or vocal lessons, my boys are always on-the-go!  Since we spend a lot of time in the car traveling from activity to activity, it can sometimes be difficult to come up with snacks that are easily portable and that they can snack on quickly.  I've found that some snacks are either too messy, too big or just not healthy enough in my book.
    Since finding Jif To Go® Dippers we don't have these problems anymore!  Not only are they easily transportable, but they also come in two delicious flavors creamy peanut butter and chocolate silk peanut butter spread.  My personal favorite is the creamy peanut butter variety but my boys are split 50/50 with one preferring the chocolate silk peanut butter spread and the other liking the creamy peanut butter.
    When it comes to convenient snacks for life on the go, Jif® delivers much more than delicious peanut butter because it keeps my boys going and delivers wholesome energy, with new Jif To Go® Dippers! It's so easy to dip into an all-in-one portable snack of Creamy Peanut Butter with Pretzels or Chocolate Silk Peanut Butter Spread with Pretzels. From basketball championships to road trips, Jif To Go Dippers provides a simple and delicious solution for our busy snacking needs.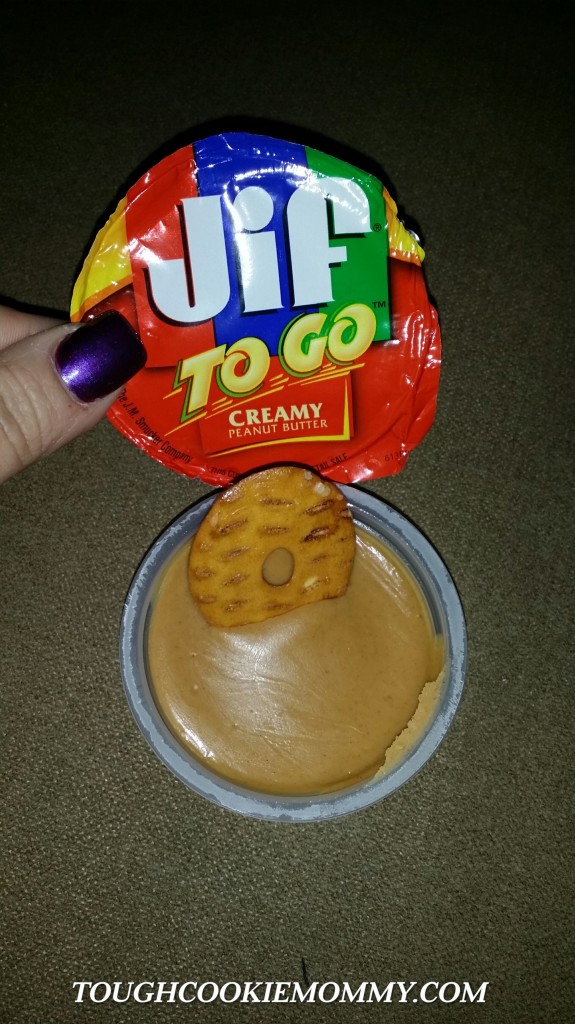 Jif To Go Dippers are available at grocery stores nation wide!  This means that, no matter where we are, we can get our favorite on-the-go snack.  You have no idea how convenient that is since my son's traveling team sometimes takes us outside of the New York Tri-State area.  The best part is that I don't have to worry about having a big mess in my car, because they are so good that my boys make sure that they eat every last drop!
    Through October 1, 2014, Jif To Go® is celebrating life on-the-go by giving fans like you the chance to share a picture of how you and your loved ones "get going" in the #GetGoing photo contest. You can enter each week for a chance to win $1,000 to use for your next adventure!
    For more information about JIF products and the #GetGoing photo contest, visit the JIF website, the JIF Facebook page, Instagram or Twitter.
Let's Discuss:  What challenges have you faced creating snacks for your family?
Disclosure: This is part of a compensated campaign on behalf of Influence Central for Jif To Go® Dippers. However, all opinions expressed are my own. I only recommend products or services I use personally and I believe will be "family friendly." I am disclosing this in accordance with the Federal Trade Commission's 16 CFR, Part 255 "Guides Concerning the Use of Endorsements and Testimonials in Advertising.
© 2014, Tough Cookie Mommy. All rights reserved.