*I participated in a campaign on behalf of Netflix. As a member of the Netflix Stream Team, I received a promotional item as a thank you for participating.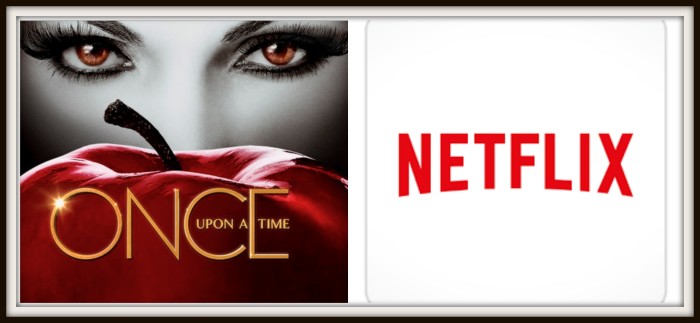 As the end of Summer approaches, I look back upon the past two months with many memories that were made.  Our family spent time outdoors and enjoyed some quality time indoors as well.  Every single moment was precious because we spent the time together and we enjoyed each other's company.  Usually, I am the one who is really good here at choosing shows and movies for us to watch but this year, my eleven year old son has gotten us all hooked on the series Once Upon A Time which is currently available on Netflix.
    As he explained to premise behind the show to me, I realized that this program would be right up my alley as a Reading Teacher.  You see, its plot centers around the fairy tales that we all know and love from our childhood.  All of the characters in the show are the future versions of famous fairy tale characters including Snow White, Prince Charming, Little Red Riding Hood, The Wicked Witch, and the list goes on.
    The show takes place in the fictional seaside town of Storybrooke, Maine, whose residents are really characters from various fairy tales who have been transported through time to the "real world" town and robbed of their real memories by a powerful curse.  Every episode revolves around the struggle between good and evil as well as the consequences that arise around the characters' actions.  Surprisingly, it also includes lessons about kindness and acceptance for others.
    As I type this post, we are currently watching season 1, episode 16 together here in the living room.  I love the conversations that I am having with my boys and my husband around the show's story elements.  It's a great way to teach my boys some of the important lessons that they will need to start the school year off right this year.  Just don't tell them that I probably love the show more than they do…
Let's Discuss:  What is your favorite Fairy Tale from your childhood and why did you love it so much?
Disclosure: This post is part of a blogging campaign in collaboration with Netflix. As a member of the Netflix Stream Team, I received a promotional item as a thank you for participating. I am disclosing this in accordance with the Federal Trade Commissions 16 CFR, Part 255 "Guides Concerning the Use of Endorsements and Testimonials in Advertising."
© 2014, Tough Cookie Mommy. All rights reserved.