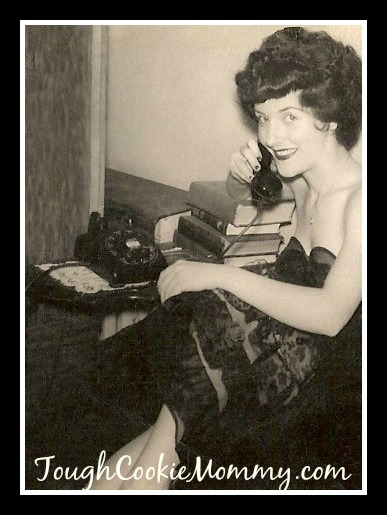 Today is my Grandmother's birthday and I can't help feeling sad that she is not here with us on this day every year.  I think perhaps writing about her and what she meant to me will help me to feel a little bit better.  Also, by talking about her here, I keep her memory alive forever even after I'm gone.  That is the beautiful thing about the written word, it lasts for all eternity.
    Sarah Marie Walker was my maternal Grandmother.  She was nicknamed Sally by her father and the name stuck through to adulthood.  Her parents, Francis and Elizabeth already had a son named James when she was born and had another son, Edward, years later which made her their only daughter.
    Sally was raised in a devout Catholic household by her Irish mother and English father who had been forced to convert from being Protestant when he married Elizabeth.  Her father was a Merchant Marine so he was away most of the time and she helped her mother with her younger brother since she was much older than him.  It was probably during these years that she learned how to take care of herself.
    Over the years, I have heard how fiercely proud, strong, and independent my Grandmother was from those who knew her best.  I won't discuss the reasons why here because I don't want to invade her privacy but she was a single mother to three children.  To make ends meet, she worked as a waitress at the lunch counter at Woolworth's for the majority of her adult life.  Despite having a difficult and exhausting job along with hardly any money, she never complained.
    A lot of the information that I am giving you about her life is not in detail because she was a fiercely private person and she would not have appreciated me spreading her personal business on the Internet.  I'm trying to give you a sense of who she was and what she meant to me without disrespecting her feelings.  Grandma was also a big smoker because she grew up during a time when everyone smoked and nobody knew how bad it was for your health.
    We ultimately lost her to Lung Cancer because of her years of being a smoker.  She died a few months before my first wedding and it was the first time that I ever experienced a sense of complete loss for someone that I loved.  I think about her quite often and lament the fact that she never had the chance to meet any of her great-grandchildren.
    Today, on her birthday, I want to remember her and pay homage to her as the matriarch of our family.  She taught me a lot of things about being a woman and about picking up and moving forward even when things get really difficult.  She loved Elvis Presley and, every time one of his songs come on, I can't help thinking about her.
Happy birthday in Heaven, Grandma.  You are always on my mind… xoxo Let's Discuss:  What memories do you have of your grandparents that passed away that have stayed with you over the years?
© 2014, Tough Cookie Mommy. All rights reserved.