*This sponsored post is brought to you by Schoola, the best place to buy discounted kids clothes all while give back to schools in need. CLICK HERE to learn more about Schoola and to see what people are saying.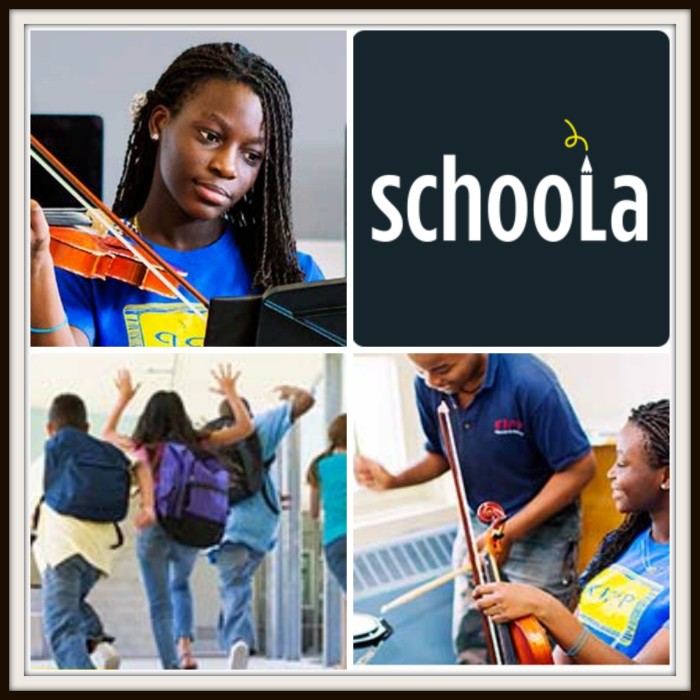 Anyone who has ever been a parent can tell you that it is not easy.  Children don't come with instructions and it's hard to know whether one is doing a good job or not all the time.  Early on, my husband and I agreed that we would teach our children to be appreciative for all their blessings and to be able to give back to those less fortunate.  This was especially important to us both since we had been raised in households where lack of finances and poverty had been real factors for our parents.
    The question then became how exactly we would go about teaching our boys these valuable lessons about humility and generosity?  An answer might seem simple to some but, in these materialistic times that we live in, it's not always easy to explain to young people that they world does not revolve around them and there are others who don't enjoy the same privileges that they do.  After having numerous conversations with our parents, grandparents, and spiritual leaders, here are some of the ideas that we came up with for teaching our sons to give back to others in need:
As my husband and I had done when we were dating, we decided to volunteer together at local soup kitchens during the holidays to feed the homeless. These facilities are often understaffed and could use the extra help as well as any food donations that you could spare.
Every year, I identify a student in my class whose family is experiencing financial hardships and my husband and I donate a Thanksgiving turkey and all the trimmings for a Thanksgiving meal to that family.  We involve our boys in delivering the food items to the family in need and explain to them why we are doing this.
We clean out our closets every season and identify gently used clothing that the boys have outgrown or that we don't need anymore and take our boys to donate the clothing to local charities that supply homeless and battered women's shelters.

    Although these are only small contributions when one thinks about how great the need is, it's our way of teaching our boys that it is better to give than to receive.  That is why I support what Schoola is doing to save music and arts programs in needy schools.
WHAT'S DIFFERENT ABOUT SHOPPING AT SCHOOLA?
    When you purchase clothing from Schoola, you are directly supporting our schools. Parents, friends, teachers, and staff from schools all around the country signed up to send us their no longer needed children's clothing so they could sell it on their school's behalf. A percentage of the proceeds from every item that is purchased will go back to the designated school.

    In my case, I have chosen to support the efforts of the KIPP Academy in the Bronx to raise $25,000 to fund their music program.  Music helps KIPP Academy reach and engage every child who walks through its doors. The slogan on the Music Room wall sets the stage—All of Us Will Learn Music. No matter what backgrounds they come from or what challenges they face, these students will learn lessons together that will serve them the rest of their lives.
HOW CAN YOU HELP?
Request a Schoola Bag which you can fill with clothing that your children have outgrown. Schoola will cover the shipping costs and then sell the clothing you donated, at a severely discounted rate, to people all across the country. Schoola will then donate 40% of the proceeds from these clothing sales to the KIPP Academy to help expand its music program.
Just for requesting a Schoola Bag, they will donate $1 to KIPP Academy for every request and if you actually donate clothes and provide the school's information, they will also donate $2 of every $5 made to KIPP Academy's goal.
    To help me to support the KIPP Academy in reaching their goal, Schoola is extending a 20% discount off their already low prices to all of my readers.  You can use the code Backtoschoola20 to save some money on your back to school shopping and feel good about it knowing that Schoola will donate money from each purchase to the KIPP Academy and to schools like it.
    Hurry though, this discount is only available through August 20th, 2014 and there is a limit of one use per customer.  Thank you for letting me support such a deserving school and for helping me teach my children the valuable lesson of giving…
Let's Discuss:  How are you teaching your children that it is better to give than to receive?
Disclosure: This post is part of a sponsored blogging campaign in collaboration with Schoola. As always, all opinions are 100% my own. I am disclosing this in accordance with the Federal Trade Commissions 16 CFR, Part 255 "Guides Concerning the Use of Endorsements and Testimonials in Advertising."
© 2014, Tough Cookie Mommy. All rights reserved.