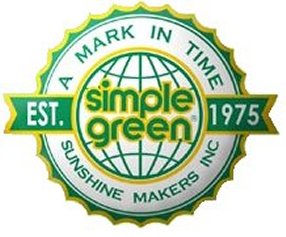 We have been using Original Simple Green for a couple of years now and we absolutely love the way that it cleans as well as how fresh it makes everything smell.  A couple of weeks ago, we truly learned to appreciate the fact that it is non-toxic and biodegradable and what exactly what that means to our family and our pet.
    It all started when we ran out of our regular bottle of Original Simple Green…We normally use it to clean everything in the house including the dog's crate and his eating area, which can get pretty messy.  Since we were in a rush, we decided to use another household cleaner until the weekend when we would have time to replace our bottle of Simple Green.  Boy was that a big mistake!
    Even though we used very little of the other household cleaner, our dog ended up having an allergic reaction to the chemicals in it.  When we discussed this with the veterinarian, he stated that it was quite possible that these chemicals irritated the fur around his years.  He said that it is extremely important to use non-toxic cleaners around pets too just as you would around your children.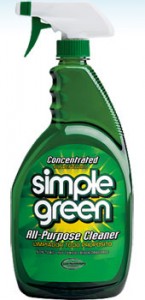 It is safe to say that we vowed right then and there to never use any other cleaner around our boys and our dog.  I can't even imagine what other types of harmful chemicals we are exposed to on a regular basis from all of the different kinds of cleaning products that we use in our homes.  Original Simple Green not only is a safe product but it is also very versatile and can be used to clean so many things around the home.
    An added bonus is that it is also cost efficient.  One 32 oz. bottle of Concentrated Original Simple Green usually lasts us a few months in our home and we use it to clean everything from the counter and the stove to the sink and bathtub in the bathroom.  Its brand new packaging includes a new bottle with a much better trigger and "grip" so its more comfortable to use and is fully biodegradable.  Trust me, you will never need or want another cleaning product in your home!
Giveaway:
Our sponsor is giving away one 32 oz. bottle of Original Simple Green to one of you!
Please click on the word "more" below to enter using Rafflecopter

a Rafflecopter giveaway


Product Review/Giveaway disclosure: I received one or more of the products mentioned above test/review in exchange for my opinion and for the purpose of writing this post. I only recommend products or services I use personally and I believe will be "family friendly." I am disclosing this in accordance with the Federal Trade Commissions 16 CFR, Part 255 "Guides Concerning the Use of Endorsements and Testimonials in Advertising.
© 2012, Tough Cookie Mommy. All rights reserved.