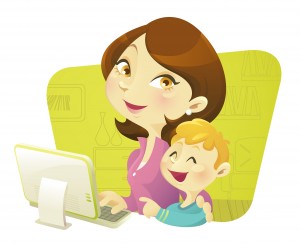 This past week, I seemed to spark a debate on some of the social media outlets by asking this simple question:  "Does the term Mommy Blogger offend you?"  Some women bloggers that I interact with regularly responded that the title does not offend them at all because they feel that they are mothers who blog.  Others responded that they are greatly offended by the term, either because they are not mothers and don't want to be categorized as such or because there seems to be a negative connotation to the title in some blogging circles.
    Personally, I have no problem with being called a Mommy Blogger.  It would be silly for me to deny the fact that I am a mother who sometimes blogs about issues that are relevant to women who have children.  Although I have always considered myself to be a serious writer, I have never felt that this title somehow takes away from my validity as such.  It actually somewhat puzzles me as to why this term has become so offensive to some bloggers considering that the title encompasses a demographic of consumers that has great influence over many companies and the way that they advertise and present products. 
    Perhaps the reason why some are bothered by this moniker is that they do not want to be associated with blogs that only conduct reviews and giveaways and do not demonstrate posts with significant writing content.  Let me just say that, in my humble opinion, review and giveaway blogs are in a different category altogether and do not represent for me what a Mommy Blogger is.  Additionally, regardless of how you feel about these kinds of review blogs, their publishers also deserve respect as legitimate business people who cater to a specific market.  To simply disregard these individuals as not being "real bloggers" is just unfair and inappropriate. 
    So what is a Mommy Blogger?  She is a woman who may or may not have a talent for writing but definitely has something to say and to contribute.  She is definitely a woman who wears many hats and takes advantage of opportunities that will benefit her family.  She may be a Working Mom or a Stay at Home Mom, both of whom work equally as hard to provide and care for their families.  She is an educated consumer who will only buy and use the best products in her home and around her children and family.  Lastly, she transcends cultural, racial, and socioeconomic boundaries in her attempts to connect with other like minded women and individuals.
    Over the past couple of years that I have been blogging, I have had the distinct pleasure of meeting all kinds of bloggers whose blogs centered around a variety of topics and niches.  The fact of the matter is that all of our blogs serve a purpose, first to ourselves, and then to our readers who find something of themselves within our posts or our interactions.  Although I am not offended by being referred to as a Mommy Blogger, it is important that we move past titles and labels and that we continue to foster an atmosphere of mutual respect for one another and our craft.  This blogging pie is certainly big enough for each one of us to have a slice.
© 2011, Tough Cookie Mommy. All rights reserved.