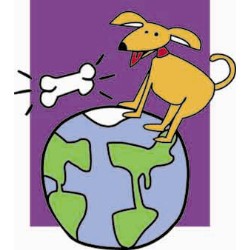 Two weeks ago, I attended a puppy training class at the animal shelter where I adopted our puppy, Onyx.  We were actually obligated to attend the class because the shelter supervisor did not think that we had enough experience with puppies and made attending the class a condition of our adoption.  I have to admit that I wasn't that thrilled to have to spend my Sunday attending what I had originally predicted to be a complete waste of my time.  It turns out that I couldn't have been more wrong.
    The first thing that surprised me was the amount of people who were there to take the class.  The trainer even ran out of seats at one point and had to ask some people to stand for the remainder of the class.  It also impressed me that the trainer had almost four years experience training dogs of all breeds and sizes.  She even shared with us that she has three dogs of her own and that she used many of the training techniques that she was sharing with us to train her personal dogs.
    The first thing that she explained to us is that dogs are pack animals who live by a social hierarchy.  When you adopt a dog into your home the dog sees the members of your family as members of its pack and will immediately test the waters to see where it stands on this virtual "totem pole."  Often times they will try to dominate the youngest child in the home or whomever they deem to be the weakest person or pet in the home in order to assert their place in the pecking order.
    The next thing that I learned is that it is important to establish yourself as the pack leader in order to assert your dominance over your dog.  Some of the ways that you can do this is by not allowing the dog to climb on the furniture.  If you allow the dog to sit on your bed or your couch with you, you are sending him the message that he is your equal as opposed to you being the one in charge.  Another way to reiterate this is by never letting your dog walk into your house before you and by demonstrating to him that you are the pack leader who owns the food and is the first to eat at every meal.  This can be done by "gesture feeding" which means that you pretend to eat from his bowl before you put the bowl down for him to eat.
    Most of the people who attended the meeting had major concerns with housebreaking their puppies.  One lady even confessed that she has been literally driven to tears because her new puppy refused to stop urinating and defecating in her new house.  Another couple shared that their puppy would do his business everywhere in the house besides where he was supposed to.  We have been lucky in this department because our puppy will generally only eliminate on the Wee Wee pads inside his crate.  We never really trained him to do this as he immediately did this as soon as we brought him home.
    Our biggest issue right now is that he nibbles on everything.  I realize that he is teething but it really does get annoying and sometimes painful.  The trainer advised me to fill an empty soda can with pennies and to shake it whenever he chews on us or the furniture.  It seems that the sound of the pennies jingling annoys dogs due to their heightened sense of hearing.  If the can trick doesn't work, you can use a small water gun to squirt the dog whenever he chews on things.  The trick is to squirt him and never to let him see the pistol or where the water is coming from so he will associate the behavior with the annoyance of getting wet.
    I definitely don't presume to know everything about how to train our puppy and I am learning as I go along.  However, I know many of you have dogs or have been contemplating getting a dog in the near future.  It is really important to do your research and make sure that you are fully versed on all of the particulars involved in taking care of a puppy.  Like the sign at the animal shelter stated, "Think twice because this is at  least a 15 year commitment…"
© 2011, Tough Cookie Mommy. All rights reserved.