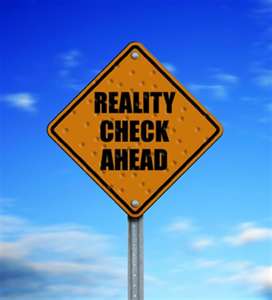 This week I was watching The Real Housewives of New Jersey and I had an epiphany.  Now, don't judge me for being a reality TV fan because it is a great escape from the stresses of daily life and I am not going to be apologetic about it.  Everyone has some guilty pleasure that they engage in to wind down from work and life.  In any case, let me get back to some of the things that this show made me realize about family dynamics and relationships…
    It's important that I give you a brief overview of what happened on the show in order for you to follow my train of thought.  A brother and sister who used to be close found themselves involved in a now strained relationship due to the fact that they each did not get along with the others' spouses.  Throughout the episode, one could see how the spouses influenced the reactions of the siblings by making innuendos and deliberately creating conflict.  Believe it or not, it was interesting to me to watch this situation from the outside in and to be able to reflect on my own relationships with my in laws and my family.
    Years ago, I had a conversation with my Mother In Law in which she accused me of influencing my husband to have a bad relationship with her because I was his wife and all women have the power to persuade their husbands to agree with their point of view.  At that time, I felt very insulted by her insinuation because I prided myself on keeping my disdain about her from my husband in order not to create problems within their relationship.  Although I still feel that I tried very hard to not get involved between them, watching this show made me realize that we all contribute to family controversy to some degree.
    I'm sure that most of the time, couples don't deliberately set out to involve their spouses in conflicts that exist with other family members.  The problem is that one's spouse is probably the closest person to them and it is natural that people confide and air out their grievances to their partners without any consideration for the fact that doing so might totally alienate the two people from one another due to an intense feeling of loyalty to their husband or wife.  This is exactly how these family feuds end up spiraling completely out of control with extended family members getting involved who have absolutely nothing to do with the original problem that began with only two members of the family.
    In my case, I would like to think that my husband's relationship with his mother is strained due to personal differences between both of them.  While this may be true, it is also quite possible that her poor treatment of me over the years has not helped and has actually compounded their previous disagreements.  I'm not sure if this is something that I should actually feel badly about because it stands to reason that my husband be loyal and supportive of me and that he reject others who do not treat me respectfully regardless of whether they are family or not. 
    I suppose, at the end of the day, it is logical that couples stand united against anyone who offends only one of the couple's members.  Isn't that what marriage is all about?  Your husband or your wife is the one person who is supposed to be there for you through it all and who will defend and support you no matter what the situation is.  Unfortunately, it seems that these alliances sometimes end up having a negative impact on sibling relationships, parent and child relationships, and other types of family bonds.  For example, should two sisters who were once inseparable suddenly sever ties because one of them cannot get along with the other's husband?  The obvious answer is no however, we all know that very often they will stop being close as time goes on.
    It seems that reality television might mirror life more than we think.  Human nature will always show itself no matter how sensational the situation is or whether people are just acting in order to provide the show's viewers with entertainment.  No matter how rich you are or how famous you are, you cannot escape family drama.  We all have a story to tell about an argument during the holidays or two family members who are not speaking to one another.  Once we realize and accept that we are all contributing to these problems within our families, we can begin to move towards healing these wounds.
© 2011, Tough Cookie Mommy. All rights reserved.