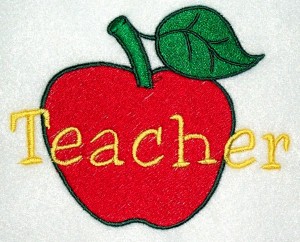 Earlier this year, I had a couple of run-ins with my son's teacher.  She is a veteran teacher who has been teaching in parochial schools for decades and I felt that she antiquated and was placing emphasis on areas of my son's academic development that I did not consider to be overly important, namely penmanship.  Since I am a teacher, I suppose some of it had to do with my own ego about being younger and more up to date on the latest teaching practices.
I actually went back and forth with her a few times expressing my concerns over her teaching practices and her responses were somewhat dismissive which only further infuriated me.  Eventually, I even spoke to the Principal and generally made an ass of myself.  The reason I say this is that I have actually grown to respect and appreciate this teacher as the year has progressed.  This post is basically the written version of me "eating crow."
My demise probably began during parent teacher conferences last Fall.  I sat in the hallway with all of the other parents with guns blazing and ready to give her an earful once my turn finally came to meet with her.  As I entered the classroom, I could tell that she was also ready for a confrontation by her body language and stiff back.  We sat down and, as soon as she opened her mouth, she began to sing my son's praises.  Short of declaring my son's birthday a national holiday, she went on and on about how intelligent he is and how I have done a great job raising such a fine boy.
This was shocking to me because I had been under the impression that she was being especially hard on my boy and singling him out for criticism and harsh comments.  I quickly realized that she was a very dedicated and knowledgeable educator who had very high expectations of all of her students and that all of the children were expected to perform academically to the best of their abilities.  My husband and I just sat there and let her speak and, when she was done, I parted my lips and said, "perhaps we started off on the wrong foot…"  She waved her hand as if to erase our previous interactions by a mere swipe across the air and that was the end of that.
Fast forward to now which brings us to this month.  My son is scheduled to make his First Communion in two weeks.  His teacher has done an excellent job of preparing him and all of his classmates for this holy day.  As a matter of fact, my son promptly informed me the other day that "Free Will" is when we have the freedom to do whatever we want even when we know that what we are doing is wrong.  He is seven and he immediately told me that his teacher taught him that.  Additionally, his penmanship is beautiful and damn near perfect which makes me proud despite the fact that I didn't think that it was that important to begin with.
That is not all, though.  He has excelled in all academic areas and even achieved a 96 average on his report card the last marking period.  Of course, I take some of the credit for this due to the genes I passed down to him and the emphasis that we place on school and academics in this home.  However, his teacher gets most of the credit for assigning Science projects that forced my husband and I to sit down and complete them with him even when we were exhausted and didn't want to be bothered.  She also gets credit for making him read to us every day and making us read to him regularly even though we sometimes burn the candle on both ends due to our jobs.
It is with a humble heart that I share with all of you the lessons that I learned throughout this whole experience.  First of all, although I consider myself to be an excellent teacher, that does not mean that I am too good to defer to veteran teachers and to benefit from some of their "best practices."  Secondly, age does not take away from a person's usefulness or their ability to impart knowledge.  Lastly, it is still as important as it has always been to admit when I am wrong about something or someone.  This is probably the area where we can all stand to grow the most.  It is not an easy thing to own up to ones mistakes and it is even harder to do so gracefully.  True growth comes from being able to say, "I was wrong…"
© 2011, Tough Cookie Mommy. All rights reserved.