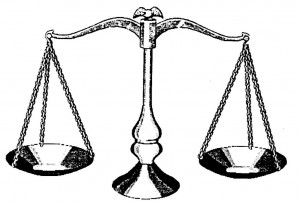 This week is definitely promising to be a busy and hectic one for me.  First and foremost is the fact that my oldest son is making his First Communion next weekend so I am swamped with all of the preparations that go along with that.  As if that wasn't enough with work and taking care of the house, I have been summoned to report for jury duty at the county courthouse this week.  Although I am looking forward to having a little respite away from the pressures of my job, I am somewhat apprehensive about the whole process.
    It has been six years since I last reported for this civic duty and I was lucky enough not to be picked for a trial the last time I was there.  I'm sure that most people are excited at the prospect of being picked to serve on a jury and being part of the whole judicial process.  I, on the other hand, am not sure that I feel that enthusiastic about the whole thing and that probably has to do with my lack of confidence in justice to begin with.  After all, how efficiently are the wheels of justice turning anyway with all of the problems that we have in society with crime?
    The other problem is that I am not really feeling all that sympathetic these days towards people who commit crimes and choose to live their lives on the opposite side of the law.  It almost seems as if criminals have more rights these days than us law abiding citizens and it is really frustrating.  I resent the fact that my tax dollars go towards supporting penal institutions that house inmates and provide them with the food and necessities that they denied to the people whom they perpetrated crimes against.  This might be a little harsh but, as I said, my sympathy level is at an all time low in this department.
    Believe me, I understand that everyone is innocent until proven guilty and I also know that mistakes are made and that innocent people are sometimes accused of crimes that they did not commit.  However, this does not account for the thousands of others who willingly and knowingly continue to break the law day after day.  I'm sure everyone who is in jail or on trial for committing a crime will tell you that they are innocent but, realistically, it is not possible that all of these defendants are without blame.  I'm not sure that I have the ability to feel sorry for them.
    I'm probably a little jaded because I have lost loved ones to violent crimes and I know many people who have been the victims of crime or acts of violence at the hands of strangers.  This is something that comes with the territory when one lives in a large city like New York.  These experiences definitely have had a profound impact on my opinions and feelings around this topic.  This is probably true for many of you depending on how many times you have been exposed to crime either personally or through your friends and loved ones.
    The difficult part is separating what your heart feels from what your mind thinks and knows.  Although my heart feels zero tolerance for these criminal offenders, my mind tells me that I have to be objective and that I have to maintain an open mind until I hear all of the facts.  I also know that our justice system is designed to give everyone a chance should a mistake have been made and the wrong person have been accused of a crime.  Unfortunately, things don't always pan out legally the way that they were intended to by this country's forefathers when they wrote out the law and designed the judicial system.  Every great idea has room for error and its flaws.  In this case, I think human nature is the biggest enemy of these ideals.
    As I embark next week to fulfill my duty as a member of society and an American citizen, I will keep in mind all of these thoughts and try to separate my personal beliefs from the facts at hand.  This will not be easy and it will probably keep me from being chosen for a jury.  After all, I have been known to say exactly how I feel when asked and those lawyers are definitely not ready to interview me!  In any case, (no pun intended), I will let you guys know how everything goes and I will report whether I ended up being "guilty" or "innocent" of letting my personal feelings about justice and my experiences with crime get in the way.
© 2011, Tough Cookie Mommy. All rights reserved.