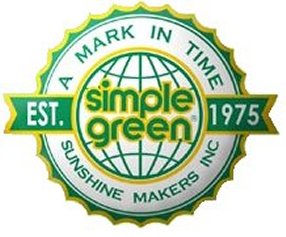 Having children has definitely made me more aware about the kinds of products that I bring into my home and the impact that using them is having on the environment.  It is especially important that the cleaning products that I buy be safe to use around my boys while at the same time be cost efficient and fit into my budget.  That is why I jumped at the chance to test and review Original Concentrated Simple Green All-Purpose Cleaner.  I have heard so many great things about this cleaner from other mothers and I wanted to try it out for myself.
I received a 32 oz. bottle of Original Concentrated Simple Green All-Purpose Cleaner, a dilution spray bottle, and a use and dilution guide.  It was shocking to see how far a 32 oz. bottle would go in keeping up with general household cleaning.  Depending on your cleaning needs, you can dilute the cleaner with water to tackle heavy cleaning and light cleaning jobs, laundry, and treat stains on clothing.  The cleaning solution has a fresh scent that is not strong and overpowering and can be used to clean any room in your home.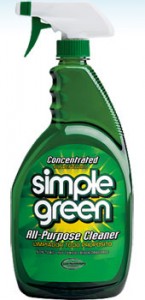 Original Simple Green is non-toxic and biodegradable which is especially important in my home where my five year old has been known to get into everything due to his curious nature.  I have had to convince him that there is a Tarantula living under the sink in the bathroom so he will not touch any of the products that I store there.  Luckily, I won't have to worry about him being around Original Simple Green since it is safe to use around children and pets.
Since Simple Green can be used on any water-safe surface, I tried it on my floors, counter tops, sinks, toilets, to clean the inside of my microwave, and many other places around my home.  I also used it outdoors on the front door of my home and to clean the dirt off my mailbox and the gate to my yard.  It was really amazing to see all of the things that I could clean with just one product instead of wasting money on a variety of cleaning products.  I'm pretty sure that this has become my favorite cleaning product and that it will quickly replace all the other expensive and toxic products that I have been using around the house.
Simple Green can be purchased at most major retailers including Home Depot, Walmart, Lowe's, Ace/True Value, and many, many more.  You can visit their website at www.simplegreen.com for a complete list of stores near you.
Product Review/Giveaway disclosure: I received one or more of the products mentioned above test/review in exchange for my opinion and for the purpose of writing this post. I only recommend products or services I use personally and I believe will be "family friendly." I am disclosing this in accordance with the Federal Trade Commissions 16 CFR, Part 255 "Guides Concerning the Use of Endorsements and Testimonials in Advertising.
© 2011 – 2013, Tough Cookie Mommy. All rights reserved.