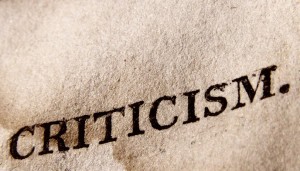 When I became a parent, I was not prepared for all of the unsolicited advice that I would receive from my family and friends about how to raise my children. I learned very quickly that everyone is a critic and that most people have very different ideas from one another about parenting. Unfortunately, what I found hard to accept, and still have difficulty with to this day, was the level of hostility that others would exhibit upon realizing that you have no intention of changing anything about how you parent to conform to their standards.
    The very first parenting issue that came up when I had my older son was the issue of religion.  I am a non practicing Catholic and my husband was raised Pentecostal.  We agreed way before having children that I would be in charge of my children's spiritual upbringing.  Obviously, my Mother In Law had different ideas about how to lay the spiritual foundation of MY kids so we disagreed vehemently on that point.  That was the first time that I realized just how passionate others were about telling me how to raise MY kids.  Although I was glad that they cared enough to share their thoughts and opinions, I was rather put off by how pushy they were in expressing their points of view…
    Over the years I have continued to receive advice from others about everything from what I should be feeding my children to how I should be disciplining them.  It's like when a woman is pregnant and everyone thinks that they have the right to touch her stomach, everyone thinks that they have exclusive rights to the secrets of raising children and being a perfect parent.  It's amazing to me how many people have no boundaries in this department.  I have even had people who don't have any children of their own at all try to tell me what to do as a parent.
    Recently, my mother and I had a disagreement on my children's nutrition and diet.  I allow my boys to have snacks after they eat dinner but I limit the kinds of snacks that they can have so that they don't eat junk all the time.  Most evenings, they will have a yogurt or a fruit after eating dinner and will only have cakes or ice cream from time to time.  Unfortunately, I have always suspected that my mother is secretly related to Willy Wonka because she has an unsatiable sweet tooth.  As a result of this, she often allows all of her grandsons to indulge in eating cookies and cakes.  Her response to my ideas about monitoring my sons' eating habits was to tell me that I should just let them be kids and allow them to eat whatever they want.
    I have brought this subject up to other people whom I know and are parents.  The concensus seems to be that this is a real problem in the life of anyone who has children.  No matter how hard you are trying to be a great parent and to provide your children with a wonderful life, someone else thinks that they know how to do it better and has no qualms about sharing their ideas with you.  Over time, this "constructive parenting criticism" can become overwhelming and it can really make you resent the person who keeps imposing their agenda on you.
    So how do you deal with people who have no kinds of boundaries and feel they can tell you how to parent?  I'm not sure that I have the answer to this question.  What I can tell you is that I have gotten to the point that I give snarky responses in a deliberate attempt to be rude and nasty to those who presume to teach me how to raise my boys.  After all, where are all thes do-gooders when my sons' school tuition needs to be paid or when they need to be administered asthma treatments every four hours during the night even though there is work the next day?
    It's very easy to have the perfect parenting advice from a distance.  The view on what is involved in raising children is much different for those of us who are in the trenches, day after day, trying to make a good life for our kids.  It's also very different from the point of view of our parents who already raised their children and have had plenty of time to reflect on what they did wrong as parents.  The old saying is true, "Hindsight is 20/20."  
    The lesson that society at large needs to learn is for people to think before they speak.  Imagine how much less ignorant banter there would be in this world if some people spent more time thinking instead of running their mouths.  This lesson certainly applies to this topic.  Every parent has the right to raise their child or children according to his/her beliefs and lifestyle.  Anyone who interferes and provides you with criticism for the purpose of perpetuating negativity and undermining your parenting skills needs to be put in their place.  As parents we face enough obstacles and difficulties without having to deal with being put down by people who are supposed to be in our corner and who should praise us for being the very best parents that we could possibly be.  Let's build each other up instead of knocking each other down… 
© 2011, Tough Cookie Mommy. All rights reserved.