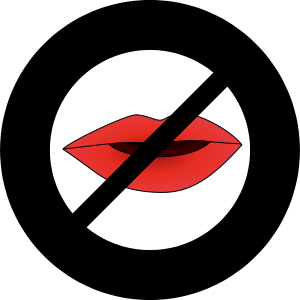 A couple of weeks ago, a friend of mine wrote a post about meeting up with an old romantic flame. He mistook their encounter for more than what it was, which was a wave of nostalgia, and had to promptly be put in his place. You can read all about it on her blog, Adventures in Estrogen.  I digress…The point that prompted me to write my post tonight is that he eventually read her blog and was very insulted at some of the reactions from her readers and their criticisms of him.
    This caused me to reflect on my own blog audience. Now, I'm not that egocentric to presume that my readers span the earth far and wide. However, there is the distinct possibility that someone whom I am close to or that I actually encounter in real life regularly, will at one point be insulted by something that I write about in this blog. I would say that this is a fairly realistic prediction considering that a few family members and my husband subscribe to my blog. Initially this was exciting as it added to my readership but, now that I am a bit more comfortable and have gotten my blogging chops, I'm not sure that it is even that exciting anymore but potentially intrusive.
    To be honest, I'm not sure how I even feel about it at this point.  On one hand, I couldn't care less what the people I blog about think about what I have to say.  After all, this is my blog and essentially my haven to purge myself of everything that I have to say in a somewhat risk-free environment.  On the other hand, it's important to me that others realize that this blog has absolutely nothing to do with them and everything to do with me.  I'm sure all bloggers will admit this after a bit of prompting.  Nobody wants to admit that they embark on an endeavor for purely selfish reasons.  That is the beautiful thing about blogging, it is mostly about you and your thoughts and feelings on a variety of topics.
    I'm not even sure how I would feel or respond if someone in my family or circle of friends complained about being offended about something I said on my blog.  I have always prided myself on my brutal sense of honesty so I don't think I would even care or be remorseful for being truthful.  Life has certainly taught me that most people have serious problems handling the truth.  As bloggers, should we retract statements or thoughts that we can prove to be true in order to spare someone's feelings or to conform to society's expectations of what is acceptable and unacceptable discussion?
    Obviously, I am referring to statements or thoughts that are within reason and that we don't intentionally publicize in order to defamate or destroy others.  For example, it wouldn't be appropriate to share someone else's marital problems or other intimate information about others simply for the sake of stirring up controversy and attracting followers behind that premise.  I pride myself on being honest not being cruel. 
    Even with keeping these parameters in mind, I will undoubtedly find myself in the situation of having offended someone at some point throughout the span of this blog.  I'm not apologizing in advance nor am I making any promises that I will apologize after the fact.  What I will say is that I am open to the prospect of eventually having someone be put off by my feelings, thoughts, or ideas.  After all, how boring would it be if we all agreed with each other all of the time? 
    When that time comes, just remember that nothing is ever as serious as it seems.  I never claimed to be the authority on anything, just a caring mother and wife who is doing the best that she can trying to raise two men, taking care of a home, keeping a happy husband, and holding down a full-time career educating inner city youth.  Wait a minute, now that I think about it, maybe I am an authority on a FEW things.  In any case, when that moment comes that something in my blog offends you, just remember it's nothing personal…
Have you ever offended someone with one of your blog posts?  I would love to hear all about it!
© 2011, Tough Cookie Mommy. All rights reserved.